When you think, "let's go to a restaurant tonight," what is it that comes to mind? A large dining room with friendly servers bustling about taking orders and bringing patrons steaming dishes of professionally cooked food? This is usually how we classify a restaurant, but a restaurant is by no means the only place we go to get prepared food, and that is especially true in Italy.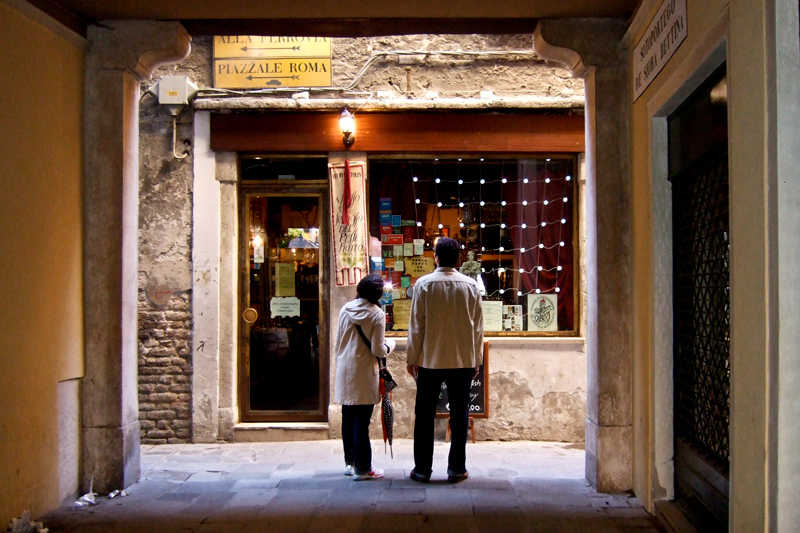 Photo by John Keogh via CC, adapted by ParTASTE.
Italy is full of what we would call, "restaurants," though they would more appropriately be classified as, "eating establishments," since a ristorante is merely a sub category of a larger group. If you wandered into a traditional trattoria in Italy, you would find that it's a little bit less formal than a ristorante, that the food is more rustic than what a professional chef would normally prepare and that it is a truer representation of the local cuisine.
Photo by Sheeprus via CC, adapted by ParTASTE.
Maybe you aren't in the mood for a full service meal, but rather a made-to-order sandwich with home-baked bread and fresh sliced prosciutto; in this case you should head for the paninoteca. If you really know your stuff or have a local friend to show you the way, you can even seek out a late night paninaro, or sandwich stand, that will grill up the most delicious sausage, cutlet, or mozzarella sandwich you have ever had.
Photo by Niyantha Shekar via CC, adapted by ParTASTE.
In this article you will learn about the most common different types of eateries in Italy. When it comes to eating, Italians have a place for every occasion; we recommend you try them all to ensure you get a true grip on the local Italian dining scene.
Osteria
Traditional osterie in Italy are all but extinct these days. A true osteria was a small, bar-like establishment back in the time of coal mining and Italian industrialism that had one or two communal tables available for siting down to eat. Osterie were locales where hungry workmen would come by between noon and two o'clock to get a plate of pasta and wine or a sandwich for the road. In some cases, osterie didn't serve food but permitted you to bring a packed lunch, drink some wine and socialize. The idea behind a classic osteria was less about comfort and hospitality, and more down-home and informal, a place where you'd pay for some wine or food, take it or sit down for a quick break, and then get back to working.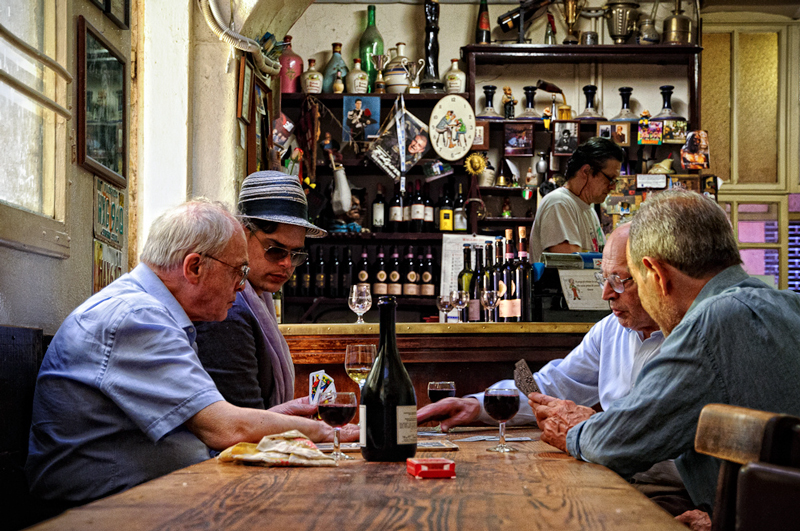 Osteria del Sole in Bologna, est. 1465, is one of the oldest surviving osterie in all of Italy! Photo by Scott D. Haddow via Creative Commons
Nowadays, osterie are very much back in style in Italy, but they bear very little resemblance to their historic roots. Modern osterie, have menus, albeit short ones, that offer very simple food: pastas, grilled meats or fish and wine. These osterie are usually full service and you will pay the bill after eating as opposed to after ordering (so make sure to ask for it!). If the osteria is not full service, you will be expected to pay at a cash register before leaving. Prices are generally moderate but there are some more upscale osterie that use the word osteria in their names to evoke a charming, nostalgic sort of feeling.
Trattoria
Trattorie are a step up from osterie in terms of class. They more closely resemble a ristorante in their size and style of service, they offer a more extensive menu of rustic and traditional foods, but unlike ristoranti, trattorie are typically family run and specialize in home-cooked food. Like traditional osterie, trattorie can bring in a lot of their money from take out dining, sometimes having a deli section with cheeses and sliceable meats to send home with clients.
Milan's Antica Trattoria della Pesa, family owned and operated since 1880. Photo by Bob Gorman via CC, adapted by ParTASTE.
The use of the word trattoria has, in recent years, become a fashionable way for restaurants, both in major Italian cities and abroad, to make claim to their authenticity; but be advised, the traditional trattorie that you find in Italy should be more moderately priced, look and feel more casual than a typical ristorante and will offer food that is significantly different from what is served in classy, high-end restaurants calling themselves trattorias in the United States.
Ristorante
Ristorante is the word for restaurant, and it signifies the full-service dining establishment that we generally think of when the word comes to mind. Ristoranti are prized as the higher-end food businesses in Italy, you won't be able to call in for take out but you can expect to sit at the table and pay a coperto to do so. You will be served bread, covered under the cost of this coperto, and will be brought bottles of carbonated or natural water. A ristorante will have an extensive menu with antipasti, primi, secondi, contorni, and dolci.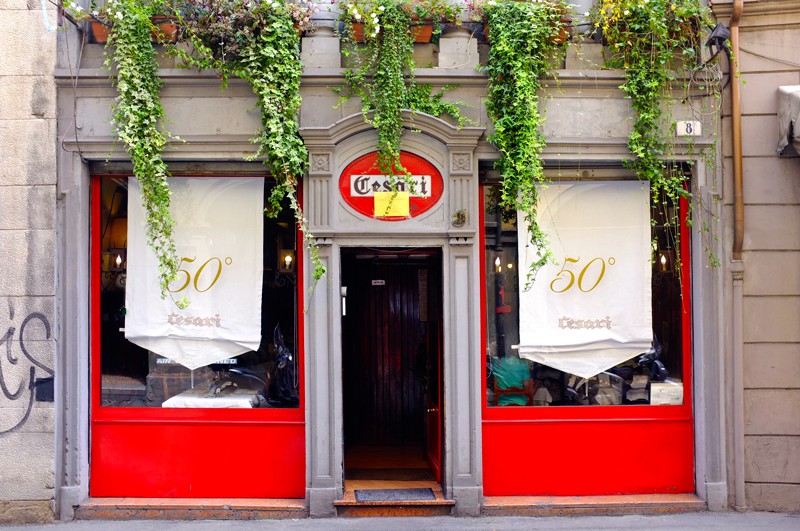 Bologna's century-old Ristorante da Cesari. Photo by Premshree Pillai via CC
A meal is at a ristorante is intended to be a relaxed and indulgent affair, so enjoy it and don't go to one if you are in a hurry. If you're looking for lunch during the day, especially in the larger cities, you should keep your eye out for ristoranti that have a menu fisso (pre fixe menu); what you see on the menu fisso board is all that they offer during those hours of service, so if nothing appeals to you, move on, but if you like what you see, menu fissos offer great deals. After you finish eating at a ristorante, your check will be delivered and, once you are done relaxing and the bill is paid, you can be on your way.
Bar
A bar in Italy is probably not what you are thinking. An Italian bar has no age restrictions and is similar to what many would consider a coffee shop, although in most of these establishments you can order some bottom shelf liquors, a beer, or a glass of wine. The biggest source of income for an Italian bar is the coffee that they serve. People in Italy go to bars at all hours of the day, ordering a quick espresso to keep them going.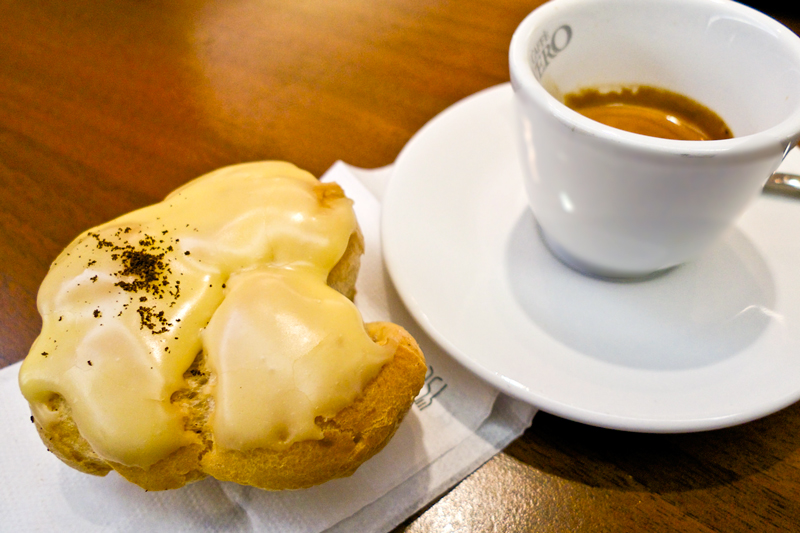 Photo by Darren and Brad via CC, adapted by ParTASTE.
In the mornings, bars are stocked with fresh baked pastries, usually delivered early and then heated up upon request. Around lunchtime you will find that bars stock five or six different sandwiches and sometimes even a primi in case you've come to eat something. Bars offer the best prices for grab-and-go quality food and are a very practical option if you need a quick coffee or snack on your way to a tightly scheduled appointment or to catch a train.
Bars are also conveniently located everywhere the eye can see; it is difficult to walk an entire block in most Italian cities without passing by one. Just like any counter-service food place, you pay your balance either before or just after your order is handed over. In a larger bar, you may have to pay at a separate register before you can order at the food counter. In this case, in order to get your food, you'll have to turn in your receipt. If you aren't sure what to do, watch what others are doing and just go with the flow, the barista is sure to send you in the right direction if you do the wrong thing. One last thing to note is that if the bar you visit has tables, the price for the same order will be higher if you sit down as opposed to eating at the bar standing.
Pasticceria
The English word for pasticceria is bakery or pastry shop. An Italian pasticceria is a type of cafe that produces and serves sweet and savory pastries, brioches, croissants and the like. Some pasticceria will also have fresh baked breads, meats, cheeses, olives, and wine, depending on the size of the space.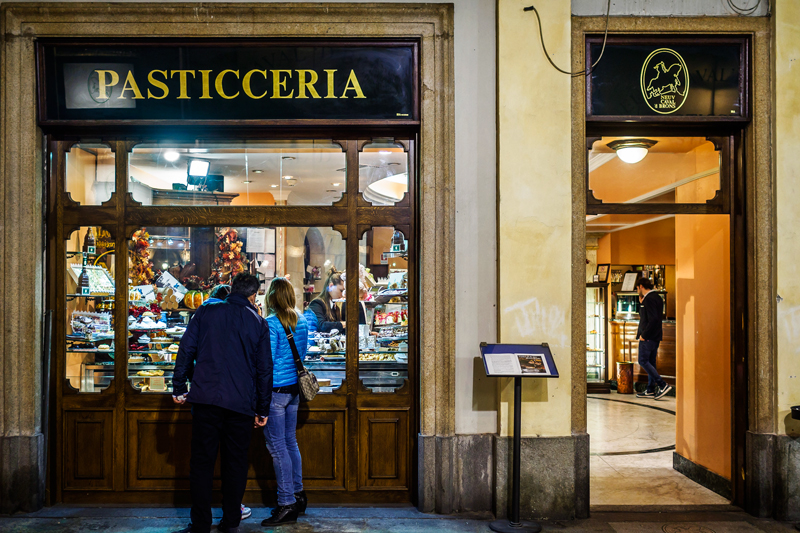 Photo by Alexander Schimmeck via CC
At a pasticceria, it's likely that you will need to place your order at the register, take your receipt and then repeat your order at the counter and turn in your receipt. The casual style and fast-moving service at pasticceri make them a great place to stop in for a quick breakfast or to pick up everything you would need for a makeshift meal on the go or for picnicking.
Tavola Calda
A tavola calda, or "hot table", is less of a type of eatery, and more of an additional piece of cooking equipment at a small food place. A bar with a tavola calda will offer everything a regular Italian bar offers, but will also have a small selection of pre-prepared hot dishes, usually including a few different pastas, risotto, and a meat or fish choice. Options typically don't exceed three or four items, and the food is often served cafeteria-style and sometimes charged by weight.
Photo by Emily Webber via CC, adapted by ParTASTE.
As opposed to many regular bars, a tavola calda will usually have a few small tables to sit down at, either inside or outside. Like normal bars, you pay at the register for your meal. A tavola calda generally only offers hot food for lunch, but it's a great option for a quick and satisfying meal.
Paninoteca
Panino imbottito, or simply panino in Italian means sandwich, so logically a paninoteca is a place where you can buy sandwiches like panini and tramezzino, bread, cold cuts and cheese.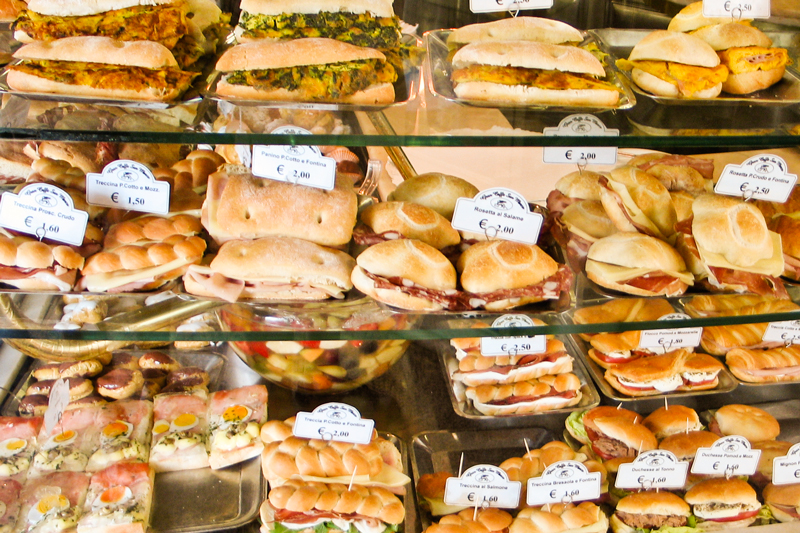 Photo by Andy Ciordia via CC, adapted by ParTASTE.
Paninotecas are very similar to other establishments such as pasticcerias, but they specifically deal in fresh baked bread and artisanal grains. They quality of ingredients at a a paninoteca is higher than what you would find in a paninaro, but the selection is more limited.
Paninaro
Every once in a while, you will happen upon a food truck lined with open windows displaying a large selection of items. There are different types of these food trucks, but the vast majority are paninari, or sandwich carts. Foreigners often find it intimidating to eat from one of these trucks, but there is no reason to worry, eating from a paninaro is normal in Italy! Paninari serve delicious sandwiches; a sandwich on a bun-roll with three different ingredients, a meat such as sausage or chicken cutlet, a cheese like mozzarella or provolone, and grilled onions, mushrooms, or marinated eggplant, will costs about €6 or €7. And don't forget the sauce! There are usually between four or five different sauces to choose for your sandwich or to add on as you please.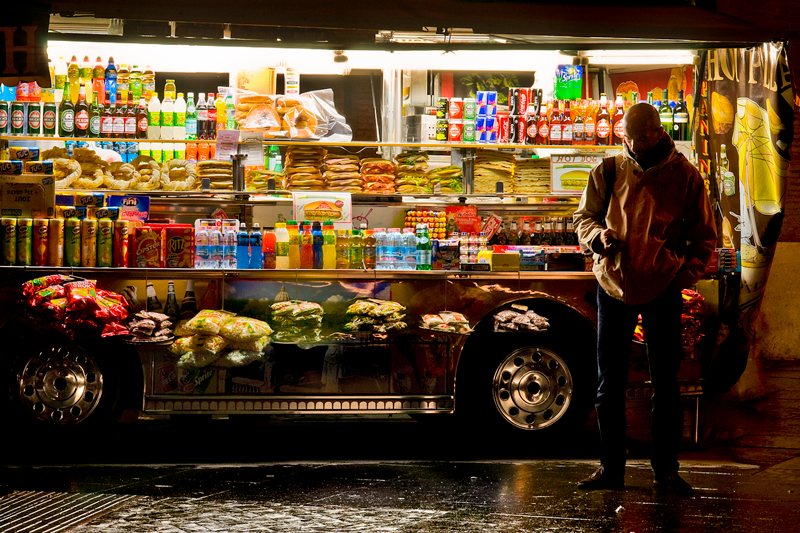 Photo by Curtis Perry via CC, adapted by ParTASTE.
To find a good paninaro, ask the locals for a recommendation or look for long lines; the popularity of paninari has resulted in a lot of cheap knock-offs, and you want to try the real thing. Many paninari don't open until late evening, hoping to attract the young, dance-club crowds, so if you have a particular paninaro you want to try, make sure you check the opening hours before going out of your way to find it.
Rosticceria
A rosticceria has been classified as a few different things in English, but it is generally considered a deli that specializes in roasted and sliceable meats. A rosticceria is different from a butcher in that it offers meat that has already been cooked, ready to be taken home. A rosticceria is the place to go if you would like to order a specialty roast or simply buy a professionally roasted chicken to bring home for the family.
Photo by Fiore Silvestro Barbato via CC, adapted by ParTASTE.
With the growing popularity of butcher shops in Italy, rosticcerias are becoming less and less common, but it is worth it to look for a local rosticceria in isolated Italian towns; they are where you will find traditional regional meats that aren't available anywhere else.
Autogrill
One of the few Italian eateries with an English name, the autogrill is basically a place for road-trippers to make a pit stop. Autogrill are conveniently located every so many miles off of the highways with large signs that you can't miss. Most autogrills have an incorporated gas station and a bar where you can get a slice of pizza or a sandwich. Many of the bigger autogrill either have a franchise eatery like McDonalds inside or will have a sizable selection of ready-made foods or hot food that can be prepared quickly.
Photo by Jose and Roxanne via CC, adapted by ParTASTE.
Autogrills also serve as edible-souvenir shops, offering specialty foods that you can only buy in a given region. Although it seems tacky, the quality of these foods is actually standard for the areas you'll be passing and the price is usually not too high. Consider this an option for small gifts to bring home to friends and family, or simply stock up on snacks for the long road ahead!
Taverna / Rifugio
The Italian taverna was once an establishment found in the mountainous regions of Italy where a traveler could stop for the evening and order a hearty meal, drink beer or spiced wine and even stay the night. Nowadays, the correct term for these types of taverne is rifugio, or refuge. The the word taverna is outdated, but can still be heard in use in some small mountain villages.
Rifugio Garibaldi in Lombardy, Italy. Photo by Fred Inklaar via CC, adapted by ParTASTE.
If you go to the mountains in Italy, you must make sure to stop and eat in a rifugio. Dining at a rifugio is a great way to get a taste of what the high north has to offer in terms of its cuisine; you are likely to encounter dishes that are so regional they are not found in any other country in the world, or even in most other parts of Italy. Rifugi are full service eateries so your check will be brought to the table, but you are usually expected to pay at the register before leaving.
Enoteca
An enoteca is a wine bar, or a bar where the only alcohol served is wine. In any given enoteca, you'll find a generous selection of whites and (predominantly) reds from the local area and, depending on the size of the bar, they might also stock some imported wines as well as a very small menu of appetizers.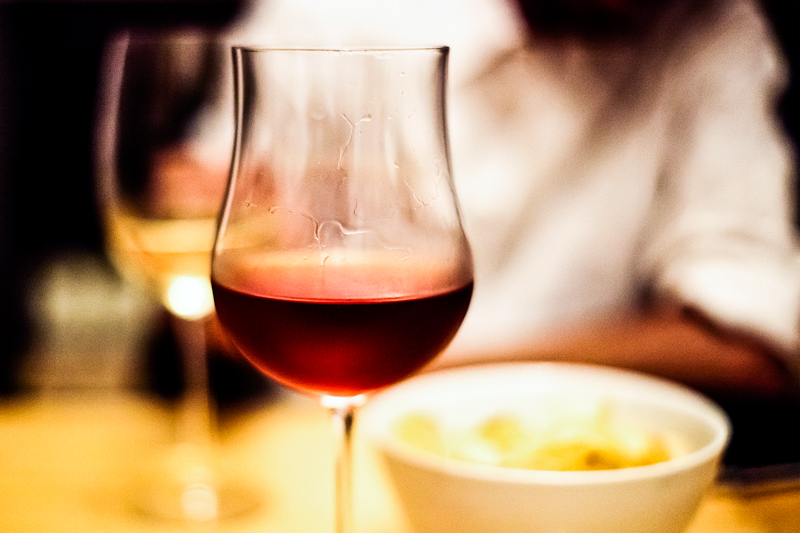 Photo by Angelo DeSantis via CC, adapted by ParTASTE.
An enoteca is a nice place to get a glass of wine and a snack before dinner, but keep in mind that most of them are too small to offer big apperitivi. If you stop by an enoteca in the evening, plan on having a substantial dinner afterwards, you can't let yourself go hungry in Italy!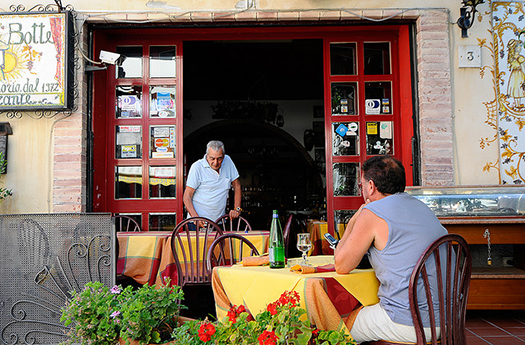 Photo by Levente Hernadi via CC.
As you can see, there are plenty of options when it comes to different types of places to eat in Italy. Although this list includes the most commonly encountered Italian eateries, depending on where you travel, you are sure to come across others that are more specialized like fiaschetterie, pizzerie, bacari and piadinerie. If you are anything like us, you plan your vacations and itineraries around what you want to eat. We hope that this list will help you have an amazing time in Italy, full of delicious meals and Italian treats!
What's your favorite type of place to eat in Italy?  Tweet us or find us on facebook to share your tips for indulging in local Italian gastronomy!