For festival-goers, spring and summer mark the optimal times to take advantage of good weather and experience some of the many fiestas held throughout Spain. From May to September, Spain hosts an eclectic variety of festivals. Whether your interest is music at Primavera and Sonar (Barcelona), baby jumping at El Colacho (Castrillo de Murcia) or the infamous running of the bulls at San Fermin (Pamplona), most would agree that the Spanish festival season is not complete without one late-August installment, La Tomatina.
photo via Łukasz Lech under CC license.
On the last Wednesday of every August, something rather extraordinary happens in the otherwise quiet town of Buñol, about 40 minutes west of Valencia. Tickets are available to 20,000 revellers from Spain and beyond who descend upon this quaint town of about 9,000 inhabitants with one aim: to participate in the world's largest food fight, La Tomatina. The weapons which take centre stage in this gastronomic battle are none other than tomatoes, over 120 tons of them, imported from Extremadura specifically for La Tomatina. The tomato fight, which dates back to 1945, is actually the highlight of a week-long celebration full of fireworks, music and dancing held in honor of Buñol's Patron Saint, San Luis Bertrán. People arrive to Buñol from far and wide on the morning of the food fight and many leave the same afternoon, as La Tomatina, from start to finish, lasts only for a couple of hours.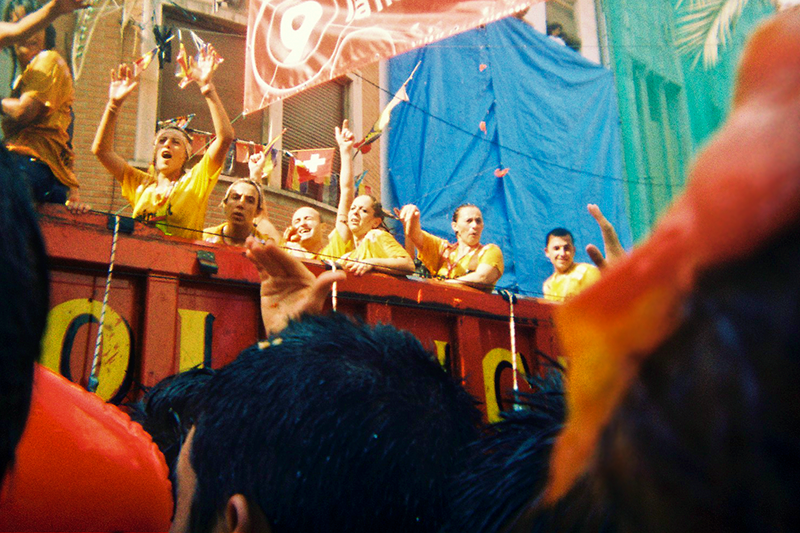 Tomato truck via MrT HK under CC license.
La Tomatina and its surrounding events begin at 10:00 on Wednesday morning in the Plaza del Pueblo, Buñol's main plaza. The summer sun is usually blazing, anticipation fills the air and the excitement is intensified by copious amounts of sangria being consumed in Buñol's narrow streets. Before the tomato fight commences, Palo Jabón, a pre-fight ritual, takes place. The first part of this ritual consists of a large, soap-greased pole being hoisted into the air with an entire jamón perched on top. Once the pole is in position, all eyes focus on the jamón and mayhem ensues as festival-goers battle their way to the top of the pole, clambering over one another to claim this meaty prize. There is no time for formalities once Palo Jabón has begun, the capture of the jamón signifies the official start of the tomato fight. At this point, a water cannon is shot into the air and trucks laden with tomatoes make their way onto the jam-packed streets of Buñol.
The tomatoes are emptied from the trucks into the crowds of people and once the ammunition has been distributed, people shift into a now-or-never mindset and concentrate their efforts onto making pulp-covered victims of whoever stands before them. Tomatina participants pelt each other with tomatoes, giving it all they've got and totally letting loose. After all, La Tomatina is not a spectator sport to be watched from the sidelines. One short hour after the tomato throwing begins, people are no longer distinguishable from one another and the streets are flooded with tomato carnage.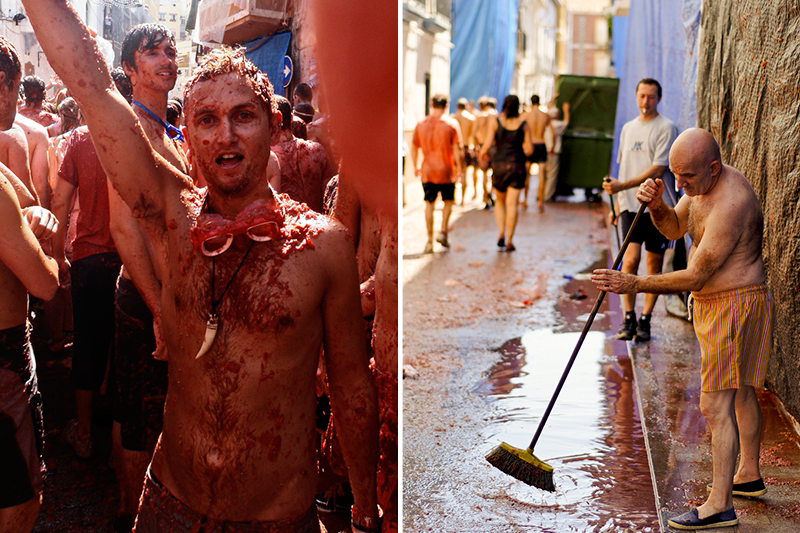 Tomato covered food fighter via James OBrien II & Tomatina clean-up via Łukasz Lech, both under CC license.
Around noon, another water cannon is fired to signal the end of the tomato onslaught and the food-filled battle seizes for yet another year. Because of La Tomatina, Buñol has affirmed its presence in the minds of many of those who travel to Spain. Over a hundred thousand tomatoes flying through the air over the course of an hour is, without a doubt, a sight to behold. The participants of La Tomatina take no prisoners and the town is painted red, no spot goes untouched. Almost as quickly as Buñol is drenched in tomato, it is cleaned-up courtesy of the local fire brigade. The town folk also lend a hand, coming out in full force to hose down the participants of La Tomatina before many of them return home, bringing back priceless memories and maybe some stubborn tomato pulp. The evidence of the day's festivities has all but been destroyed and Buñol is restored to its humble self… until next August.