Esquites - Corn Salad from the Streets of Mexico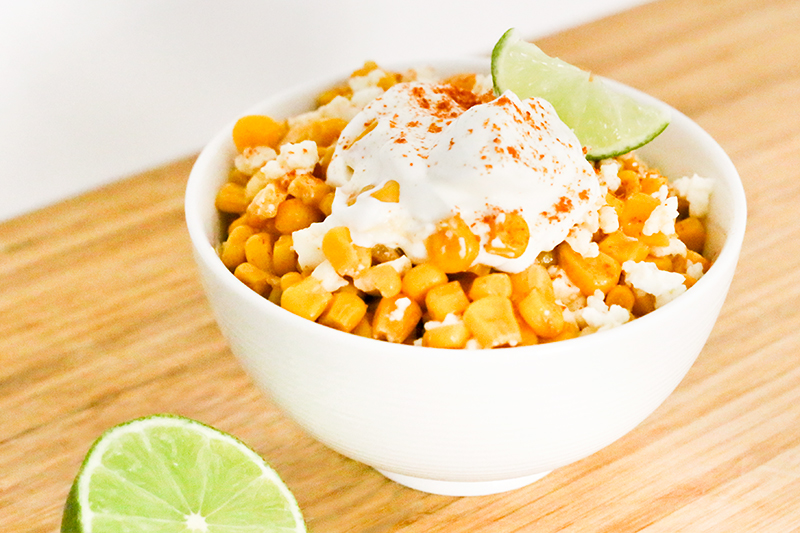 This delicious summer dish, typical of Northern Mexico, is a popular street food that makes for a great on-the-go snack, but we enjoy it just as much served at home. Sold from food trucks or eloteros (roadside carts or stands), usually in disposable cups, this casual food bursts with a surprisingly elegant combination of flavors.
Ingredients
1.5 - 2 cups of corn kernels (kernels from 2 medium / large ears of corn)
1.5 tbls butter
2 small limes, one juiced and one cut into wedges
¼ tsp chili powder or more to taste
½ cup cotija cheese or queso fresco, crumbled
2 tbls of Mexican crema
salt to taste
Instructions
Clean the corn of its husk and silk and carefully cut the kernels off of each corncob.
Melt the butter in a large saucepan and add the corn. You can add some chopped fresh serrano or jalapeño pepper if you want to add some heat to the corn in the cooking process.
Cook the corn kernels for 20-40 minutes, stirring frequently, until soft and slightly caramelized. If the kernels start to dry out before they are tender, you can add a little bit of water to the pan and continue cooking.
Once the corn is cooked, mix it in a bowl with the juice from one lime and the chili powder. Taste for heat and add more chili powder as desired.
Mix in the crumbled cheese.
Taste the mixture with the cheese incorporated and add salt if necessary. Depending on the cheese you use, you may not need to add any additional salt.
Separate into individual cups or bowls and top with the Mexican crema (evenly divided), add a sprinkle more of chili powder and serve with a wedge of lime.
Notes
The best type of corn to use for this recipe is Mexican white corn. If you can not find Mexican white corn, use sweet yellow corn but note that this type of corn usually doesn't need as long to cook so plan accordingly. If corn is out of season or you are short on time, you can use canned corn (drained and rinsed) and the cooking time should only be about 10 minutes.

If you are unable to find Mexican crema, you can substitute crème fraîche or greek yogurt. Many people substitute mayonnaise, but we find it to be too heavy and not as fresh tasting as crema, crème fraîche or greek yogurt. You can also mix in the crema before serving rather than topping each serving with it, either way, it should be mixed in before eating.

This dish can also be prepared with grilled or roasted corn. When prepared with grilled corn that is left on the cob, the corn cobs are referred to as elotes. Elotes can be prepared with the same ingredients by rolling them in a mixture of the crema and lime juice, followed by the cheese, and then sprinkled with chili and salt to taste.