Soppa tal-Qara Ahmar – Red Pumpkin Soup from Malta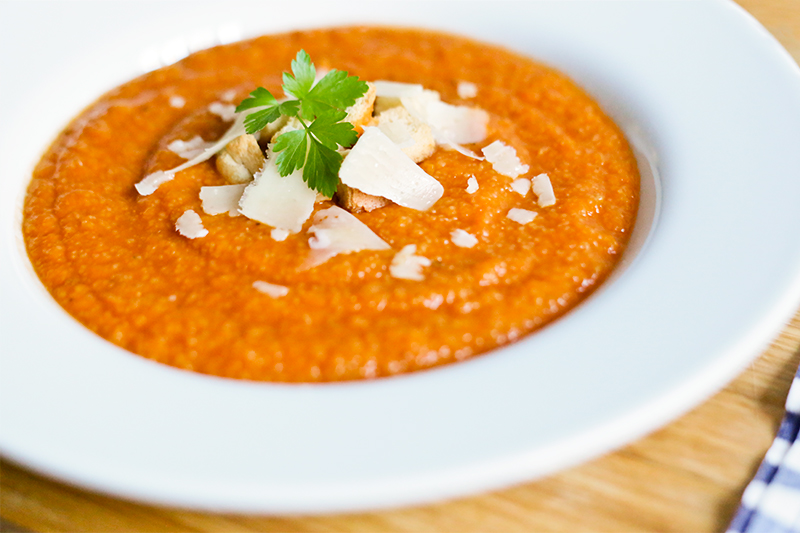 This simple Maltese pumpkin dish employs a bit of semolina flour to transform from a basic soup into an ultra comforting porridge. While soppa tal-qara ahmar would typically be served with shaved parmesan and home-baked croutons, we think it would be equity satisfying served as a complement to braised short ribs, roasted meat or even a thick ragù, much in the way you might serve polenta or mashed potatoes.
Ingredients
1 large onion, finely chopped
2 tablespoons of olive oil
1.5 lbs. of pumpkin, cleaned out, peeled and diced
1 small can (170 g) of tomato paste
4 cups of water or stock of your choosing
⅓ cup of semolina flour
Fresh-shaved Parmesan cheese for garnish / seasoning
Fresh parsley for garnish
Croutons, preferably homemade
Salt and pepper to taste
Instructions
Heat the olive oil in a frying pan over medium and cook the onions until soft and translucent, being careful not to burn them.
Add the diced pumpkin to the pan, stirring frequently until it begins to soften, about 10 minutes.
Meanwhile, bring the broth or water to a boil.
Add the tomato paste to the pumpkin and onions, cook for another 5 minutes, stirring constantly.
Add the tomato / pumpkin mixture to the broth or water and let it boil together for 10 minutes, season with salt and pepper to taste.
Reduce to a simmer and cook for about 45 minutes more, uncovered, until the pumpkin mashes easily with a fork.
Use a hand mixer or blender to puree the soup until smooth. If you want a silkier texture, pass the soup through a sieve, then return it to the pot.
Mix the semolina flour into the soup a bit at a time and, once well incorporated, cook over low heat for 10 minutes more.
Check one last time for seasoning, adjusting if necessary, and serve the soppa tal-qara ahmar in individual bowls topped with croutons and fresh parsley, accompany with fresh-shaved parmesan on the side for people to add as they like.
Notes
Depending on where you shop, semolina flour might just be called semolina; what you are looking for is pale yellow in color and ground to the approximate consistency of sand. When it comes time to serve soppa tal-qara ahmar, you can serve it topped with Parmesan rather than on the side, just keep in mind that a little goes a long way with this particular recipe so be careful not to over-do it. Don't let the name, "red pumpkin soup," fool you, normal pumpkin is used to make soppa tal-qara ahmar, it just takes on a deeper color from the addition of tomato paste.