Just off the main square of Marrakech, the infamous Jemm'a al Fna is an unassuming alley lined with tile topped counters. Behind the counters sit men in white jackets and ramshackle tables that have seen better days. Unlike many food and artisan stalls throughout the city, these men don't hassle tourists to come in, in fact you'll be hard pressed to find many tourists dining here at all. The whole roasted sheep heads stacked on clay pots tend to put some off.
But, if you are brave enough to wander in you'll be treated to the star of Marrakech cuisine – the tanjia. Not to be confused with tajine, tanjia is a unique, meat-heavy dish made only in this city. Where a tajine is made in a two-piece cone shaped conical pot, a tanjia is cooked in a clay urn. Tajine can describe any number of combinations of meats, vegetables and spices, there are endless varieties across Morocco. Tanjia however is almost exclusively made with the meat of sheep along with the simple ingredients of preserved lemons, garlic, cumin, saffron, a touch of olive oil and just enough water to keep it from sticking to the pot. The recipe is so simple it's also known as "the bachelor's dish," as in Morocco most cooking is still in the women's realm of responsibility.
Photo by Kieren Messenger via CC, adapted by ParTASTE
Even the method of cooking a tanjia is unique. Once the urns are filled, they're taken to a furnace where the water for the hammam (the Moroccan bathhouse) is heated. Once charcoal is created from burning material, the coals are moved out of the oven to the side. The tanjias are nestled into the coals and left overnight to slow cook until the meat is tender and falling apart. How did this delicious dish come to exist and why just in Marrakech?
Today's tanjia stalls have been in operation for multiple generations. Our favorite shop is owned by a man named Hassan who is the fourth generation of his family to do the same thing, in the same place, using the same recipe. While no one is certain how many years it has been in operation, guesses are around 150. Traditionally, the men who worked in Marrakech's souks would have Friday off work. On Thursday, one of the men would stop by the shops in his section of the souk to collect money from the men that wanted to participate. He would be in charge of preparing the tanjia. On Friday the men would then go to a park outside of the city to have a picnic and relax.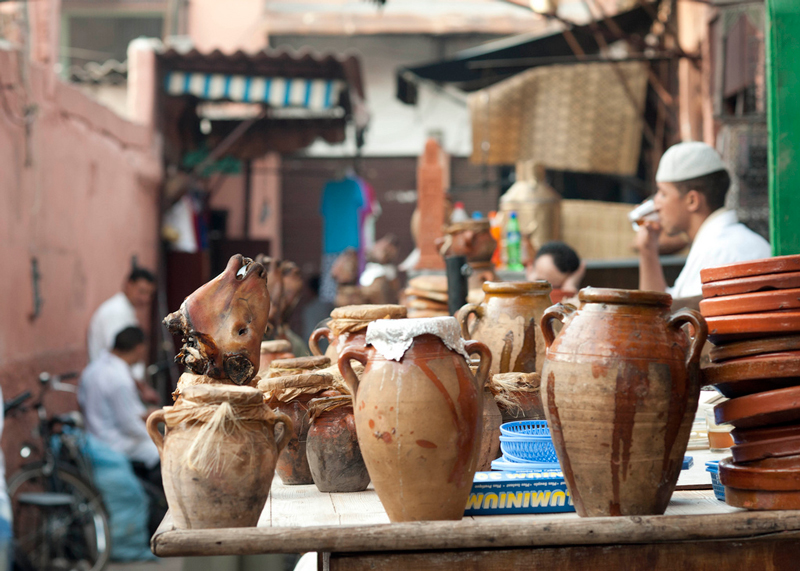 Photo by Todd Geasland via CC
Today, this tradition has largely faded away but you still find tanjia in the food stalls and on tables throughout the city. Other Moroccans haven't adopted the dish, and few outside of the city know how to make it. Instead they visit Marrakech to get their tangia fill.
The tanjia shops don't just serve this dish, they also have two other offerings; mechoui and roasted sheep head. Mechoui is made across the country. A whole sheep is placed into a deep clay oven and roasted for about three hours until tender. It's sold by the weight and served with a side of cumin and salt to sprinkle on top. Sheep heads are cooked in a similar way. First, the brain is removed and fur and skin is burned off. Then the heads are roasted. This dish is often served in Moroccan homes following Eid al Adha but for those who can't wait an entire year, it's available from food stalls any day of the week.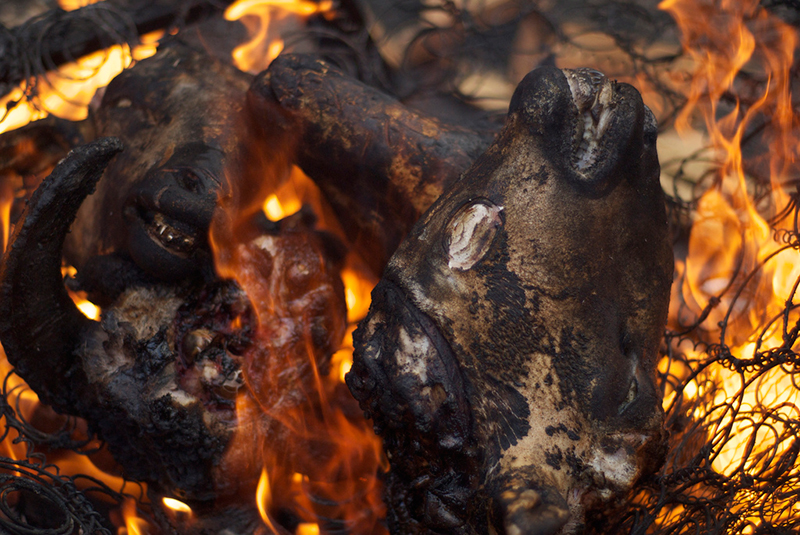 Photo by Hugo van Tilborg via CC
Morocco's culinary history runs deep but visitors have to work a little to uncover the true gems. The best food is still served in homes, however enterprising individuals are resurrecting traditional cuisine and bringing it to those who lack the time and knowledge to prepare these meals. Whatever you do, don't leave Marrakech with trying tanjia!