In some countries, people avoid places with multilingual menus like the plague, insisting that they are an indicator of tourist-oriented restaurants and that the quality of the food won't be good. While that may be true in many countries around the world, things are a bit different in Morocco. Moroccans don't usually go out to eat Moroccan food, they eat it at home. If you intend to eat a sit-down meal in a Moroccan restaurant, you should be aware that the restaurant is there to serve tourists, so don't let a variety of languages on the menu dissuade you from from going.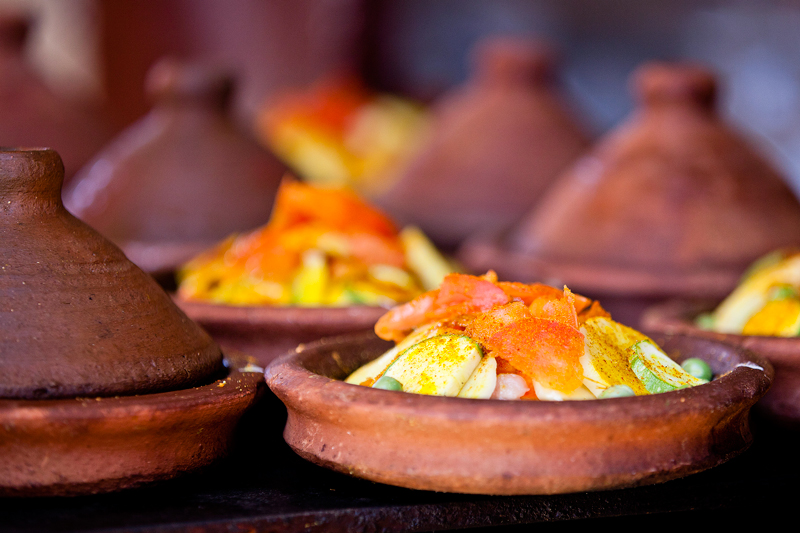 photo by Rene Bastiaanssen via CC, adapted by ParTASTE
Assuming you plan to eat out while in Morocco, you'll find a couple of different scenarios for menus (or lack thereof). In restaurants, it will be very rare to find a menu that is in Arabic, which is great news for people who can't speak Arabic! The majority of menus will be written in French and in some places you'll be able to find menus in Spanish or English. The second scenario is that there will be no menu; either the restaurant serves a set few things or you point and order what you see. If you find yourself in a local Moroccan restaurant that does have a menu, the following tips will help you decode what you are likely to find.
Salads and Starters
A typical Moroccan meal starts with at least one salad and, often times, several. The salads that are served depend to some degree on what's in season and what the main dish will be. Salads are typically cooked and spiced (not spicy) vegetables that are served at room temperature or warm. There are a few raw Moroccan salads, but not many. Salads are served in small portions. Some popular combinations are:
Za'alook – an eggplant and tomato salad
Taktouka – a tomato and charred green pepper salad
Carottes – spiced cooked carrots
Haricot Vert – green beans in a vinaigrette dressing
Lentilles – cooked lentils or other types of beans in a thick sauce with spices
Riz et Thon – rice and tuna, served cold and flavored with cumin and pepper
Salade Marocaine – tomatoes, cucumbers and onions in vinaigrette (raw salad)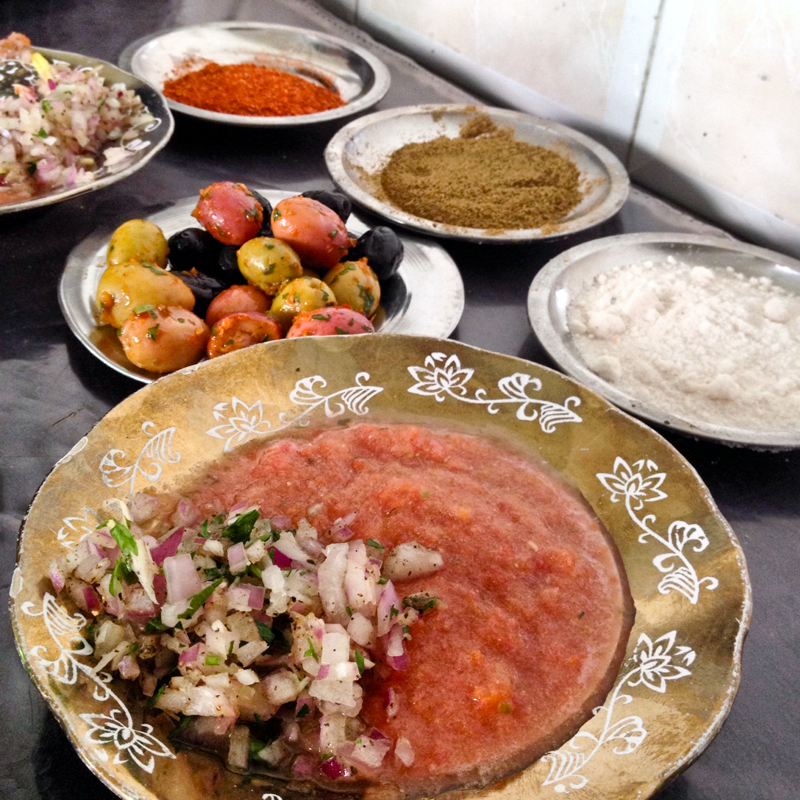 photo by Amanda Mouttaki
Other starters might include a variety of olives or b'stila. B'stila is a very unique type of pie of which there are two common varieties: chicken and seafood. The b'stila avec poulet (chicken pie) has a filling made with cooked, spiced chicken and slow-cooked onions to which eggs are gradually incorporated. The filling is placed into a filo-like dough and topped with ground almonds. The package is wrapped up and baked. Before serving, chicken b'stila is dusted with powdered sugar and cinnamon. Traditionally, this version was made using pigeon but it's uncommon to find it still being made that way. The second type of b'stila is b'stila avec fruits de mer, stuffed with mixed seafood, green olives, vermicelli noodles and lots of spices; no sugar involved, it's deliciously savory!
Plat Principal
Couscous and tajine are the two primary dishes that feature heavily as mains on Moroccan menus. Don't worry, just because you won't find a plethora of mainstays in commercial Moroccan cuisine doesn't mean that you should expect to keep eating the same thing. Both couscous and tajines come in many different varieties!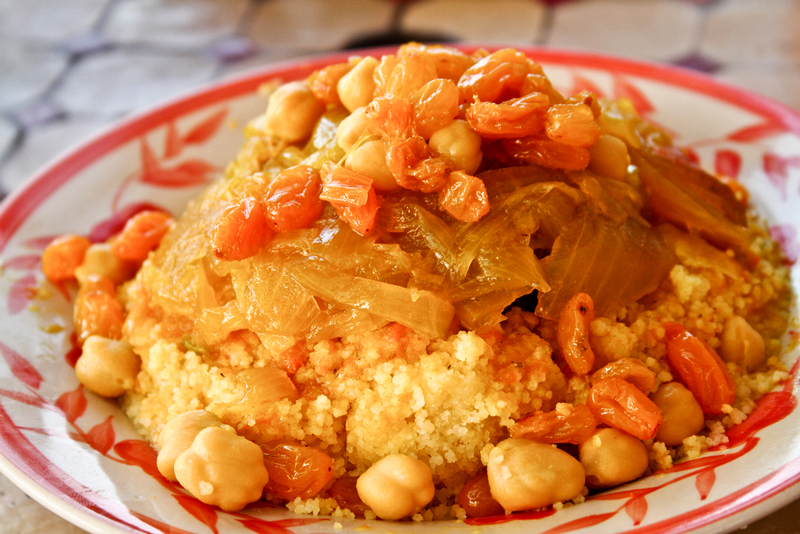 photo by Arsheffield via CC, adapted by ParTASTE
Couscous in Morocco is different from what you've had anywhere else. To make Moroccan couscous, semolina grains are soaked in salt water and tripled steamed in a special pot. The couscous is topped with a variety of things like vegetables, broth, and meat which have been cooked in the bottom pot. Once the couscous is dry from the first steaming, it's removed and the cook uses her hands to separate the grains and wet them again. By the third steaming, it's ready. Unlike many typical Moroccan dishes, couscous is eaten with a spoon rather than bread or your hands. Moroccans eat couscous on Fridays, so your best chance of tasting really good couscous is on that day. Couscous can be made vegetarian, with lamb or with chicken. Couscous Tfaya is extra special as it's topped with caramelized onions, raisins and almonds or sesame seeds which give it a really unique flavor.
photo by Amanda Mouttaki
Tajine is the meal of choice most days in a Moroccan home. There are dozens of varieties. The name tajine refers not to one single dish but rather it has several meanings. First, tajine is the name of the conical pot that food is often cooked in. Second, it's the name of the type of food cooked inside of the pot of the same name. What is cooked inside the tajine will vary. Chicken with preserved lemons and olives is a very popular option, as is lamb with prunes and almonds. Many restaurants will have a set menu of tajines which may include specials of the day. When given the option, go with the special because it's often made with seasonal produce like quinces or artichokes.
Desserts
A very typical dessert in Morocco is a platter of fresh, seasonal fruit. Fruit makes for a very simple and light dessert – which is a good thing after you've indulged in all of the starters and main dishes! Aside from fruit, restaurants may serve cookies or some type of cake as a dessert but it isn't very common.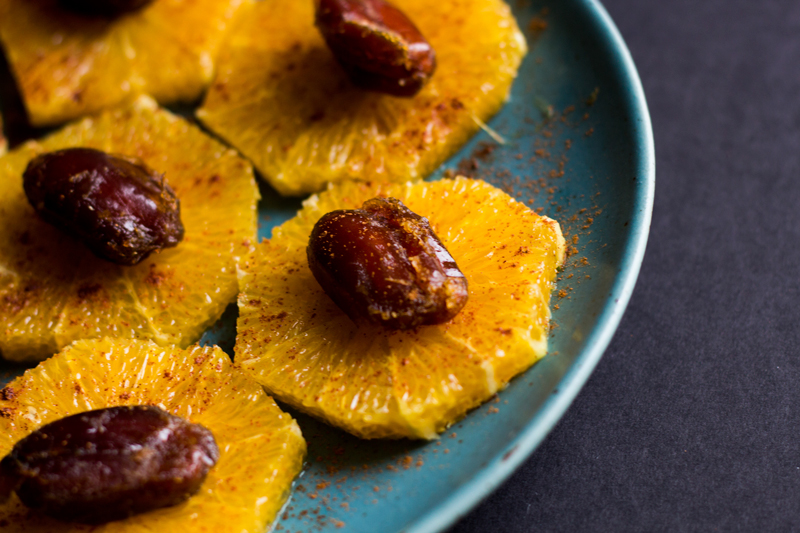 photo by Liz Mochrie via CC
Point and Order Menus
The other "menu" scenario you may encounter is when there really isn't one. For example, in Marrakech there's a street where all that the small shops lining it sell is lamb, prepared in two ways. These type of shops have no menu and, unless you are feeling gutsy or you already know what you're doing, you probably wouldn't wander into one of them. If you are curious about the opportunity for a meal at a local Moroccan shop, you'll have to ask to find out what they offer and how much it costs. Some places offer a very limited menu of no more than a handful of items every day; perhaps two types of tajine and another entrée with salads. If you stumble onto one of these establishments, give it a try. As opposed to some of the large kitchens designed to crank out sub-par "Moroccan" food for tourists, these shops are usually small, family-run operations that offer an authentic taste of the local cuisine.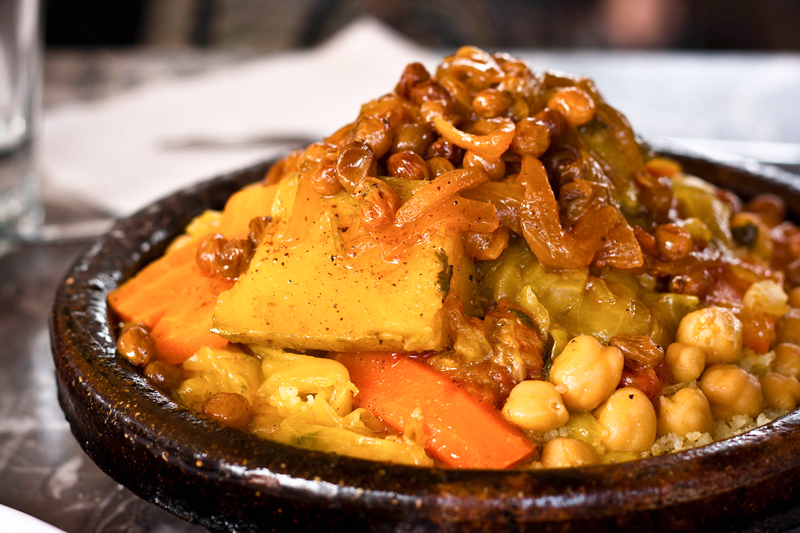 photo by Reena Mahtani via CC, adapted by ParTASTE
Another informal dining option in Morocco is the food stalls which offer a few dishes and a few places to sit down. At a food stall, you tell them or point to what you want from the limited options and either take your food to-go or find an available seat. One of the good things about these places is that you'll find that lots of locals eat this way. You'll likely discover that the food from a menuless shop or food stall is more representative of what Moroccans eat than what you'll eat in restaurants. Because these shops serve a local population, the prices are also very affordable.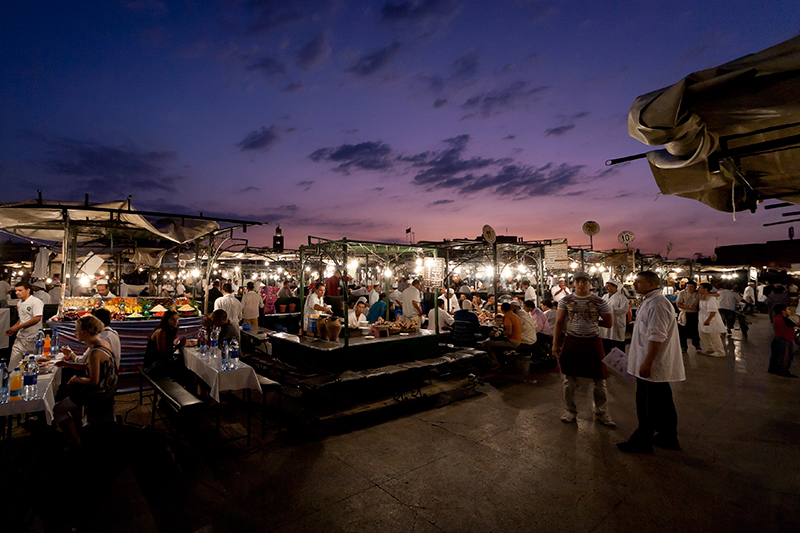 photo by Dave Morris via CC, adapted by ParTASTE
Eating in Morocco can be an amazing experience but you'll need a little bit of gusto and willingness to go outside of your normal comfort zone to uncover local gems and authentic treats. If you do, you'll walk away having experienced a cuisine that has evolved and been perfected over centuries, not to mention with a very full stomach, happy palate, and delicious memories to savor once you've returned home.
Have you ever been to Morocco? What was your favorite type of place to eat while there? Tweet us or visit us on facebook to share what you thought!