A Minor Identity Crisis
If you ask me if I love food the answer is a resounding, "YES!!!" I have loved, and always will love food. At the same time, people who have known me since childhood are probably a little surprised, or even shocked, to discover that I created ParTASTE. One might imagine that someone who'd take on cataloging and teaching others about cuisines of the world would be obsessed with food. When I conceived of ParTASTE, I was simply looking for a way to feed some of our visitors (a vegetarian, a vegan, and my sister – one of the pickiest eaters I know) in Madrid.
When I moved to Spain, I was a MUCH pickier version of myself. Having relatively little knowledge of the gastronomic landscape here (which is fantastic by the way), I needed something to guide me through a sea of restaurants with menus full of things that were utterly foreign to me. Determined not to waste money on bad food and to have some good things for our friends to eat outside of our home, I began searching for a resource to help foreigners navigate Spanish cuisine. Come on Google: "Spanish food for vegans," "Spanish food for vegetarians," "WHAT THE HECK DO PEOPLE EAT IN SPAIN!?!"
Not an uncommon sight in Spain but quite shocking to the uninitiated.
When my efforts yielded very little useful information, I though, "Okay, someone has to make something, people like me need help." Traveling just isn't as fun without good food. I had traveled plenty before, but what I began to realize is I hadn't really tried unfamiliar foods. So, if no one else was going to help people experience local cuisine while traveling, I would. The idea first began as a guide to Spanish food, by diner type.
What happened next is sort of a mystery. What I considered to be a "basic" idea snowballed out of control and somehow evolved into what you are reading today. I guess in the end, I did become obsessed with food, along with the experiences that branching out into the local gastronomy exposes you to.
The "Foodie" Conundrum
In the last 3 years, a lot has changed in my world. I have explored countries and eaten local foods that I never would have dreamed of. My family still ridicules me for the time I burned rice so badly that we had to throw out the pot, but I digress. After working on ParTASTE for a while, people started to take notice of just how much I knew about food. People even began to refer to me as a (gasp!) foodie. To be clear, I don't claim to be, nor do I consider myself to be, a foodie. If you spent the majority of your life being the picky friend AND you grew up in the (San Francisco) Bay Area, you know better than to call yourself a foodie, lest you be labeled a poser.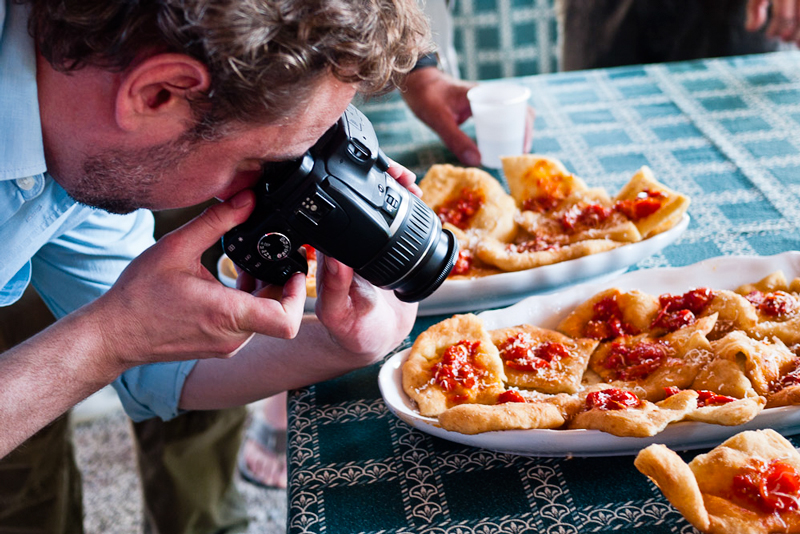 Foodie or photographer? And more importantly, does it matter?
So who the heck qualifies as a foodie anyhow? Is ParTASTE a site for foodies? When preparing to write this article, I took to the internet to see if there was any sort of consensus regarding what a foodie is. What I found is what I expected, there isn't. I learned a bit about the history of the term from "foodie" founder Paul Levy and read a rather interesting roundup of opinions over at First we Feast. When Bizarre Foods host Andrew Zimmern was asked about the term, he said, "Someone who loves food can be called a gastronaut (hipster) or a gourmet (classic), or how about food lover…or anything else."
So Really, What's in a Name?
As far as ParTASTE is concerned, we don't care what you call yourself, or what you call us for that matter. If you like food, are curious about foreign cuisine and want to feel more connected to different cultures around the world, you are welcome here! No mater your diner type, we hope you will indulge in the the foods that bring richness and tradition to our cultures. ParTASTE is here to expose you to what's out there and make it easier for you to experience, no matter how idiosyncratic your eating habits may be.