Imqarrun il-Forn - Maltese Baked Macaroni Casserole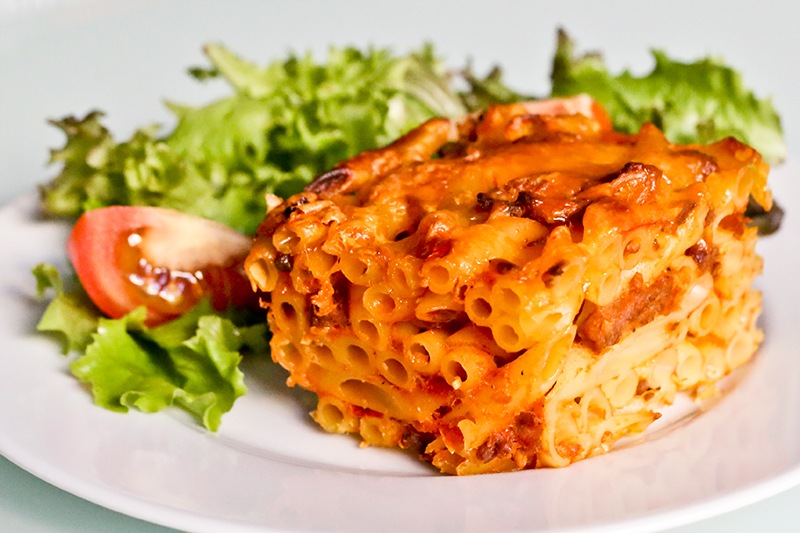 Imqarrun il-forn has origins in Sicily but is, without a doubt, a staple of traditional Maltese cuisine. This popular baked macaroni takes some time to make, but it's incredibly easy to do and the result is something like a cross between lasagna and penne al ragù. The recipe below is for a simple, typical version of this dish, but each cook has their own secrets for making imqarrun il-forn, from a sprinkle of nutmeg to the addition of fresh peas, so we encourage you to play with the recipe to make it your own!
Ingredients
1-2 tablespoons of olive oil
1 large onion, chopped
2 garlic cloves, minced (optional)
1 lb. minced pork, ground beef or a combination of the two
¼ lb. diced pancetta (optional)
1 can of crushed tomatoes in tomato juice (400 grams or 14.10 oz)
4 tablespoons of tomato paste
1 lb. of dried macaroni (straight, not elbow)
4 large eggs, beaten
4 tablespoons of freshly grated Parmesan cheese
¼ lb. edam or cheddar cheese, grated
Salt & pepper to taste
Instructions
Heat olive oil over medium and cook the onion until soft and just golden.
If you are using garlic, add it at this point and cook for a couple more minutes, being careful not to burn it.
Add the ground meat and pancetta (if using), season with salt and pepper to taste and cook, stirring frequently, breaking up the ground meat as you stir, until browned, about 10-15 minutes
Add the crushed tomato and tomato paste, mix well and simmer, covered, for 30 minutes, and then uncovered for an additional 30 minutes, adding a little water if necessary to make sure the mixture doesn't dry out.
While the meat and tomato sauce simmers, cook the pasta in generously salted water, draining it and rinsing with cold water about 2 minutes before it's done so it's cooked just less than al dente.
Preheat the oven to 350 F˚
When the sauce is done, check for seasoning and adjust if necessary.
In a large bowl, gently mix the sauce and the pasta, being careful not to break up the noodles and check for seasoning one more time, adjusting as necessary.
Break the eggs into a separate bowl, beat them and mix in the parmesan, then gently incorporate the egg / cheese mixture into the pasta / sauce mixture.
Grease a large, oven-proof, baking dish (13x9" is a good size) and fill it with the pasta mixture.
Sprinkle the grated edam or cheddar cheese on top of everything and bake for 30-45 minutes until the cheese is melted, golden and crisp.
When done cooking, remove from the oven and let cool for about 5 minutes, cut, serve and enjoy!
Notes
Be careful to initially undercook the pasta as it will continue to cook once it's in the oven. Traditionally, this dish calls for the addition of chicken liver, but it is less commonly used these days. If you want to add chicken liver, feel free to do so, just add at your discretion when the ground meat is almost browned and cook for approximately 5 minutes longer before adding the tomato. Since the sauce used to make imqarrun il-forn is a simple ragù, if you already have a favorite ragù recipe, feel free to incorporate your favorite elements of it, just make sure that the overall quantity of sauce and the volume of tomato is about the same so that the macaroni bake doesn't come out dry.