Many things come to mind when you think of Christmas, and we'd bet that among them, love it or hate it, is shopping. Though many people lament the commercialization of Christmas as a vice of modern times, the origin of the Yuletide shopping spree dates back as far as the Middle Ages — nowhere does this tradition thrive as much as in Germany. Traveling to Germany's Christmas markets is a wonderful opportunity to see the wares of local artisans, buy unique and special gifts for loved ones, and enjoy comforting seasonal treats.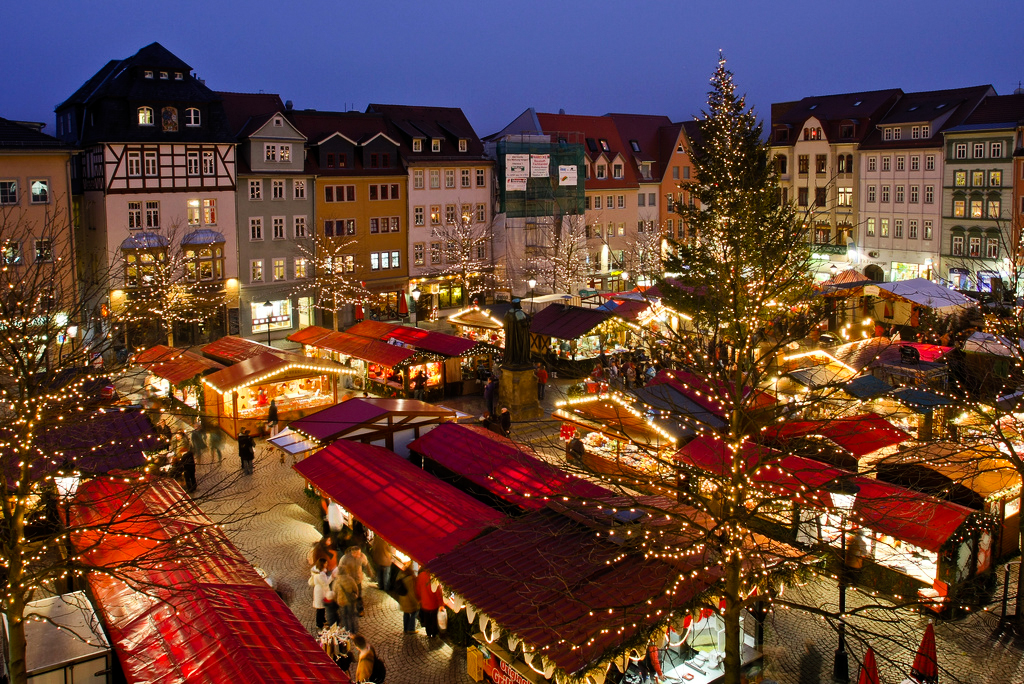 Traditional Christmas market in Jena, Germany. Photo by Rene Schwietzke via CC
What to Expect at a German Christmas Market
Known as Weihnactsmarkt, Christkindlmarkt, Christkindlesmarkt, Nikolausmarkt or Striezelmarkt, these open-air events appear in cities all over Germany during the four weeks of Advent that lead up to Christmas Day. Vendors set up stalls in the town square, and visitors flock from far and away to take part in this Old World tradition. German Christmas Markets are popular with locals and visitors alike, and while in larger cities they may have hundreds of vendors, many towns and villages hold their own markets on a smaller scale.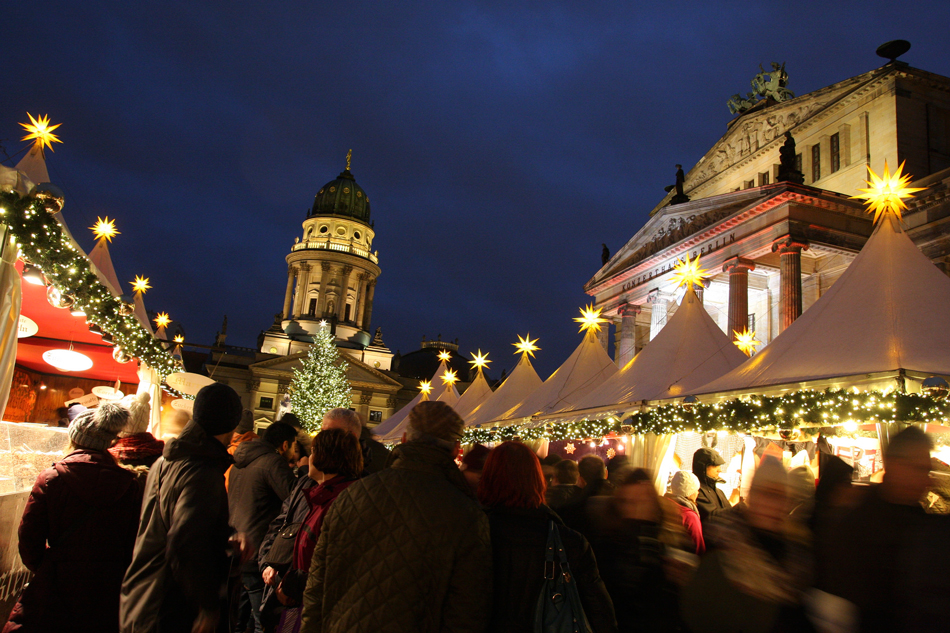 The festive scene at Berlin's Gendarmenmarkt. Photo by Yeowatzup via CC
German Christmas Markets provide a feast for all the senses. Aromas of flame-kissed sausage, roasting nuts and gingerbread fill the air while festive music adds ambience; though your extremities are sure to be numbed by the chilly weather, enjoying a nice mug of glühwein, hot mulled wine, spreads much-needed warmth through your body. Come nightfall, twinkling lights transform the market into a fairytale wonderland, casting a soft glow over the peaked tents and pine branch decorations.
The atmosphere at German Christmas Markets has universal appeal. For those who seek a bit of excitement with their holiday shopping, some markets also feature 21st century amusements like carnival rides — the one in Berlin's Potsdamer Platz boasts Europe's largest mobile toboggan run. Whether the Christmas market you visit caters more toward modern entertainment or remains strictly traditional, every market pays homage to centuries-old customs in its own way.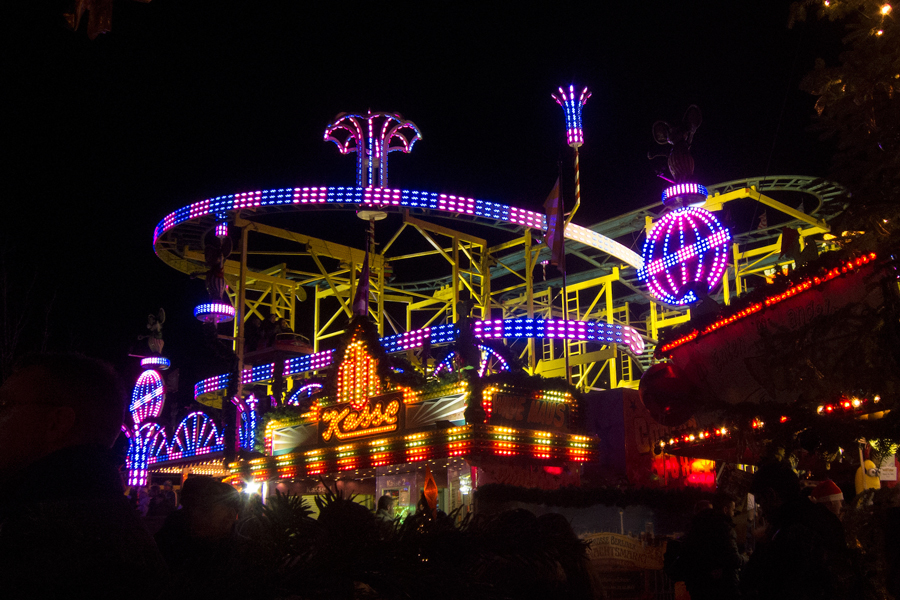 Roller coaster ride at a more modern Christmas Market in Berlin. Photo by Thomas Quine via CC
Some Christmas Market History
Despite their connection to the Christian holiday, German Christmas markets are not strictly religious. In fact, the earliest Wintermarkte, dating back to the late 12th century, were not connected to Christmas at all. Instead, their intention was to offer townspeople a chance to stock up on food and supplies before hunkering down to ride out the barren winter months.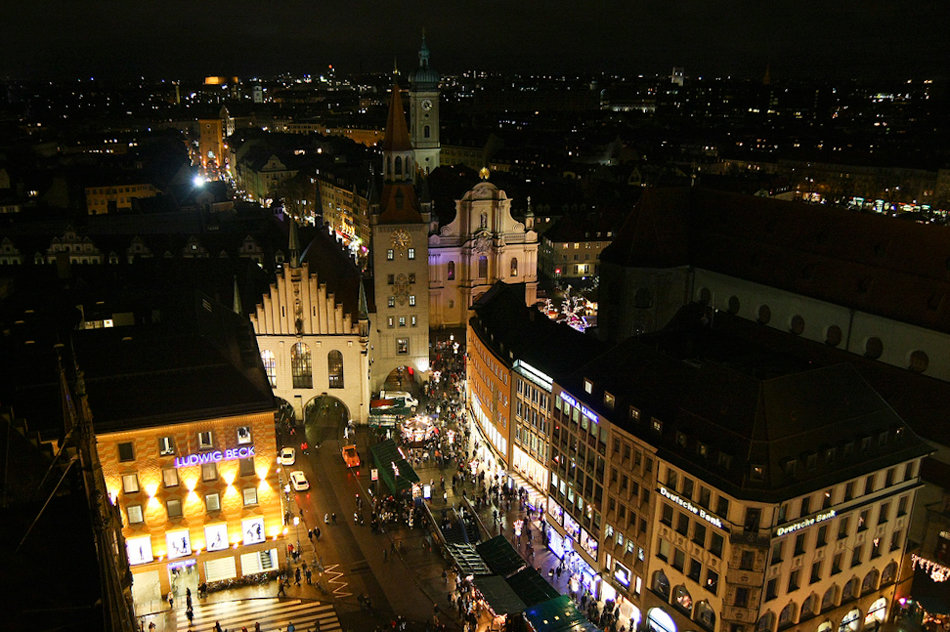 Looking down over Munich's central Christmas Market. Photo by James via CC
Over time, these markets began featuring utilitarian goods less exclusively, and craftsmen started setting up stands to hawk hand-made baskets, wood carvings and toys. Delicacies like roasted nuts and baked foods were also for sale, purchased as small gifts to be shared with others or to enjoy on the spot as a mid-shopping snack. Around the time of the Reformation, Martin Luther established Germany's official gift-giving day as December 24th, and with that, the modern-day idea of exchanging Christmas gifts really began to take hold. These days, gift giving is commonplace and traditional winter markets are embraced as a charming staple of the holiday season by the devout and secular alike.
What to Eat at a German Christmas Market
All German Christmas markets provide a great opportunity to indulge in hearty cuisine that satisfies the appetite and helps to fend off the winter cold. These markets are an excellent place to find regional and seasonal specialties.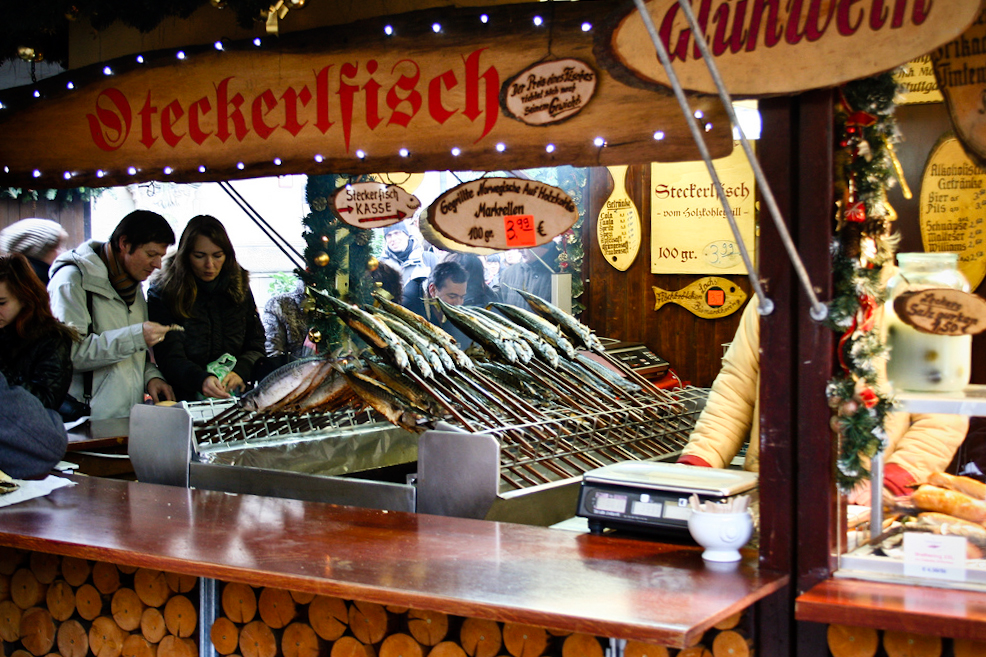 Steckerlfisch roasting at the Christmas Market in Stuttgart. Photo by Chrissy Hunt via CC
With regard to foods that you are likely to encounter at winter markets throughout the country, sausages and other traditional wurst are a savory essential that are easy to eat while you browse. They're usually served in a bun with mustard or ketchup; work a little variety into your sausage consumption with a käsewurst (cheese sausage), feuerwurst (spicy "fire sausage"), or currywurst. Sweet foods are just as popular as savory, and many treats we associate with Christmas worldwide actually have origins in Germany.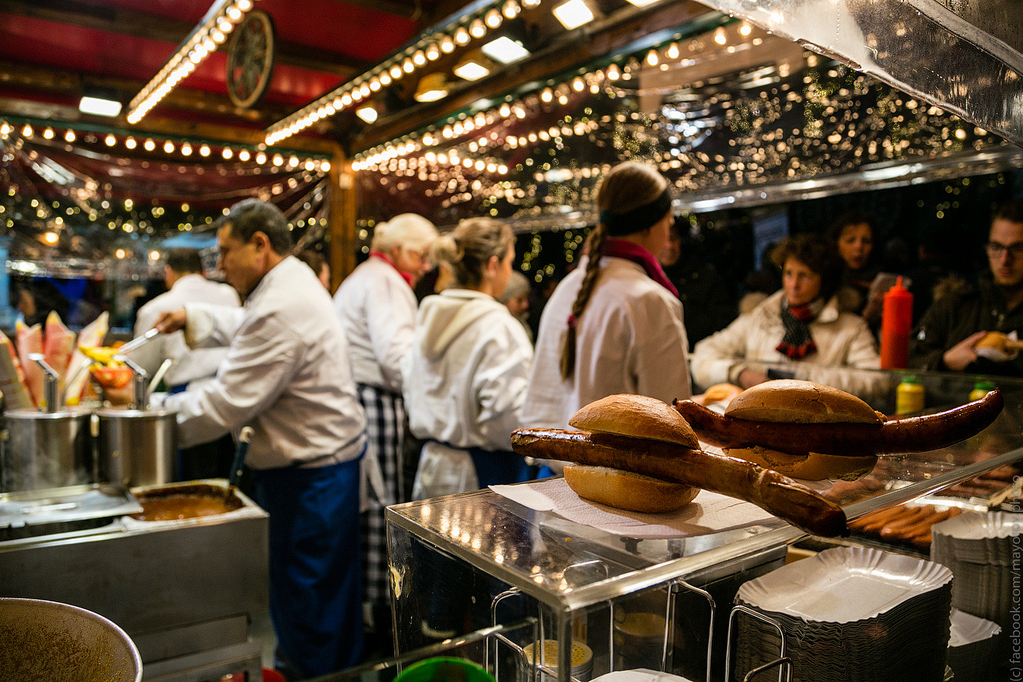 Hot wurst sandwiches in Aachen. Photo by Max Mayorov via CC
Gingerbread or Lebkuchen, for example, is a highly traditional Christmas cookie in Germany; it's made of slightly sweet dough spiced with nutmeg, allspice, cloves and cinnamon. Almonds, hazelnuts or walnuts add a bit of crunch, while candied lemon or orange peels are sometimes added for a zesty touch.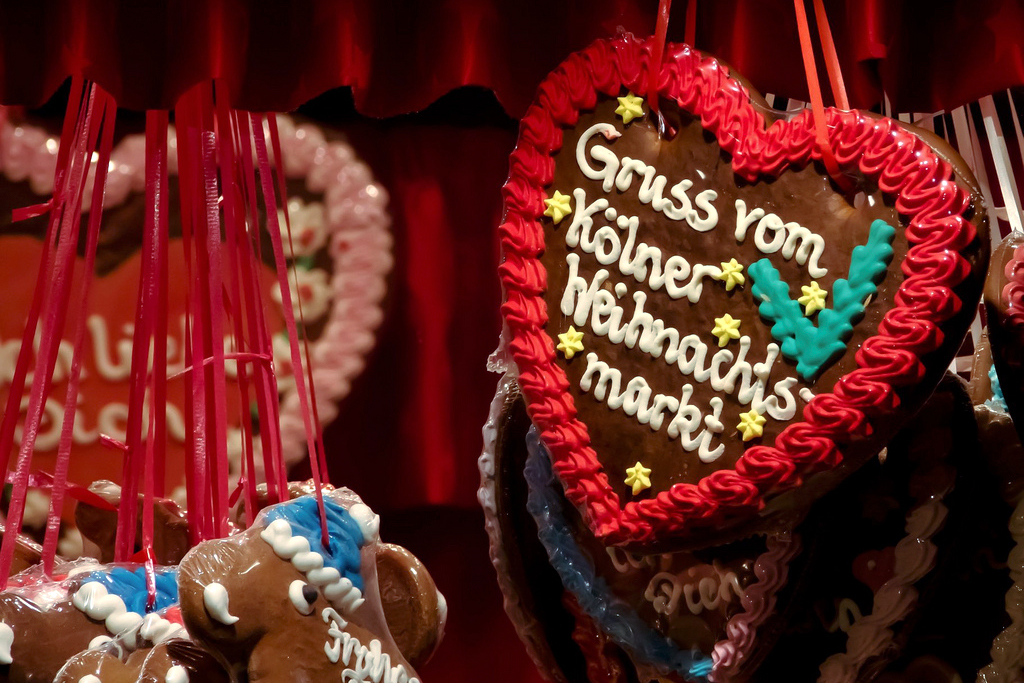 Traditionally decorated gingerbread hearts. Photo by Phototropy via CC
Then there's stollen, a type of fruitcake that bears only a slight resemblance to the variation at which Americans tend to turn up their noses. This cake-like bread is baked with candied or dried fruit (commonly citrus peel and raisins), nuts and spices, sometimes with a marzipan core, and then dusted with powdered sugar or topped with icing. Although you may not recognize it, stollen are traditionally shaped to symbolize the baby Jesus wrapped in swaddling cloths, making reference to the religious nature of the Christmas holiday.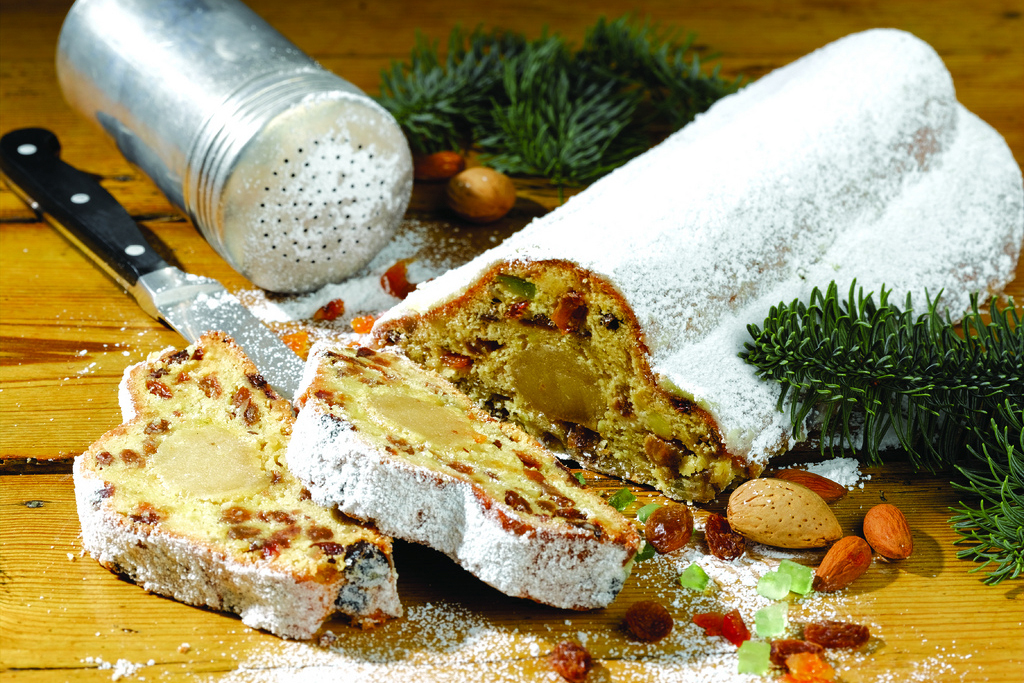 Christmas stollen with a marzipan core. Photo by Butaris via CC
Whatever you choose to eat, be sure to wash it down with a steaming mug of glühwein; food stands may differ from market to market, but the spiced hot wine is a ubiquitous touch. For those desiring an extra kick of Christmas cheer, add a shot of rum or amaretto. Rather than serve this warming winter beverage in disposable cups, most major Christmas Markets employ ceramic mugs with seasonal designs for which you pay a deposit upon purchasing your glüwein. Once you've finished your glüwein, return your mug to get your deposit back, or, alternatively, forfeit your deposit and keep your mug as a holiday souvenir.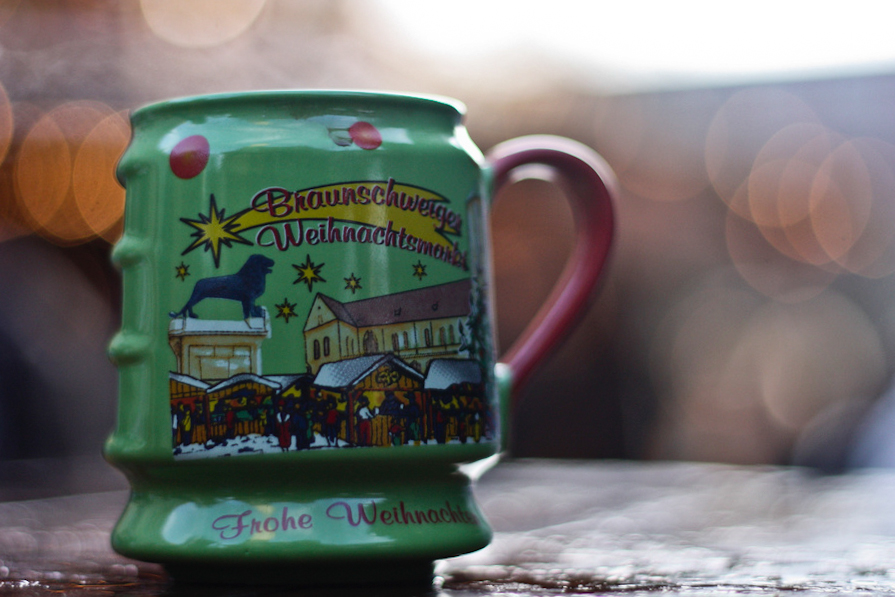 A decorative glühwein mug. Photo by Matt Hamm via CC
Where to Go
With the abundance of Christmas Markets across Germany, narrowing down your choice can feel like an impossible task. Here are just a few of the best German Christmas Markets to help you decide.
Nuremberg: One of the oldest and most famous markets, Christkindlesmarkt in Nuremberg's Hauptmarkt square preserves all the charm of its earliest days (the market dates back to 1628). The sale of mass-produced goods is prohibited, so you'll find only hand-crafted, original items. The medieval city and neighboring Alps provide the perfect backdrop for the ultra-traditional market, though the Children's Market section does contain an old fashioned carousel and a Ferris wheel. While you're there, be sure to try the "plum people," prunes crafted into small figures, combining food and gifting in a unique way. Nuremberg's gingerbread is also famous worldwide for its soft texture and marzipan flavoring.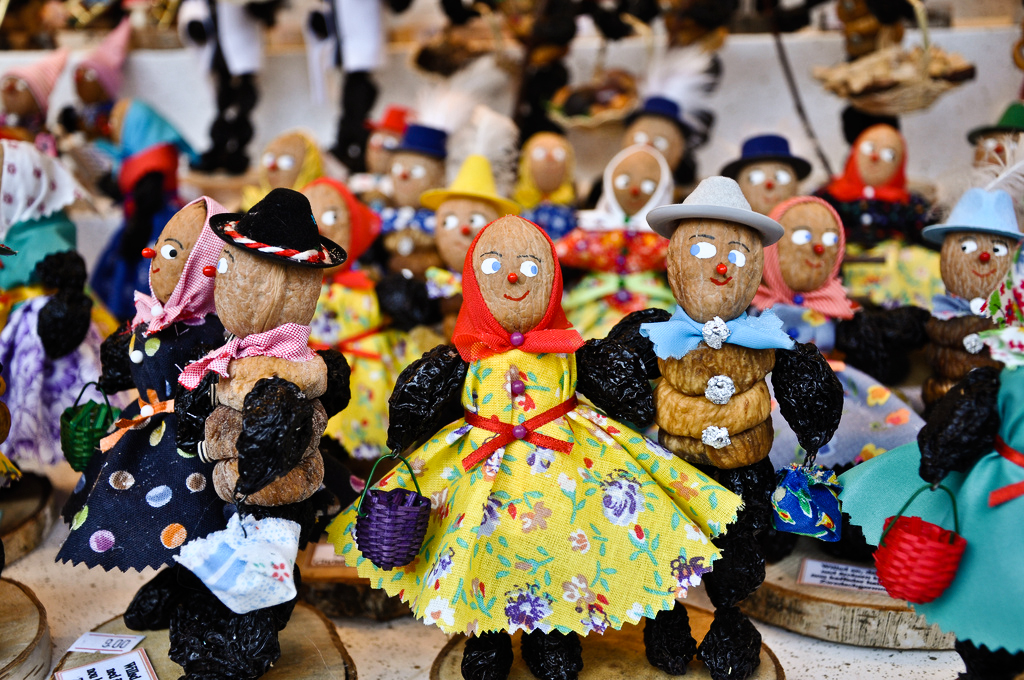 Nuremberg's plum people. Photo by Susanne Winter via CCOpen November 30 – December 24
Cologne: All of beautiful Cologne is a seasonal spectacle during Advent, and the city boasts several not-to-be-missed markets. The Am Dom market, located in the shadow of the UNESCO World Heritage Cologne Cathedral, has an incredibly gorgeous view and features a gigantic Christmas tree. The Cologne Harbor Market, situated next to the city's famous chocolate factory, is also worth a visit and the Fairytale Christmas Market puts a fun twist on a timeless theme.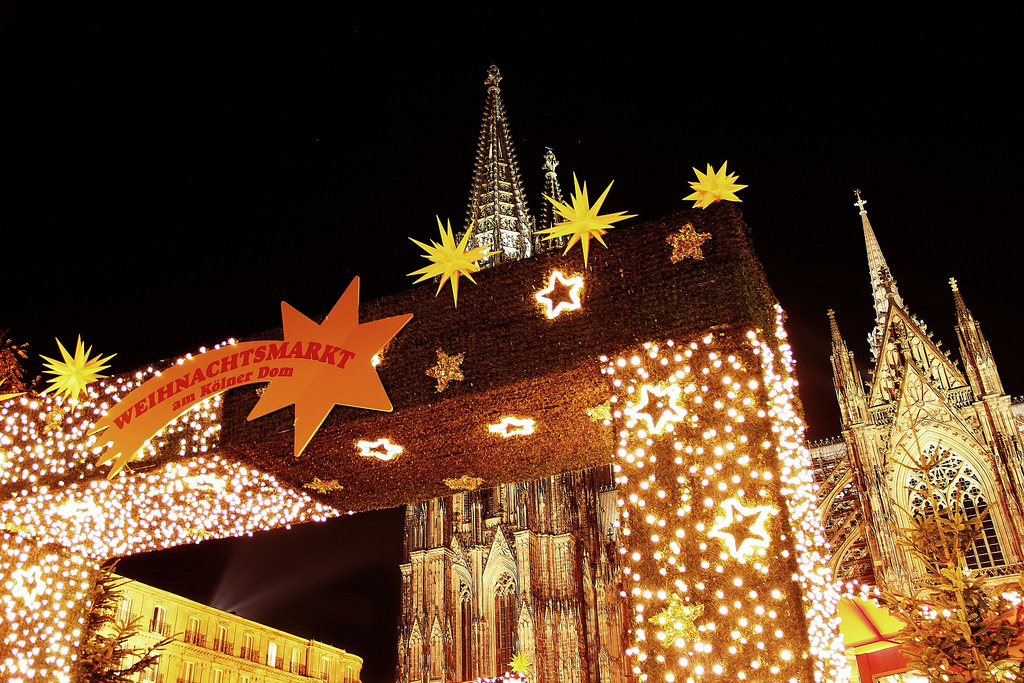 Cologne's stunning gothic Cathedral makes for a scenic backdrop. Photo by Phototropy via CCOpen November 23 – December 23
Dresden: The main Christmas market in Dresden, known as Striezelmarkt, gives Nuremberg a run for its money. Accounts of this market date back to 1434, suggesting that it was one of the originals. Like Nuremberg's markets, it also stays true to its roots, showcasing the works of artisan glass-blowers, carvers and bakers, whom you can watch in action at their stalls. Try the Pflaumentoffel, another dried prune delicacy, and pay a visit to the world's tallest Nutcracker. While you're in town, there are several other markets to visit as well, including the famous Frauenkirche Market. Striezelmarkt is also well known for its stollen, and every year, bakers create a giant fruitcake which is sliced up and sold to visitors to raise money for a charitable cause.
Dresden's market, illuminated at night. Photo by LuxTonnerre via CCOpen November 30 – December 24
Berlin: It should come as no surprise that the diverse and modern city of Berlin hosts a wide range of Christmas Market offerings; there's truly something for everyone in Berlin's scene. The Christmas Market at Kaiser Wilhelm Memorial Church features traditional craft stands selling ornaments, toys and accessories, while glazed fruit and grilled sausages deliver culinary Christmas delights. The Gendarmenmarkt, on the other hand, serves food cooked by some of the country's top chefs for a more refined gastronomic display; entertainment includes jugglers, acrobats, fire artists and dance groups as well as choirs and other music ensembles. Potsdamer Platz hosts one of the most 21st century takes on the event, while the Lucia Christmas Market features a Nordic theme. The oldest and most traditional of Berlin Christmas Markets, the Spandau Market, boasts a nativity scene with live animals.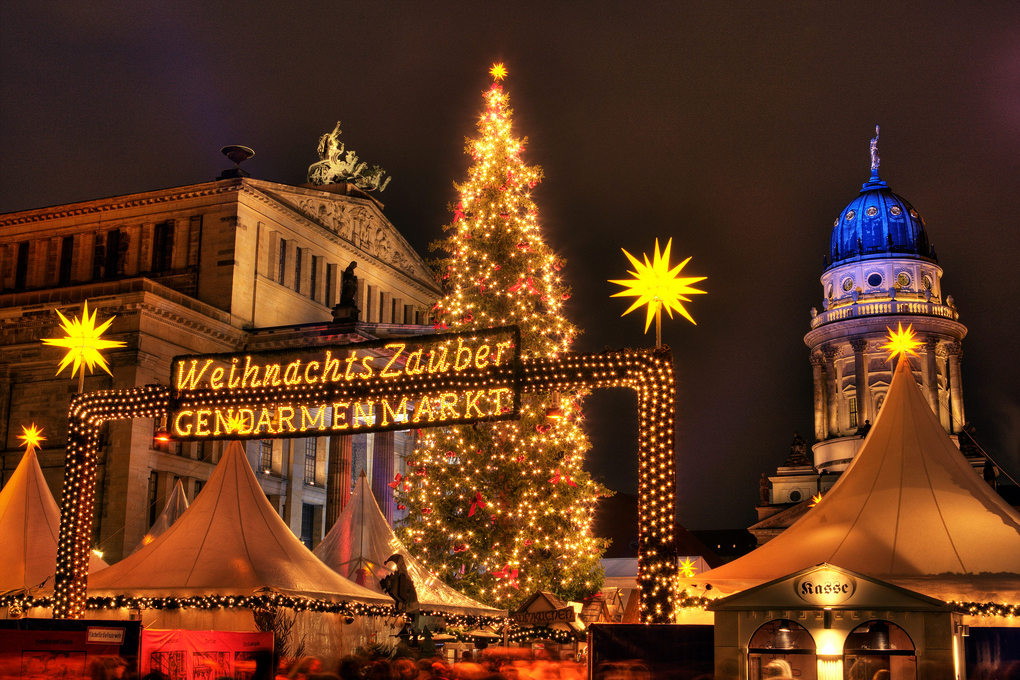 Berlin's upscale Gendarmenmarkt. Photo by Visit Berlin via CCDates vary – most markets are open late November – December 27
Stuttgart: The Christmas market in Stuttgart is considered one of the most beautiful in Germany, if not the world. It's held beneath the breathtaking Old Palace, but even better, the palace's Renaissance inner courtyard hosts additional stalls. The 300 different stalls in the market compete over the best decorations, creating a gorgeous tableau of lights, angels and pine boughs. An outdoor skating rink and miniature steam railway add extra fun for the whole family. Be sure to catch the nightly performance of live music and choirs.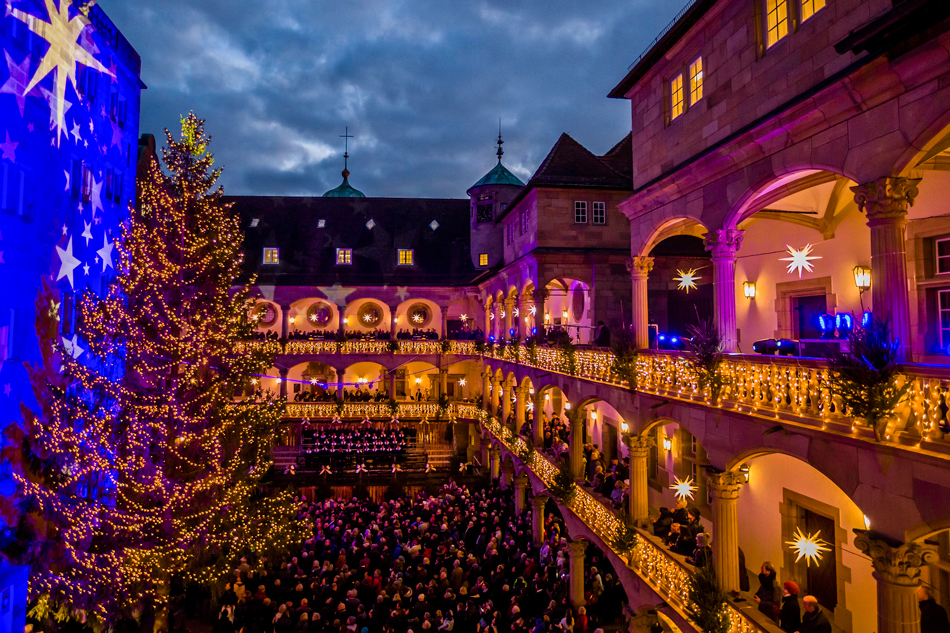 A musical performance by Stuttgart's Old Palace. Photo by Landeshauptstadt Stuttgart via CCOpen November 25 – December 23
Keeping Holiday Traditions Alive
Today, though Christianity's influence is generally fading in Germany, the Christmas markets are more popular than ever. Whatever faith you follow, you'll find a trip to the markets a delightful celebration of the season. Choose the German Christmas Market that appeals most to you and enjoy taking part in a custom spanning cultures and centuries.
Author: Cara Meglio