As many seasoned travelers know, the gastronomy you encounter abroad can be drastically different than anything you would typically eat at home. Trying new foods is one of the most fantastic parts of traveling, but it can be nice to dip a toe in the proverbial water before you dive right in. Today's post introduces a new series, Restaurants 101, that aims to help you ease your way into enjoying a new culture's foods.
Many recipes you see these days call for a long list of ingredients and dining out offers elaborate dishes with various influences, flavor profiles and creative touches. When you compare this to the food in a country like Spain, many travelers are surprised by the simplicity of the dishes. While there is surely a lot of creativity and technique happening in the Spanish restaurant scene, many of the typical foods are made with only a few whole ingredients. Slow food isn't a new trend in Spain, it's a standard that's been around for ages and still thrives today.
Sergi Arola's modern take on a simple Spanish classic, patatas bravas
You may be wondering, if you're going to a place where the food is simple, why would you need an introduction? The beauty of Spanish cuisine lies in the fact that you can actually taste the individual elements you are eating; for some, that is also it's downfall.
Take a sandwich for example, if you went to a restaurant and ordered a steak sandwich, what would you expect? If we assume you are in the U.S., along with the steak, you'd probably expect some sort of spreads or sauces, vegetables and maybe some cheese, carefully contained between two pieces of bread. You'd probably also be a bit surprised if your sandwich didn't come with a choice of sides, even if that side was just a generic bag of chips. When you bite into the sandwich, do you taste the meat? Of course there is a taste of meat, but could you say if that meat was seasoned well? Can you tell if it is good quality, or if you are just getting the leftovers from last night's dinner service?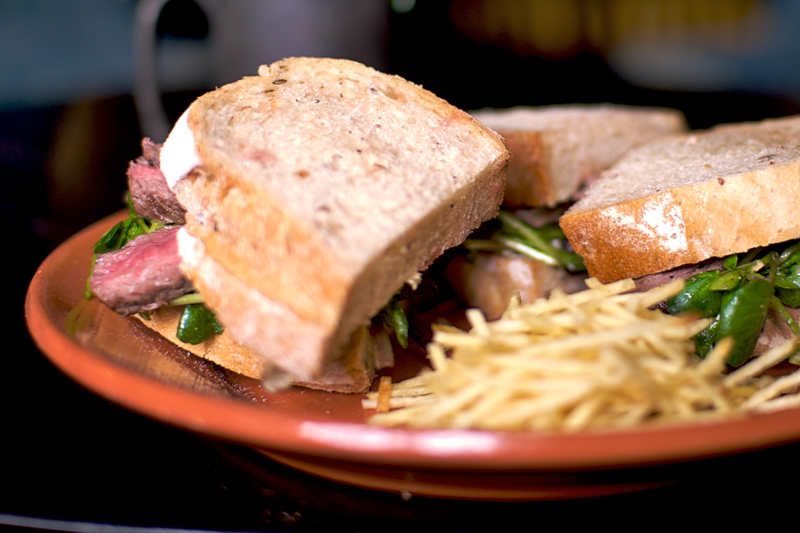 A fresh looking steak sandwich – photo by Rob Sinclair under CC license
In Spain, if you order a steak sandwich, you can bet on two things, you will get bread, and you will get meat. Aside from that, you might get a drizzle of olive oil, and maybe a rub of tomato across the interior surface of the bread, but don't expect any additional trimmings. When done right, a simple sandwich like this can be amazing. When done poorly, it is certainly worse than it would be if there were all sorts of extras to cover up a flavorless piece of meat. Either way, if you get that sandwich and wonder, "Where's the rest of it?" you wouldn't be the first.
A typical steak sandwich in Spain
Assuming quality of the meat is good, both types of sandwiches have their merits. Even with very good meat, any sandwich stuffed with an ill conceived mountain of ingredients could be ruined to the point that just having the meat without all of the dressings would have been more appealing.
It's difficult to guarantee that you will always like what you get when you go out to eat, but one thing is certain, realistic expectations play a huge role in whether or not you enjoy your order as much as you could. At ParTASTE, one of our goals is to help you understand the cuisines you can experience abroad. When you do experience them, we want you to enjoy them to the fullest rather than have your senses tainted by a false idea of what the food should be like. Our dish guides are one way that we can help you to understand a culture's cuisine before having the opportunity to experience it first hand, our Restaurants 101 series is another.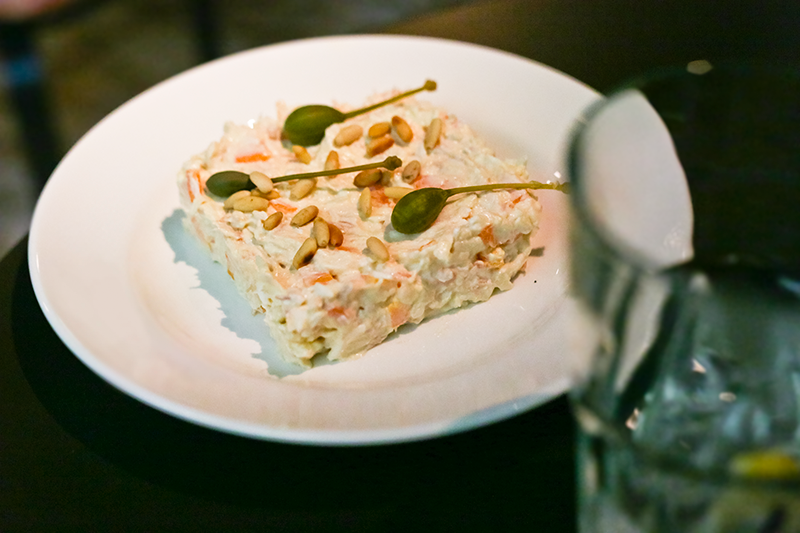 Think ensaladilla is a normal, small salad? Think again, it's made with potato, mayo and tuna.
Future entries in this series will focus on a city and suggest places where you can go that serve a selection of dishes that, in one way, are representative of the national cuisine, but in another, are more neutral when compared to the traditional food offerings found in that city. The places we feature in our Restaurants 101 series offer a good selection of options that allow you to order on the conservative side or try something that's totally unfamiliar to you. They are also on the lower end of the price scale so you can try more without spending an arm and a leg only to discover that what you ordered isn't something you really like.
If you want to make sure you don't miss our upcoming Madrid edition of Restaurants 101, sign up for our monthly newsletter to stay informed on what's going on at Dish du Jour as well as across the other sections of ParTASTE.