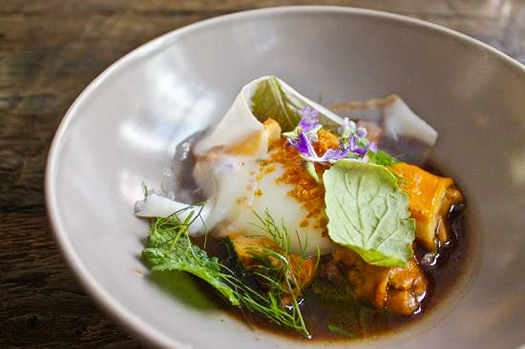 When you first set eyes on Chef Bertrand Grébaut's Septime, it might fail to make much of an impression. One look at the food and you'll find the minimal atmosphere in the restaurant fitting as it allows Septime's culinary prowess to take center stage. The inventive dishes are full of unexpected ingredients like raw mackerel paired with yogurt and red cabbage; other flavors include bear's garlic, velouté of eggs and chicken foie gras to name but a few. The concept at Septime is "democratized haute cuisine" with an improvised menu that changes daily. This way of operating allows Septime to strike a nice balance between having a casual vibe and delivering a consistent gourmet experience and it's exactly what fuels Septime's creativity – every day is a new beginning.
Our strategy to get the most out of an experience at Septime would be to opt for the five-course fixed menu which changes seasonally. If you have any food preferences or allergies, be sure to inform them in advance, but otherwise, have faith and leave yourself in the Chef's competent hands. Making its way into the world's top 50 restaurants just two years after opening, we'd say that Grébaut & co. know what they're doing. The restaurant hits the right spot in all aspects – they've got a reputation for service that's friendly yet professional and a style that's elegant without being fussy.
Why We Want to Go
From the moment you arrive to the moment you leave, Septime's team is dedicated to providing you with the ultimate dining experience and all of the food is made with super fresh, high quality, yet simple ingredients.
We love the non-French approach to the interior – it's contemporary with a retro feel, has an open kitchen, cool lighting and the recycled-wood tables are eco-friendly.
We are big fans of the bistronomy (bistro + gastronomy) movement – high-end food at affordable prices in a casual setting – who wouldn't be?
What We Want to Eat
We'd live on the edge with the Carte blanche option as it comes highly recommended, especially in terms of value for the money, but if we're ordering a la carte…
Poached egg in a corn purée sprinkled with breadcrumbs and fine parmesan
Venison tartare with tarragon and Kalamata olives
Saint-Jean whiting with endives and orange butter
Chocolate ganache with blackberry purée and rosemary-mint sorbet