A Guy Sits Down at a Restaurant…
Many a foreigner has ventured into a restaurant in Italy, sat down for the exquisite dining experience that everyone talks about, opened the menu, and been suddenly struck with an overwhelming sense of confusion. If the menu is written exclusively in Italian, as is the case in smaller towns and some of the most authentic establishments in larger cities, the uninitiated are really in trouble.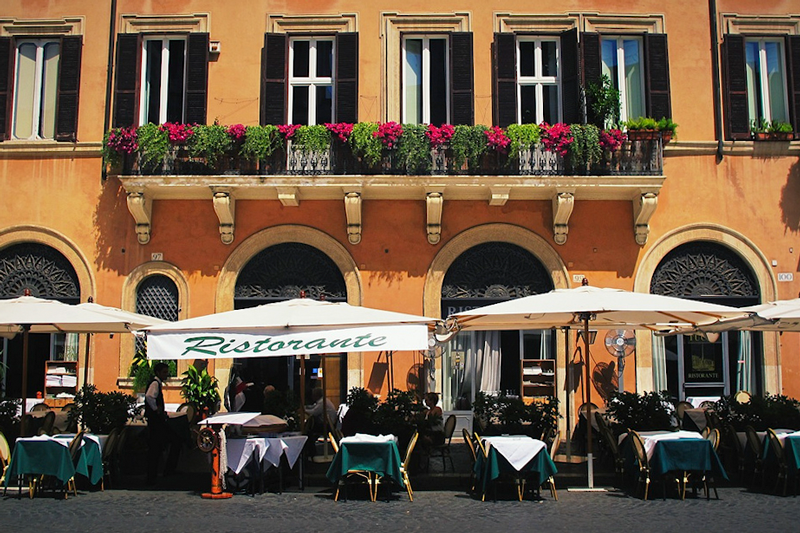 Photo by Mark Heybo under Creative Commons License
A safe decision would be to order something familiar, like pollo alla cacciatora.When it arrives to the table, you might be surprised to find that it's served with… nothing else. It is JUST the freaking chicken! No potatoes, no nothing, just the chicken in its sauce with the little remaining bits of vegetable it was stewed with. If you're like me, then that piece of chicken (albeit delicious) is not enough to fill your belly. Is there something wrong with the Italian menu? Why is this not a complete meal? What are you missing, aside from the rest of your food?
Rest assured, there is nothing wrong with Italian menus, but they are set up differently. If you look again, you will notice that different types of dishes are separated into different categories: Antipasto, Primo/Primi, Secondo/Secondi, Contorno/Contorni, and Dolce. Respectively, these are: Appetizers/Snacks, First Course, Second Course, Vegetables/Sides, and Dessert. The Italian menu is designed so that you choose dishes from various categories rather than only one. Many families will eat in this manner in their own homes as well. For lunch you will have a plate of pasta (a primo), cleared away once it is done to make room for the next plate (a secondo) which will have a meat or fish on it. After the meat comes the salad or vegetables (contorno). For dessert, Italians usually have fruit or nuts.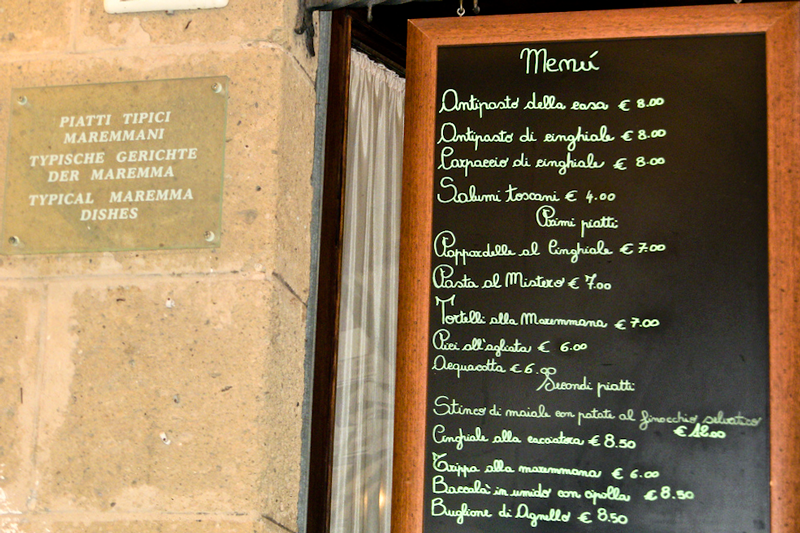 Photo by Stefano Costantini under Creative Commons license
When you think about all of the different courses, it sounds like a ton of food, but don't worry, it is not expected that you will have something from EVERY category every time you sit down to eat. Perhaps you just don't eat that much in general and only feel like a plate of pasta and a small salad, not a problem. When you order, you can mix and match dishes from whichever courses you see fit, restaurants are completely used to this and even the locals do it. Restaurants love it when you order more food because they're making money, but unless you're going out to splurge and go home with a (very) full stomach, don't feel obligated.
The Usual Suspects: What to Expect by Category
Antipasto: The antipasto is typically the first category you will find on a menu and is simply an appetizer. There are certain things that you can expect on the menu under antipasto and certain things you cannot. There are usually less than 4 items listed under antipasto and one of them is almost always a charcuterie platter, cheese plate, or combination of the two. Other options will change depending on the region of Italy you are in. If you travel in the mountains you might find fried polenta under antipasto, in central italy maybe crosta di pizza, or in southern Italy you might find 'nduja.

'Nduja, soft pork sausage from Calabria. Alice Wiegand / CC-BY-SA-4.0 (via Wikimedia Commons)
If you want a taste of the area's cuisine, the charcuterie and cheeses are a good bet since the products are often made in house or sourced locally. Another typical antipasto item in colder climates, primarily in northern Italy, is soup. If you find soup on a menu in a place where the weather is hot, you should be weary because it probably caters to the desires of tourists and is neither traditionally Italian nor tastes very good.
Primi: The section for primi is where your main course begins (but shouldn't end). The items in this category are likely to include pastas of all shapes, sizes, and names. Primi may also include polenta (in central and northern Italy), dumplings like gnocchi and rice or risotto (in the North and major cities throughout the country). The primi usually make up the biggest part of the menu and range between €10 and €20 depending on the restaurant and if the dish includes meat or seafood. Look for words like ragù, sugo and bolognese which indicate traditional meat sauces, often accompanied by tagliatelle pasta. In some cases, you will find another word after ragù or sugo which indicates the type of animal the meat comes from, for example, sugo di cinghiale would indicate a meat sauce made with wild boar.

Pappardelle al sugo di pernice – pappardelle with partridge meat sauce
An appendage like frutti di mare (fruits of the sea) or alla pescatora (fishermens style) are usually a mix of calamari, prawns, shrimp, muscles, clams, and crab meat. Al Boscaiolo (Woodsman's style) usually includes a mix of mushrooms and prosciutto cotto. If you're traveling the major cities and aren't feeling very adventurous, try these traditional dishes that are easy to find and are usually very good: buccatini all'amatriciana, spaghetti alla carbonara, trofie al pesto, tagliatelle al funghi and gnocchi al quattro formaggi.
Secondi: The secondi are the meat and fish dishes that could be equated to a main course but, as mentioned before, they are usually only protein and aren't substantial enough as a meal on their own. Dishes under this category are named quite literally with just the word for the animal and the method of cooking or, sometimes, cut of meat. In that sense, translating secondi that are listed only in Italian is fairly easy, so long as you memorize (or can look up) the Italian words for the proteins you like.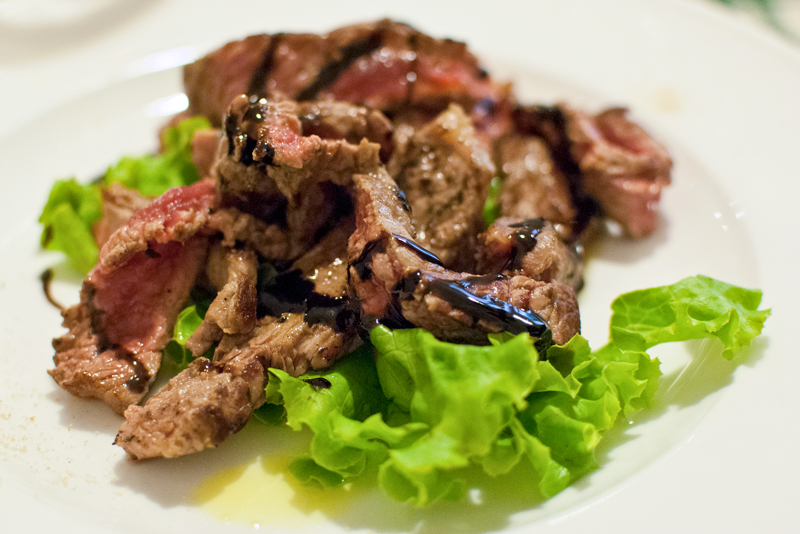 A secondo of tagliata di manzo (silced sirloin), photo by Yasmina under Creative Commons License
As a general rule, the types of protein you will encounter under the section for secondi will include more fish (and of higher quality) in the South and more game meats in the North. If you don't expect, for example, polenta cakes and asparagus to automatically be included when you order steak, there is no reason to be disappointed by the options offered under secondi.
Contorni: If you insist on having polenta cakes and asparagus, or something similar, in addition to your meat, make sure to order them from the contorni section of the menu. It's best to think of contorni as side dishes; common items include verdura fritta (fried veggies), patatine fritte (french fries), or insalata (salads). These are meant as a filler for your meal, similar to an extended appetizer list, but it's important to note that they are served AFTER the second course.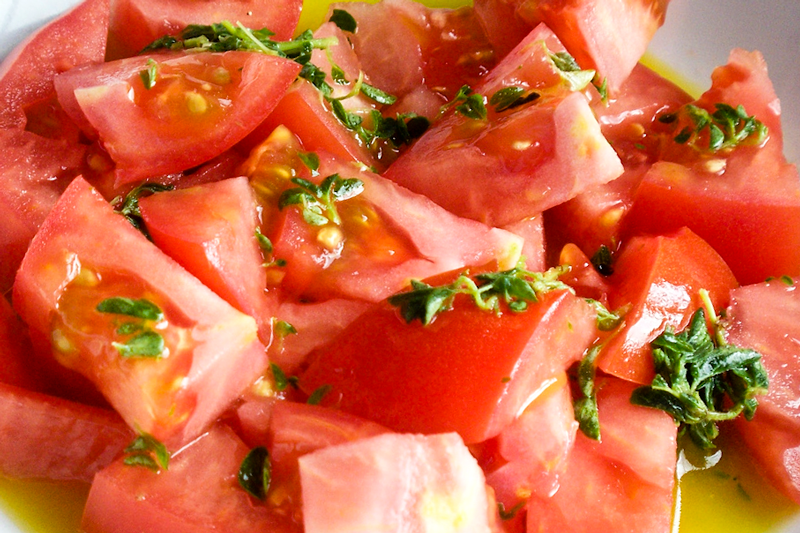 "Tomato salad" Photo by Joselu Blanco under Creative Commons
Another thing to keep in mind is that contorni are fairly simple dishes, meaning if you see insalata di pomodori (tomato salad), you can expect a little dish of tomato slices, not a fancy salad that features a colorful mix of tomatoes. If you aren't prepared for how literally Italian menus are written, this might feel like a joke to you, it certainly did when it first happened to me. In my mind, a tomato is a tomato; slicing it doesn't magically turn it into a salad, but it does in Italy!
Dolce: With dolce, provided that you already know what the menu item is before ordering it, you can expect to get exactly what you ask for. Most dessert items, as is often the case with menu items in general, don't have a description, just a name. When it comes to desserts, there's no going wrong. Everyone knows that Italian desserts are amazing. In the worst case, if you are unsure of what to order, you can skip dessert at the restaurant and walk down the street to a local gelateria, it shouldn't be hard to find one.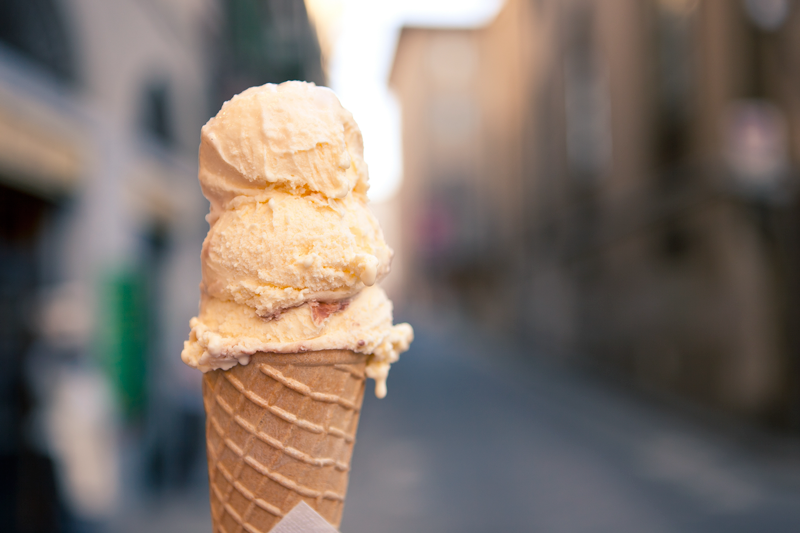 Gelato is always a good idea in Italy. Photo by Derek Key under Creative Commons license
Now that we've taught you everything you should know about the Italian menu, there's no need to be intimidated by their complicated structure. Go out and order what you want, keeping in mind that the food will be brought to you in the typical Italian sequence: antipasto, primo, secondo, contorno and dolce. Don't worry about ordering EVERYTHING if you are not prepared to eat it all, but if you are, that will make everyone happy… including you. With so much good food in Italy, wasting an opportunity to enjoy an authentic meal because you're uncomfortable ordering would be a shame. After all, the only way to discover all of the enticing dishes that Italy has to offer is to try things!