Welcome to our The World on your Table series. To celebrate wrapping up a collection of articles on a particular country, we've decided to share a party menu inspired by that country. Reading about delicious foods from around the world makes us anxious to try them. Just because you can't always find what you are craving near by, doesn't mean you can't enjoy delicious foods from abroad fresh out of your own kitchen. This series combines traditional ingredients with easy to make recipes that are great for entertaining. Whether you are having a quiet night in with a couple of friends or are going all out, these crowd pleasing snacks are sure to keep your guests happy plus show off a little knowledge of foreign cuisine.
Our first party menu pays homage to the humble cuisine of Spain. Traditional Spanish dishes make use of local products and rely on slow food cooking techniques. Although Spain is often recognized for its Michelin-starred restaurants, cutting edge cuisine and daring chefs, spend a little time in the country and you are sure to notice that there are some classic ingredient combinations that never go out of style. While our Spanish Party Menu doesn't break too many rules of classic Spanish cuisine, we definitely take some creative liberties that keep these recipes simple but don't stop them from being super tasty.
Manchego Stacks with Membrillo and Gourmet Cantabrian Anchovies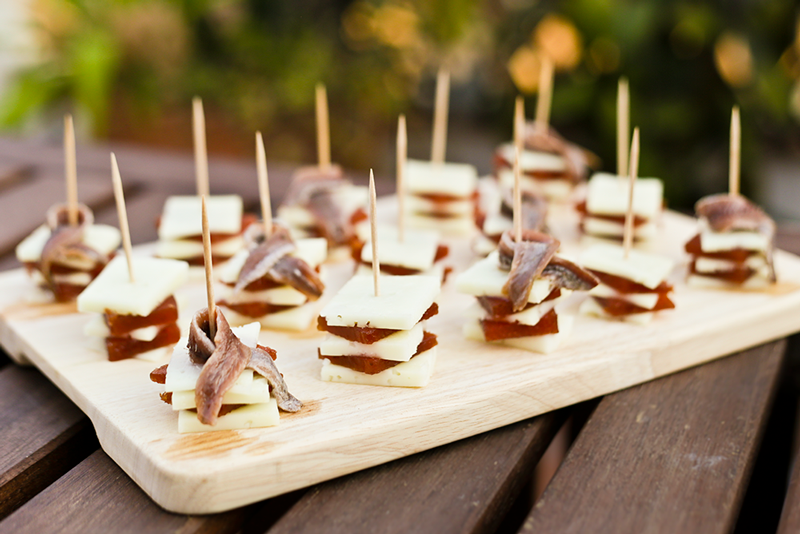 The sweet meets tangy mix of Manchego cheese and membrillo (quince jelly) is a classic Spanish combination. Manchego cheese, made from the milk of Manchega sheep, can be found in several varieties, each with their own flavor profile. Which cheese you use will depend on your own preference. Membrillo is quite sweet so we prefer to combine it with Manchego curado, an aged Manchego cheese with a firmer texture and characteristic nutty flavor. If you prefer softer, milder cheeses, try manchego tierno, aged for only a few weeks, or try Manchego semi-curado for something in between. Although this combination is great on its own, to add some unexpected umami and to round out the flavors with a bit of salt, top your stacks of Manchego and membrillo with meaty Spanish anchovies.
*** Get the recipe for Manchego stacks with membrillo and gourmet anchovies ***
Chilled Gazpacho Shooters with Marinated Cucumber Ribbons
Gazpacho is a quintessential summer soup in Spain. Although many people who've tried gazpacho outside of Spain liken it to tomato juice, an authentic Spanish gazpacho is lighter and much more complex and refreshing than a can of V8. Although it's technically a soup, it's not uncommon to find gazpacho served in a glass. For those who aren't used to sipping their soup, drinking gazpacho might seem crazy, but trust us, it's not. To ease your way into drinking gazpacho like a true Spaniard, serve it in shot glasses so that your guests can sip as much or as little as they'd like. Too add a little texture and a refreshing crunch to contrast with our smooth gazpacho recipe, top each shooter with a marinated cucumber ribbon and dunk it in the gazpacho just before eating.
*** Get the recipe for gazpacho shooters with marinated cucumber ribbons ***
Artichoke Buñuelos with Jamón Ibérico and Pimentón-laced Alioli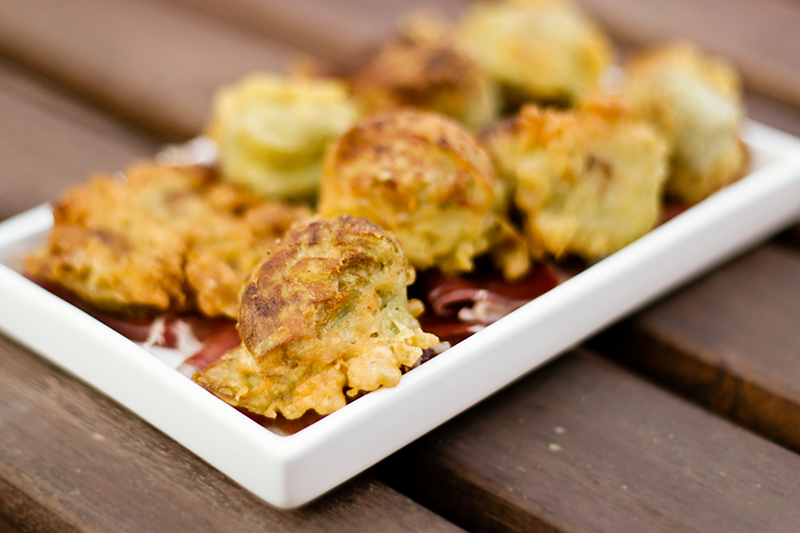 When artichokes come into season, you'll start to see them added onto menus all across Spain. Available for a limited time, tender artichoke hearts are one of the most coveted tapas when you can find them. Cooked in a variety of ways, one of our favorite options is buñuelos de alcachofas, artichoke fritters made with a light crispy batter. Although nothing compares to fresh artichokes painstakingly prepared by hand just prior to cooking, meticulously preserved artichoke hearts from Navarra in the form of buñuelos are a close second. Serve buñuelos de alcachofas on a bed of rich and salty jamón ibérico with paprika–alioli for dipping and a drizzle of fresh lemon juice.
*** Get the recipe for artichoke buñuelos with jamón Ibérico and alioli ***
Walnut-crusted Goat Cheese and Piquillo Pepper Logs
Pimientos del Piquillo, a type of Spanish chilli pepper, can be found in just about any bar in Spain. These sweet peppers are sold in stores roasted, deseeded and jared. At a restaurant you are most likely to find them as a garnish or stuffed with cheese and fish. To give your guests a taste of this mild pepper without having to spend all day stuffing them one by one, we've combined them with a tangy goat cheese and coated everything in chopped walnuts for a bit of added crunch.
*** Get the recipe for walnut-crusted piquillo goat cheese logs ***
Spanish Tortilla bites with Chorizo Fresco
Tortilla Española or tortilla de patatas is one of the best examples of how good the Spanish are at taking super simple ingredients and really making them shine. A classic tortilla Española is made with only 3 ingredients: potatoes, eggs and olive oil. Although it's difficult to get tired of a really well-made tortilla, you will find all sorts of variations on the classic recipe, from subtle updates like the inclusion of caramelized onions to more extravagant variations with stuffings like cheese and charcuterie. These tortilla bites are made with the most basic tortilla recipe to give you a good idea of what this Spanish staple should taste like and get an extra bit of richness from seared rounds of smoky chorizo.
*** Get the recipe for Spanish tortilla bites with chorizo fresco ***
A Few Refreshing Beverage Options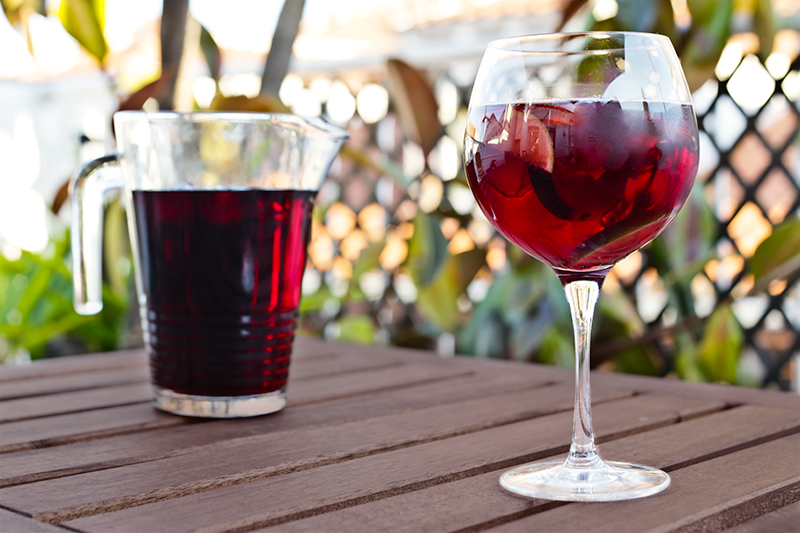 When your country is at times compared to a brick oven, you know a thing or two about how to cool down. When the temperature starts rising, the Spanish relax with icy cold beverages on sun-soaked terraces, and the drink menu goes far beyond a variety of beers and white wines. One of the most famous summertime beverages that owes its existence to the Spaniards is the ever-popular sangria. But sangria is not the only way you can drink red wine on the rocks in Spain. Vermouth, tinto de verano (red wine with lemon soda) and kalimotxo (red wine with cola) are all popular chilled drinks in summer months, appropriate at any time of day. A few bottles of red wine will go a long way with these types of options, just serve over ice and mix with the appropriate carbonated beverage to taste, or to learn to make sangria at home, check out this recipe from Spanish Sabores.
Buen Provecho
We hope you've enjoyed learning about Spanish culture and cuisine with us on Dish du Jour and that this party menu has inspired you to cook up a few Spanish dishes at home. If you are hungry for more, you can check out our other Spanish recipes, browse profiles of the Spanish restaurants we love for inspiration, lean more about classic Spanish dishes from our Guide to Dining in Spain, and sign up for our monthly newsletter to make sure you don't miss out when we publish new resources for Spain in the future.