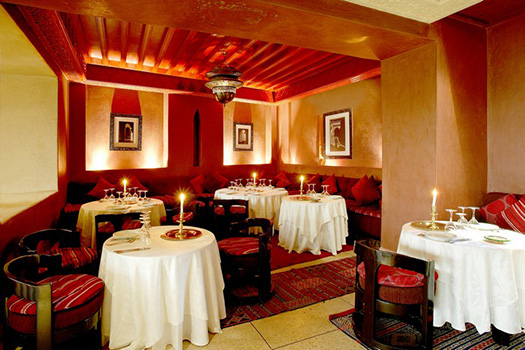 A cultural awakening for your taste buds, a meal at Al Fassia promises to satisfy the edible portion of a traveller's curiosities. Although it can be difficult to uncover formal restaurants serving traditional Moroccan food in the Paris of the Sahara, aka Marrakech, Al-Fassia fits the bill with specialties from Morocco's culinary capital, Fes. As you enter the restaurant, you will be greeted by its opulent but classic Moroccan atmosphere including a banquet lounge with comfy, plush cushions. Located in the trendy and "European" quarter of Guéliz, Al Fassia is hugely popular among tourists and locals alike. Reservations are essential to secure a table so it's no wonder that a second restaurant opened up in Aguedal.
The concept at Al Fassia marries many contrasts – honoring Moroccan tradition while embracing Western modernity and, despite an ambiance that exudes grandeur, the restaurant is family-friendly. Al Fassia is an exclusively female, family-run establishment. The culinary specialties crafted by the Chaab sisters wouldn't be complete without a medley of signature spices, the defining point to any authentic Moroccan meal. The Chaab sisters take great pride in their craft and ensure that no stone is left unturned in delivering a highly memorable dining experience.
Al Fassia offers the perfect getaway to those who want escape the hustle and bustle of the medina. The service is elegant, efficient and low-key without a hint of pretentiousness. The atmosphere is intimate while maintaining its informality. When the weather is right, there's no better place to enjoy your meal than by eating on Al Fassia's outdoor patio. With a sunny enclosed terrace, it's particularly recommended for lunch. In terms of the all important price-performance ratio, Al Fassia is said to reign among the best in Marrakech. So what do you think, are your taste buds ready to be awakened?
Why We Want to Go
It is attested by many to be the best Moroccan restaurant in Marrakech. Generally speaking, Moroccans eat Moroccan food at home and only eat at restaurants when they want something foreign. Al Fassia must be pretty special to lure even locals away from the comfort of eating in their homes.
For proof that women DO cook better than men, all you need is a meal at Al Fassia. Going strong since 1985, it is a true success story of female entrepreneurship.
To order from the extensive à la carte menu, a concept which is rather uncommon in Morrocco where set menus typically rule the restaurant scene.
What We Want to Eat
Mixed salad starter: consisting of 12 hand-crafted ceramic bowls bursting with a myriad of different flavors, including spices like cumin, cinnamon and harissa, among others.
Mechoui: lamb shoulder with almonds, considered the signature dish at Al Fassia. The meltingly tender lamb is shredded table-side and smothered in gravy and almonds – Intended to be shared and highly recommended to order in advance.
Pigeon pastilla: an elaborate sweet and savory pie filled with pigeon meat, dusted with sugar and cinnamon. Traditionally made for special occasions such as weddings and baptisms.
Pumpkin tagine with caramelized onion: a Berber offering, the Chaab sisters are supposed to set the standard when it comes to tagine making. Non-vegetarian options such as lamb tagines with prunes/almonds, chicken tagines with olives and preserved lemons and fish tagines are also available. We'd make sure to accompany our tagine with Khobz – typical Moroccan bread – to make sure no drop of sauce goes to waste.
Sweet pastilla: the Chaab sisters' non-pigeon dessert version of the popular pastilla dish, with almonds and milk.
Al Fassia
Address: 55 Boulevard Mohamed Zerktouni, Marrakech, Morocco
00 212 2443 4060 / 00 212 524 43 79 73