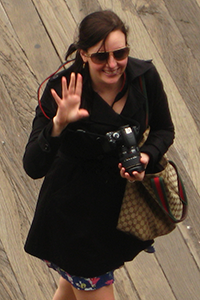 Unlike many travel writers, my story doesn't begin with "leaving it all behind" to wander the globe. I never intended to move and teach English abroad, travel full-time, or even to "follow my stomach around the world".
That being said, I've always loved to travel and learn about new cultures and traditions. By age 2, I had traveled over-seas to London, the first of many adventures. My dad told bedtime stories of skiing in Chamonix, road trips through Scandinavia and African Safaris. He took my sister and I along on trips, both business and leisure, from the time that we were babies. My mom has a true passion for fun. There were never any boring days spent hanging around the house with her; she has the ability to do and see more in one day than most people would in a week. Given this upbringing, I suppose it was somewhat inevitable that I catch the travel bug.
I am addicted to learning new things and I always knew that I wanted to see the world, yet the introvert in me always craved a home base and a less nomadic lifestyle than most people who write about travel professionally. So, the practical thing to do was to choose a career-path that encouraged travel, but still provided a general sense of stability. After graduating college with a fine arts degree, I decided to take up flying. Becoming a pilot seemed like the perfect way to have a career but be able to keep traveling.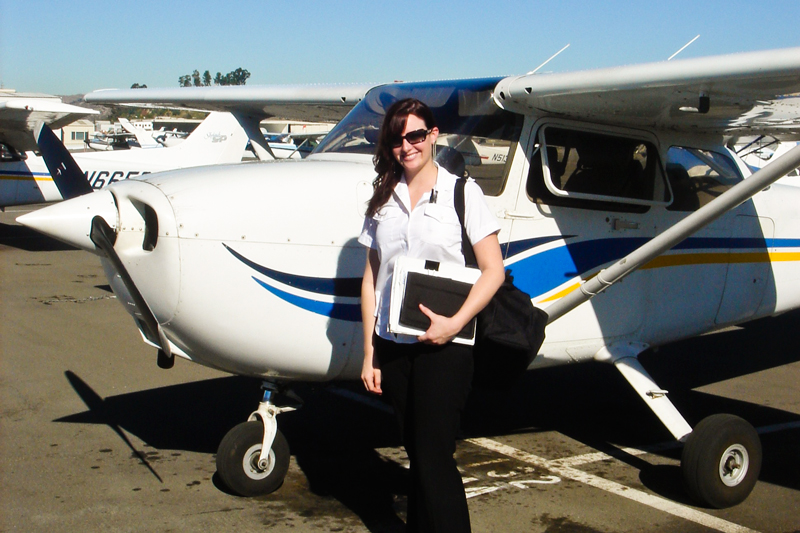 Time to fly!
I learned to fly and spent 4 years working in the aviation industry, but somewhere along the way, I fell in love with a Swedish pilot and, in 2010, we moved to Spain, Madrid specifically. The move to Spain was a big, and unexpected, change for me. Unfortunately, the local aviation industry was really lacking when it came to job opportunities. I got back to my artistic roots, started working as a freelance photographer and graphic designer and got used to living in a foreign country.
One would think that living in a city like Madrid would afford you endless dining opportunities. While that certainly is the case, eating well in Madrid without spending tons of money isn't easy when you don't know ANYTHING about Spanish gastronomy. I grew up in the San Francisco Bay Area and, before moving to Spain, I never realized how lucky I was in terms of always having great access to delicious and cheap foods from all over the world. I was certainly spoiled when it came to eating, but as as it turned out, I had next to no experience eating authentic Spanish cuisine.
Thus, ParTASTE was born, more than anything, out of necessity. I found myself in a new city, knowing nothing about what there was to eat, and I couldn't find any decent resources to help me navigate the typical foods of Spain or any of the other places I knew I would soon be visiting. Since there are few things I can think of that are worse than being hungry or eating badly, I decided to create ParTASTE as a food-focused guide to travel so that people like me could eat well, no matter what their budgets, dining preferences or where they planned on traveling.
These days, I know more about Spanish gastronomy than many people who are from this country. Running a site like ParTASTE might seem like all eating and globetrotting, but for every day spent away from home, I can expect to spend a full day researching and preparing for my next trip to make sure I don't waste any opportunities to bring new and valuable content to ParTASTE. When I'm in Madrid, my life is pretty normal; I have a dog, a cat, a husband, and a wonderful little apartment in the center of the city. I spend the majority of my time working on ParTASTE and local freelance projects, which often leads to abnormally long workdays. I absolutely love living in Madrid, but I can't stay home for much longer than 3 weeks before starting to go a little stir crazy.
The view from our apartment. Living in the center of Madrid is pretty amazing!
While my schedule these days is flexible enough to be able to pick-up and go whenever I feel like traveling, I haven't forgotten what it's like to only have 5 vacation days a year, and to have to work for a year before earning those days. I understand that the average person doesn't travel habitually, and that every moment of a vacation is precious, so you want make the most out of your time away from home, especially when it comes to sampling new cuisines!
Whether you travel all of the time or sporadically, I hope that the resources on ParTASTE will help you make the most out of your time, and meals, while vacationing. I hope this site inspires you to try new things and embrace the opportunities you have to experience new cultures and places, and what better way to do that than through eating!
Want to work with me?
I am available for:
– photo licensing and assignment-based photography
– recipe development
– food-focused press trips
– partnerships related to culinary tourism
– sponsored articles relating to national / regional cuisines and/or culinary tourism.
– web and graphic design
– brand and visual identity consulting
– book and product reviews that relate to our readers' interests
– affiliate advertising
If you are interested in working with me, please send an email to jen@partaste.com with the details of your proposal. Thanks for visiting ParTASTE!