Spain's Sun-drenched Capital City
Madrid is the underdog of great Spanish cities. Stepping out from under the shadow of Barcelona, Madrid has been rising in popularity, much to the locals' dismay. English isn't spoken by many and the maze-like alleys of old Madrid make getting lost easy. As a traveler, navigating your way through Madrid can be quite intimidating. Madrid is hard to get to know, and as far as the locals are concerned, that's just fine, but that is part of its beauty.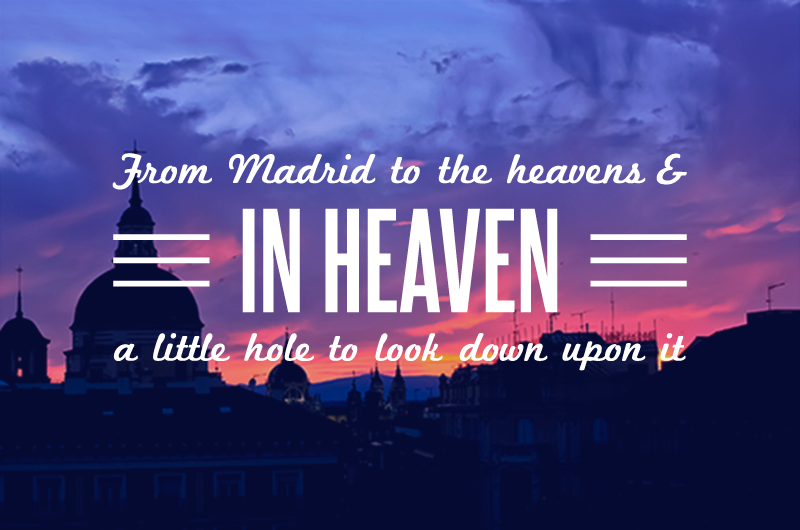 Madrid preserves a sense of place that many international cities are slowly loosing. Don't get us wrong, the presence of tourists certainly doesn't go unnoticed. For every Michelin-starred restaurant, neighborhood tapas bar and authentic tavern in Madrid, you are beginning to find as many chains or ill-conceived establishments with terrible, overpriced food where a local wouldn't be caught dead eating, but that makes finding the good stuff all the more rewarding.
Places for Beginners to try Spanish Cuisine in Madrid
Mercado San Miguel
The San Miguel Market is an obligatory stop for any visitor to Madrid. One of the city's oldest traditional markets, saved from a state of disrepair and restored to the gourmet culinary space that it is today, Mercado San Miguel is a meeting place for Madrileños and visitors alike. Deemed too touristic by some locals, no doubt as a result of the slightly inflated prices and proximity to Plaza Mayor, Mercado San Miguel is still beloved by many.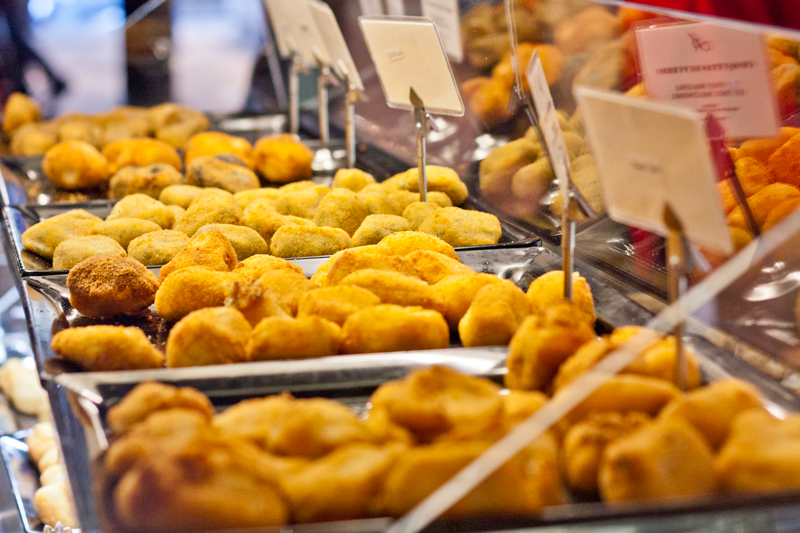 A great selection of delicious croquetas at Mercado San Miguel
The market aisles are filled with over 30 stands offering an array of ready-to-enjoy foods and beverages, from both Spanish and international cuisines. One of the major advantages of dining at Mercado San Miguel is the diversity you find there. It's easy to go with a group, take a stroll around, find a table to settle at and then each person can go off to retrieve whatever foods suite their individual tastes. Feel like being adventurous and trying salted cod, a local favorite, Casa de Bacalao has you covered. Not quite ready to dive head-first into the delicacies of Spanish cuisine, opt for something more conservative like croquetas or an empanada. Want something familiar yet local, snack on some bandariilas and mild Spanish cheeses. No matter how hesitant you are to try new things, Mercado San Miguel is sure to have something to whet your appetite.
Taberna Kaixo
Tucked down a narrow pedestrian corridor, a stones throw from Madrid's Plaza del Sol, Taberna Kaixo is situated among a long line of restaurants but still manages to stand apart. As you walk down the street you will be greeted by many people trying to tell you what a great deal they have for lunch or offer you a special on drinks. Keep on walking, because the reality is most of these places aren't worth your time, let alone your money. Kaixo is different.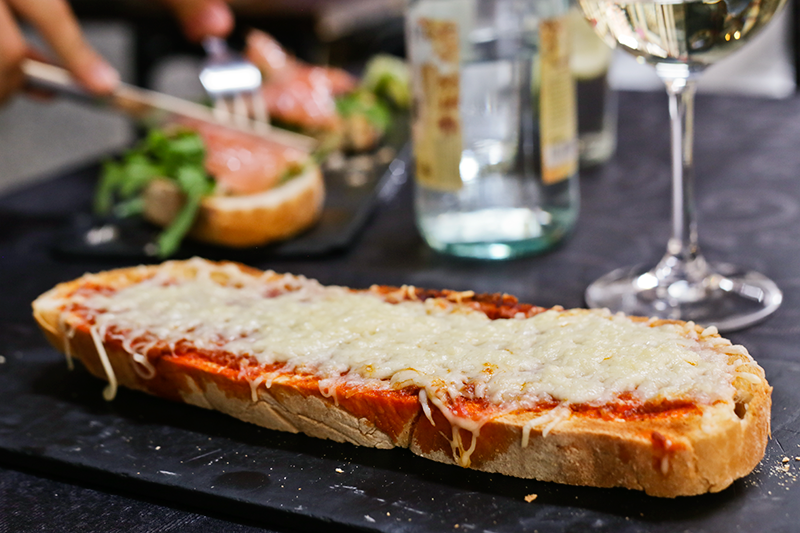 Taberna Kaixo's tosta of sobrasada con queso fundido (Balearic cured meat with melted cheese)
After a few meals out at typical Spanish restaurants you are sure to notice 3 things: 1) the service standards are very low compared to those in other countries, 2) food is simple and usually comes with no sides or garnishing 3) fancy salads aren't common menu items. Kaixo is definitely a Spanish restaurant, but none of the above-mentioned rules apply. The service is friendly and attentive, salads are one of their specialties and, although there are simple menu items at Kaixo, there are well conceived dishes that consist of much more than a hunk of meat with a slice of tomato and a few lettuce leaves. Aside from their salads, we recommend their tostas; large pieces of toasted bread, topped with your choice of ingredients, from grilled chicken with arugula and blue cheese sauce to sobrasada covered with queso fundido. Although a meal here won't change your life, you certainly get your money's worth and the options are suitable for a foreign palate but based in Basque and Spanish cuisines.
Lateral
Lateral, with 6 locations in Madrid and one opening in Barcelona, is known for it's swanky atmosphere, outdoor dining and reasonable prices. Unfortunately, depending on which restaurant you go to, it's also known for its nonchalant, and sometimes even rude, staff. We've had mixed experiences, but the service at their Plaza Santa Ana location is notoriously bad, so if you find yourself there wondering where your waiter is, don't say we didn't warn you. What Lateral lacks in customer attention, it makes up for in variety. Because the dishes are small, simple and cheap, a meal at Lateral affords you the opportunity to try a lot of different things without spending a ton of money.

Lateral's terrace is great for people watching, order a pitcher of sangria and settle in.
If you are completely new to Spanish cuisine, this is a good gateway restaurant to start your initiation into local dining. The best approach to a meal here is to not be in a hurry. Go when you have time to spare and order one of everything that looks interesting. Most of the food is average, but some is surprisingly tasty, and it will give you an overall idea of the types of dishes you'll find on other menus in Spain.