Vermouth: Beyond the Cocktail
When it comes to aperitifs, vermouth reigns supreme in Spain. Vermut, or vermú, is much more than an ingredient in drinks like Manhattans and Negronis. A beverage unto itself made from a base of sweet white wine, vermut dulce, sweet vermouth, gets its characteristic dark tone from the addition of caramelized sugars and its bitter notes and complex flavors from well guarded combinations of botanicals and spices. The name vermouth is Germanic in origin, coming from the word wermüt which means wormwood, an ingredient generally regarded as one of the first to be infused into aromatized wines.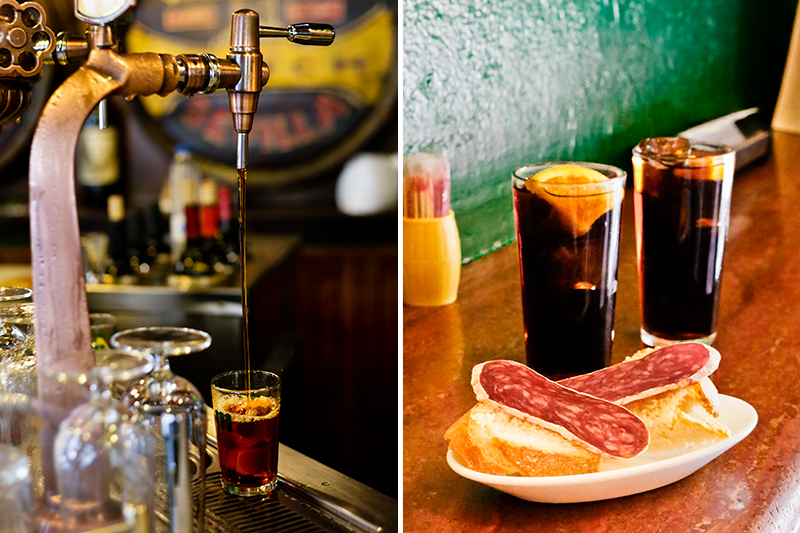 There is some debate about the birth of the first sweet vermouth but most agree it was created in Turin, Italy during the the later part of the 18th century. Sipped for its reputed medicinal qualities, among them stimulating appetite and aiding digestion, it's no wonder that vermouth became popular as an aperitif.
Although vermouth is know around the world as a classic cocktail mixer, in some parts of Europe, particularly in Spain, vermouth is ordered on its own over ice or con sifón, mixed with a little bit of carbonated water. Another thing that you are likely to encounter in Spain is the absence of bottled vermouths in favor of serving homemade recipes straight from a barrel or, even more common, pouring vermouth from a bar tap. Traditional garnishes include an orange slice and green olive or, less commonly, a lemon wedge.
Vamos a Tomar el Vermut
Vermouth has long been a go-to beverage in Spain, but shifts in local drinking habits are pointing towards a vermouth resurgence with the strength of the gin and tonic fever that has spread across the country. Although not internationally recognized like Martini, Spanish vermouths are as good as any and there are a plethora of brands to choose from. Among the most well known brands, some in production since the mid to late 1800s, are Casa Mariol, Miró, Cisa, Perucchi, Iris and Yzaguirre from Catalonia, Valdovinos from Aragón, Lacuesta from La Rioja and Nordesía from Galicia. Similar in taste to Italian vermouths but with less bitterness and stronger aromatics, an ice-cold glass of Spanish vermouth is layered with deep flavors but still manages to be refreshing.
The revival of the aperitivo ritual may be taking Spain by storm, but this isn't a new trend, nor one that is likely to die out; the tradition of going for a vermouth and a snack to inspire one's appetite before la comida has been laying quietly just below the surface of Spain's social gastronomic scene. Vermouth's non-exclusive nature as a beverage and ultra low price-point on the Spanish market makes it the perfect choice for anyone who enjoys indulging in an affordable luxury. In light of Spain's recent economic crisis, it makes perfect sense that la hora de vermut has been steadily gaining momentum.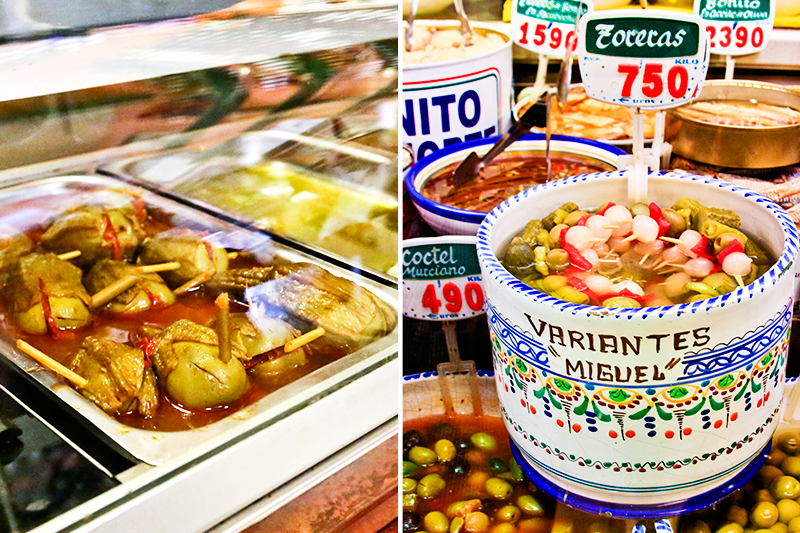 stuffed, pickled eggplant and "bandarillas", skewered encurtidos
An acceptable excuse for day drinking, and one which many Spaniards would argue is actually good for you, going for a vermouth is also an excuse to snack before you sit down for the day's primary meal. With alcohol concentrations around 15%, it's probably a good idea to eat something with your vermouth, unless you like to have lunch drunk. Typical foods to accompany the bitter and sweet flavors of a glass of vermouth are conservas and encurtidos (cured and pickled snacks) or simple potato chips… really, anything salty goes.
On the Trail of Vermouth
Step into any classic taberna or bodega in Spain and you're almost guaranteed that they serve vermouth. There is no shortage of these types of establishments, but the best of them are easily identifiable by the crowds pouring out of their doors in the early afternoon. Although you're unlikely to find it written about or advertised, these are also the places where the tradition of the free tapa is still alive and well.
vermouth two ways
Like any trend that catches on, the renewed demand for vermouth has been followed by the opening of new establishments that cater to it and, consequently, aim to reap the economic benefits. Although we love a good modern homage to the classic vermutería, there is something to be said for the old authentic places that have been serving vermouth since it first came onto the scene. For every shiny new bar that opens, the in-the-know locals and neighborhood hipsters seem to be discovering and embracing as many forgotten treasures, and we hope that remains the case.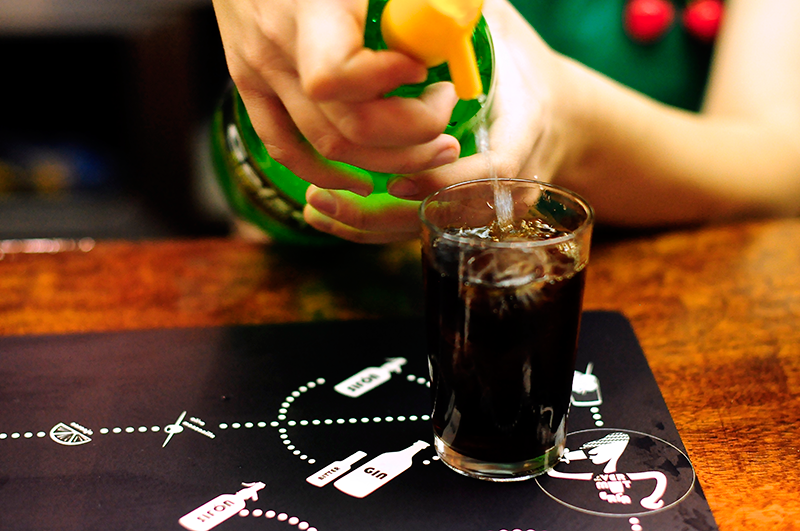 vermouth "con sifón" at La Vermuteria pop-up in Madrid
Striking a balance between old and new are creative ideas like La Vermutería pop-up events in Madrid, the facelift and reintroduction of heritage brands like Casa Mariol and fledgling vermouths like Morro Fi with bespoke recipes, a modern artistic image and flagship bar to match. The growing interest in vermouth culture sheds light on an long-standing custom and will hopefully carry its popularity forward with younger generations.
Want to know where our favorite places for vermouth are in Madrid?
Check out our rutas de vermut through 4 of Madrid's most vibrant neighborhoods.