For many years, Venice has held a steady place among the world's most popular destinations. Famous for its beautiful canals and amazing palaces, Venice boasts a dream-like atmosphere that only a city built on water can evoke. The locals' Venice can be enigmatic, and no aspect of Venetian culture has been more underrated or misunderstood over the last decades than Venetian cuisine.
A Small assortment of cicchetti. Photo by Pedro Sousa via CC, adapted by ParTASTE.
An unfortunate combination of bad policy by local restaurants and lack of education on tourists' part has resulted in a mass under-appreciation of Venetian gastronomy. But now, thanks to a renewed interest in cicchetti, traditional Venetian delicacies and mouthwatering local dishes are stepping back into the spotlight and have started to be enjoyed again by Italians and foreign visitors alike.
What are Cicchetti?
Cicchetti are small snacks, similar in concept to Spanish tapas, which are typically eaten accompanied by a small glass of wine, called an ombra. Some theories imply that the Venetian word cicchetto derives from the Spanish word chico, used to implicate something small, since the size of cicchetti is small like an appetizer. Historically, bàcari (wine bars) offered cicchetti along with the local house wine to be eaten standing at the counter of the bar. In Italian culture, a good glass of wine is always consumed with something to eat as it helps to avoid getting drunk unintentionally!
There is a great variety when it comes to different types of cicchetti and, depending on the creativity of the chef, they can be completely unique to a particular bàcaro or osteria. Cicchetti can range from uovo sodo con arringa (hard boiled egg topped with herring fillet), to acciughe marinate (vinegar marinated anchovies), to a small portion of seppioline alla griglia (grilled baby squid), to panino con il salame (a small bread roll filled with local salame).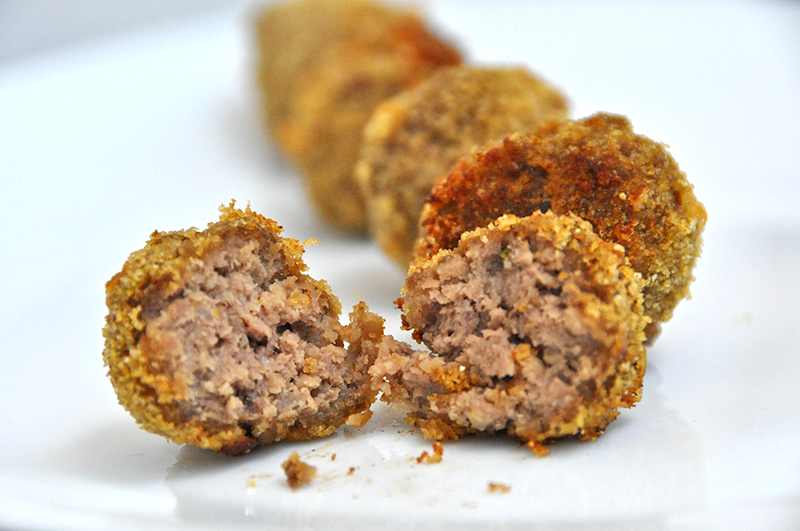 Polpette, photo by Flavia Conidi via CC.
The most typical cicchetti, those which are most loved by Venetians and that you are guaranteed to find in almost every bàcaro, include succulent polpette (fried meatballs), slices of grilled polenta topped with mouthwatering creamy baccalà mantecato (creamed cod) and bite-size crostini with sarde in saor (sardines in an onion and vinegar sauce), just to name a few. Regardless of the specific cicchetti you encounter, they should all be freshly prepared and are generally created with seasonal and local products, as are all of the most authentic dishes found in Italy. Cicchetti can be ordered individually or you can opt for a cichetada, a platter which includes a selection of the house specialties. The price for an individual cicchetto ranges from €1.00 to €2.50 depending on the type and size.
No matter which cicchetti you order, they should always be washed down with an ombra of the local house wine. Ombra, which literally translates to "shade", can refer to a small glass of red or white wine. One legend says that the name comes from the fact that Venetian wine sellers used to stand in Saint Mark's Square selling wine from their stalls under the shade of the church tower. As the shade shifted, they moved their stalls, thus keeping their ambrosial drink cool.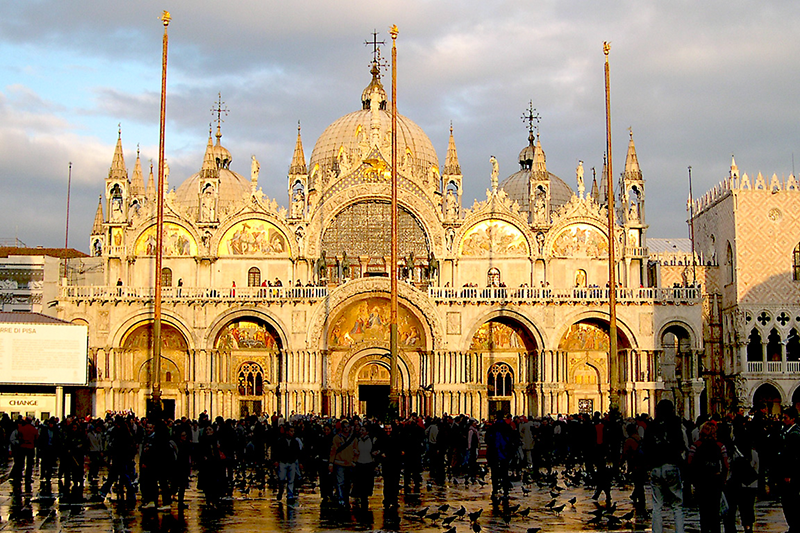 The basilica in Piazza San Marco. Photo by Turinboy via CC, adapted by ParTASTE.
The locals used to say, "Andiamo a bere all'ombra del campanile," meaning, "Let's go and drink in the shade of the church tower." As years went by, the saying was abbreviated and now locals simply say, "Andiamo a bere un'ombra," or, "Let's go and drink a shade." Another theory suggests that the term ombra comes from the fact that the small glass and serving size is only a "shade" of a proper glass of wine, so that is why the locals refer to it in that way! Regardless of which explanation you believe, the pleasure of a nice ombra, enjoyed in the company of friends, still lives on today, always accompanied by a cicchetto or two.
What Type of Wine Should be Ordered with Cicchetti?
The most typical wine to order with your cicchetti is a Veneto wine. Not many people realize that Venice produces the largest variety of red and white wines in Italy and it also produces the largest volume of wine in the country, most of which is consumed locally!
Wine serve on tap. Photo by Eric Parker via CC, adapted by ParTASTE.
The best and most typical wines to drink in Venice are Prosecco, the light sparkling wine now famous internationally, Raboso, a light red wine with a little hint of peppery spice, Merlot, the most commonly consumed red wine in Venice, Pinot Grigio, a very common dry white wine on the Venetian table and Ribolla, a light but delicious white wine.
As is customary, all of these wines should be served drafted, from the tap. It is very rare that Veneto wine, apart from Prosecco, is served from a bottle in an authentic bàcaro. Typical Veneto wines are young, smooth, refreshing and cheap – an ombra will usually cost around €1.00.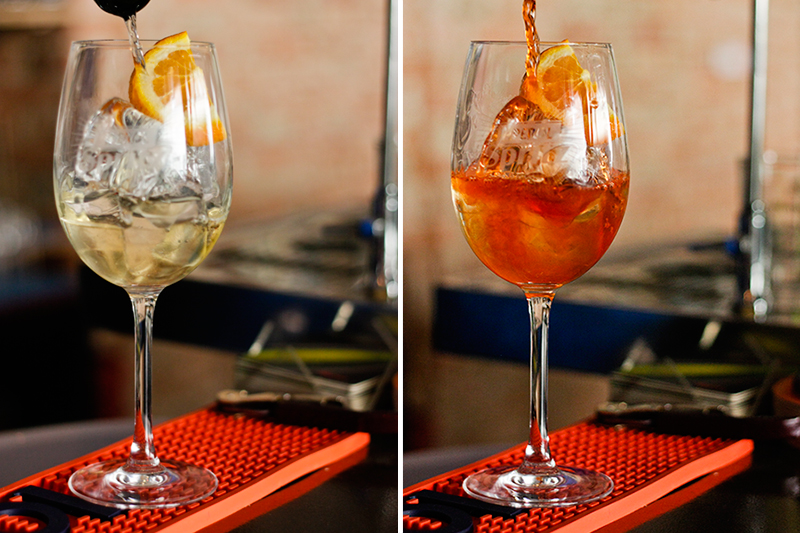 An Aperol Spritz, in the making
If you aren't in the mood for wine, you aren't required to drink it when eating cicchetti. Instead, you can opt for a world famous Spritz, prepared with good quality Prosecco, sparkling water and a typical Italian aperitif of your choosing like Select, Aperol or Campari, according to how bitter you'd like your drink to be.
Andiamo per Bàcari
The social ritual of going out for drinks and cicchetti is referred to by Venetians with the expression andar per bàcari, meaning to go to wine bars. To andar per bàcari is about more than the destination – it means coming together to eat and drink in the company of friends, perusing the various local bars and making frequent stops in the best bàcari in the city.
In recent years it has become fashionable among young people to spend their Friday and Saturday nights andando per bàcari, but the older generation of local Venetians would do this every day as a sort of aperitivo ritual. Still today, it is not uncommon to see groups of men in their 70s and 80s going from one bar to another, having a drink and a nibble, chatting and enjoying a friendly, lively discussion! In general, the locals go for a quick ombra and a small cicchetto around lunchtime, before heading home for a family meal, or in the evening, around 6, again, before heading home for dinner.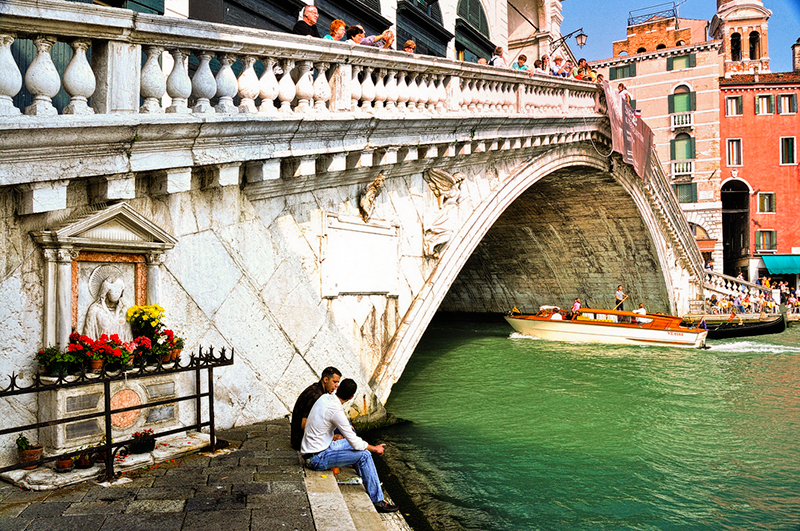 Venice's famous Rialto Bridge. Photo by Gnuckx via CC, adapted by ParTASTE.
Traditional wine bars like Venetian bàcari have existed for a very long time. Already by the 1300s there were more than 20 bàcari in the area immediately surrounding the Rialto Bridge. With such a long history, it comes as no surprise that the etymology of the word bàcari has conflicting origins. According to some people, it comes from the name Bacchus, the god of wine. Others believe the term bàcari
comes from bàcaro, a type of wine from Puglia which was the most popular variety in Venice during the eighteenth century. Yet another explanation of the word comes from a legend in which a gondolier coined the term one day when tasting a new wine, exclaiming, "xe proprio un vin de bàcaro," meaning, "it is a real wine of bàcaro," that is, a wine to celebrate. The Venetian expression far Bàcara means, in fact, to celebrate, to party, and to eat and drink together!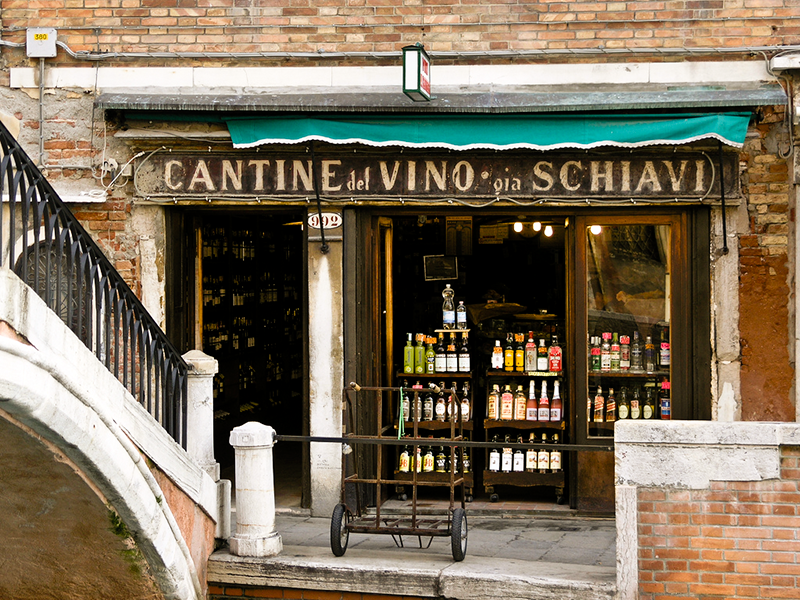 Cantinone Già Schiavi,  a 19th century bàcaro run by the same family for generations. Photo by Tim Sackton via CC, adapted by ParTASTE.
A typical bàcaro is often found directly overlooking narrow Venetian streets, it is small and has a very minimal interior space. Only a few bàcari offer seats: usually customers stand at the counter or in the street, so it is not unusual to see people sitting on bridges or by the canal's edge, particularly if the bàcaro provides its customers with a boat mooring. To find a good Venetian bàcaro, look out for small crowds of people holding a glass of wine and a plate of cicchetti. When you spot a group like this, odds are that they are standing right outside one of their favorite local bàcari. The bàcari usually open around lunch time and again around dinner time, but some of them are open through the day continuously from around 11 in the morning until 10 in the evening – bear in mind that food will be scarce during hours that aren't typical for eating!
The Evolution of Cicchetti
Nowadays, cicchetti can be eaten not only in bàcaro, but as starters in restaurants. When this is the case, the restaurant will generally list a selection of fish-based cicchetti, including ovuli di seppia (squid eggs), insalata di polpo (octopus salad) and gambari in saor (sweet and sour prawns). Cicchetti have also begun to spread in popularity outside of Venice and it is not unusual to find them in neighboring towns like Padova, the alleged home of the Spritz, and Treviso, the birthplace of Tiramisù.
A restaurant's sarde and gambari in saor, quite different from what you'd find in bàcari. Photo by Voiello via CC, adapted by ParTASTE
Although cicchetti can be ordered in some restaurants, forgoing the sit-down cicchetti experience to andar per bàcari is not only the best way to enjoy good Venetian food and good local wines at reasonable prices, it is also a pleasant way to enjoy the real Venice, away from the hustle and bustle of typical tourist routes. The opportunity to discover the most authentic and genuine side of this enchanting city is the real key to understanding the Venetians and the pleasures of life in a place where no-one is in a hurry.
Have you ever tried cicchetti? Tweet us or visit us on facebook to share what you thought and tell us about your favorite Venetian Bácari!