The act of going out for vermouth in Spain is a ritual that bears many different names. A long-standing tradition that is seeing a resurgence in popularity, going out for La Hora del Vermut is a great way to be social without spending a ton of money. While it wouldn't be a challenge for someone well acquainted with vermouth culture in Spain to know where they can find a good vermouth locally, it's a little trickier if you are just visiting or even live in Spain but haven't gone to tomar el vermut before. To help you enjoy the vermouth culture when you travel to Spain's capital city, we've put together 4 different routes in Madrid for a self-led vermouth crawl. Read on to discover some of our favorite places for vermouth and to learn what to try at each of them!
The Classic Route for Vermouth
This route takes you through some of the oldest and most beautiful parts of Madrid, to places which have stood the test of time and show no signs of disappearing. Starting at a typical tapas bar "de toda la vida" in Madrid de los Austrias, just south of the picturesque Plaza Mayor, our route winds up towards Plaza de San Miguel visiting one of Madrid's oldest bodegas and ends at a historic wine bar and restaurant that's a stone's throw away from the Catedral de la Almudena and the Palacio Real.

First Stop: Casa Revuelta


A glass of vermouth and Casa Revuelta's bacalao rebozado
Casa Revuelta is well known among locals, particularly for their bacalao rebozado, thick fillets of juicy codfish incased in a crispy, golden shell of fried batter. There is no menu at Casa Revuelta but it doesn't matter as most people who come here know what's on offer. If you aren't one of those people, you can peak through the little glass case on the bar to see what they have, but the most commonly ordered items are the bacalao, sold by the piece for €3, callos a la madrileña (tripe, sausage and tomato stew) and torreznos (thick chunks of fried bacon). We recommend ordering the bacalao with a glass of vermut de grifo (vermouth on tap).

Second Stop: Bodegas Ricla


The vibrant entry to Bodegas Ricla and a tapa of Cabrales a la Sidra
Overflowing with character, from its artistically painted doors to its eclectic crowd of regular clients, this tiny bar is often overflowing with people as well. Bodegas Ricla offers a variety of tapas which you will find listed on hand-written chalkboards around the bar and is famous for their callos a la madrileña, not on the tapas menus but available nonetheless. Among our favorite tapas here are the queso cabrales a la sidra (a strong, ripe, blue cheese from Asturias blended with hard apple cider), mojama con almedras y aciete (rich, cured strips of tuna, likened to jamón of the sea, served with Marcona almonds and extra virgin olive oil) and cecina (artesian salted, smoked and air-cured beef typical of the León region of Spain). Beyond their tapas and charming atmosphere, Bodegas Ricla is well known for their house vermouth, served over ice with and orange wedge, the traditional way.

Third Stop: El Anciano Rey de los Vinos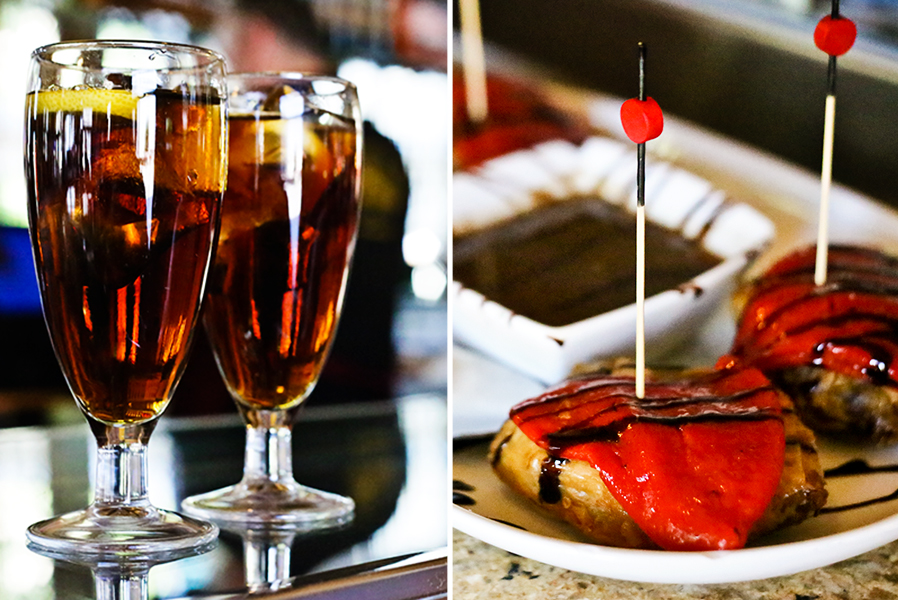 Vermouth de barril and mouth-watering regalitos de torito
Our final stop on this route is a little more upscale than the others, but that's not too unexpected considering its location next to Madrid's Royal Palace. One of the hard-to-find places in Madrid that still serves a free tapa (of their choosing) when you order a drink, you don't have to pay for any food at El Anciano Rey de los Vinos to have something to snack on. Despite the fact that they offer a free tapa with your beverage, and even though it will set you back €11.50, there is one specialty here that we highly recommend ordering: the Regalitos de Torito. A traditional dish served in an unconventional way, 4 packets of rabo de toro (rich, stewed bull tail) are encased with a crisp shell of golden puff pastry, topped with a pimiento del piquillo and served with the stew's broth for dipping. And what better to wash it down with than a refreshing glass of vermouth served straight from the barrel?

The Local's Route for Vermouth
This route winds through Barrio de las Letras, Madrid's literary quarter, known to an extent for its small bars and vibrant nightlife, this is also the neighborhood that some of Spain's most famous authors called home, among them Miguel de Cervantes and Lope de Vega. Barrio de las Letras' proximity to Sol and Plaza Santa Ana makes it popular among bar crawling young tourists but the bars featured on this route are those frequented by people who live in the area. Walking the cobbled streets between these authentic local haunts makes it easy to feel like you're visiting a small town and forget you are in the center of one of Spain's largest cities.

First Stop: Casa Alberto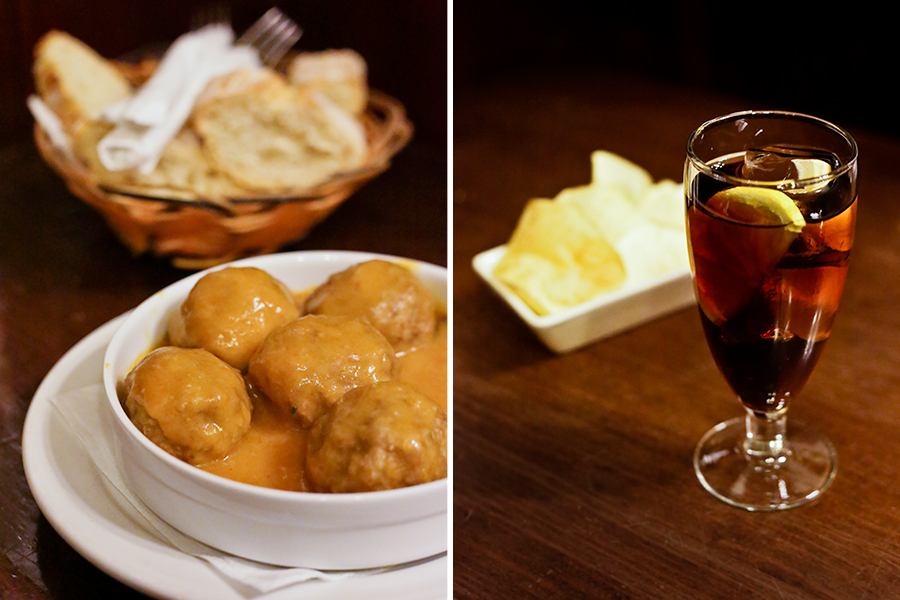 A glass of vermouth and Casa Alberto's tender stewed meatballs
Open since 1827 and located on the street level of the building where Cervantes lived while he was writing Don Quixote, Casa Alberto is a classic neighborhood bar and restaurant with an atmosphere that transports you back in time. The kitschy chef statue holding a menu outside the crimson facade of Casa Alberto might make you think that this is a tourist trap, but that couldn't be further from the truth. The locals far outweigh the tourists here, but step inside and you'll be greeted with a smile and warm service like anyone else. Cozy up to the bar or sit at one of the small tables against the opposite wall and order yourself a glass of vermouth on tap and a racion of their delicious, homemade albóndigas (saucy Spanish meatballs).

Second Stop: Casa Gonzales


Vermouth de grifo with a selection of Spanish cheeses
A specialty store and bar with one of the best selections of Spanish cheeses and charcuterie that you are likely to find outside of a local market, Casa Gonzales has a great variety of quality products whether you are picking up something to bring home or sitting down for a leisurely snack. Located on Calle León with huge windows looking out over the street, grab a table near the front if you can and you are guaranteed a good opportunity for people watching. In terms of food, if you've never tried it, we recommend an aged Manchego paired with membrillo (quince paste) or getting a mixed platter to sample a variety of Spanish cheeses, enjoyed with a glass of vermouth on tap.

Third Stop: Cervecería Cervantes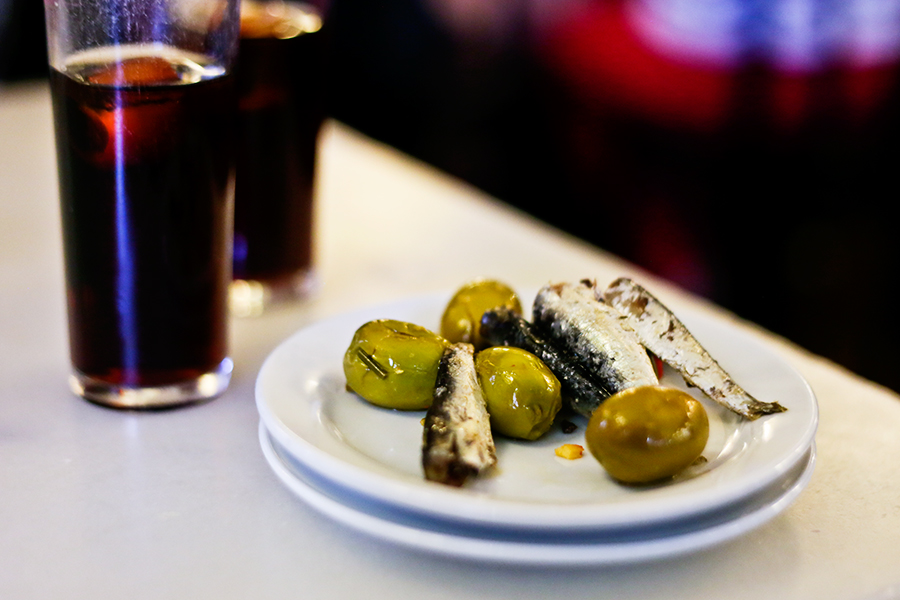 A typical pairing, vermouth with olives and sardines
Although this is a Cervecería, the folks at Cervantes are well aware that vermouth is in high demand around here and you won't be out of place at all in ordering a glass. They also have a great selection of the highest quality conservas and encurtidos (preserved foods) which happen to be a typical accompaniment to a glass of vermouth. Cervecería Cervantes is well known for serving excellent quality seafood, both fresh and preserved, and it's not uncommon to get a little dish of olives with fish like sardines or anchovies when you order a drink. If you are still hungry, we recommend ordering some freshly carved jamón or any one of their tostas, particularly the tostada de gambas.

The Hipster's Route for Vermouth
Malasaña, a once seedy part of Madrid, has seen a lot of gentrification over the past few years and is now known as the heart of local hipster activity. This is a barrio where old bars are peppered amongst shiny new places catering to the latest trends. Malasaña's scene is retro-cool, full of those who idolize all things with an air of nostalgia as well as those who respect the past but are always in search of ways to reinvent it. Our vermouth route here highlights the evolution of old to new and should give you a good feel for the neighborhood along the way. 

First Stop: Bodegas La Ardosa


Classic bodega turned hipster hotspot where a simple glass of vermouth never goes out of style
La Ardosa, founded in 1892, is an institution in Madrid. The clients here are as loyal as they come, whether they go to Ardosa for their anise-heavy vermut de grifo, their variety of beers, the award-winning tortilla espanola, their famous salmorejo or something else entirely. From elderly men who have probably been going to Ardosa since they were children to young Madrileños with tattooed sleeves to in-the-know expats, everybody loves this place. Bodega la Ardosa is somehow hip and traditional; the shelves are full of dust-covered bottles, the walls are lined in colorful Spanish tiles and the menu is classic. If you're hungry, try the celebrated tortilla or salmorejo. If you'd just like a light snack, order some of Ardosa's quality conservas or their vermouth and Castrourdiales anchovy combo for €3.

Second Stop: Casa Camacho


Barrels of vermouth and Casa Camacho's Yayo
A small bar in the heart of Malasaña, Casa Camacho is owned by three brothers who couldn't care less about how cool people think their bar is. Huge barrels of vermouth line the wall behind the bar and they aren't there for decoration, Casa Camacho sells more of this stuff than you could wrap your head around. Some who order vermouth here will ask for it plain, others con sifón, and if you are really looking to blend in with the locals, you'll order the Yayo, Casa Camacho's vermouth specialty and practically a rite of passage within the Malasaña bar scene. The Yayo is a mixed drink that appears to be mostly vermouth, but don't be fooled by its color or its easy-on-the-pocketbook price of €2, this drink packs a punch. As if vermouth wasn't potent enough on its own, the Yayo gets extra oomph from the addition of (a lot of) gin and a bit of casera. A small tapa normally accompanies your drink order, but if you are looking for more, we recommend asking for the boquerones (delicate, marinated white anchovies) or the berenjenas de Almagro (pickled baby eggplant).

Third Stop: Santamaría, La Cocteleria de al Lado

If you think of the Yayo as vermouth's delinquent cousin, the Diplomático at Santamaría is vermouth's debonair older sibling who moved to the big city and never looked back. Rather than the lengthy pour of gin that goes into the Yayo, the Diplomático gets "two drops" of gin and in place of the Yayo's lemon-lime soda, the Diplomático has tonic water and a twist of lemon. Perfectly chilled and expertly mixed, like all of the cocktails we've tried at Santamaría, the Diplomático elevates vermouth to new levels, not necessarily improving upon the original, but certainly doing it no disservice. If that's not enough to get you interested in paying a visit to Santamaría, you are sure to be pleasantly surprised by the cozy yet modest interior and even more so by the skill of the resident barman who is, no doubt, a perfectionist when it comes to his craft and mixes up some of the most creative and well balanced drinks in all of Madrid.
The Trendsetter's Route for Vermouth
Sandwiched between Malasana and Salamañca, Chueca is the place for new bars and restaurants that keep the pulse of Madrid's younger culture while simultaneously catering to a more refined crowd. One of the most exclusive and affluent neighborhoods for 20- to 30-somethings, many of the people who frequent Chueca have high standards of quality and expectations to match. There are plenty of places in Chueca to see and be seen, many of which are super trendy, some that do things a bit differently, but regardless of the approach, the typical Chueca establishment always operates with style.

First Stop: El Botiquín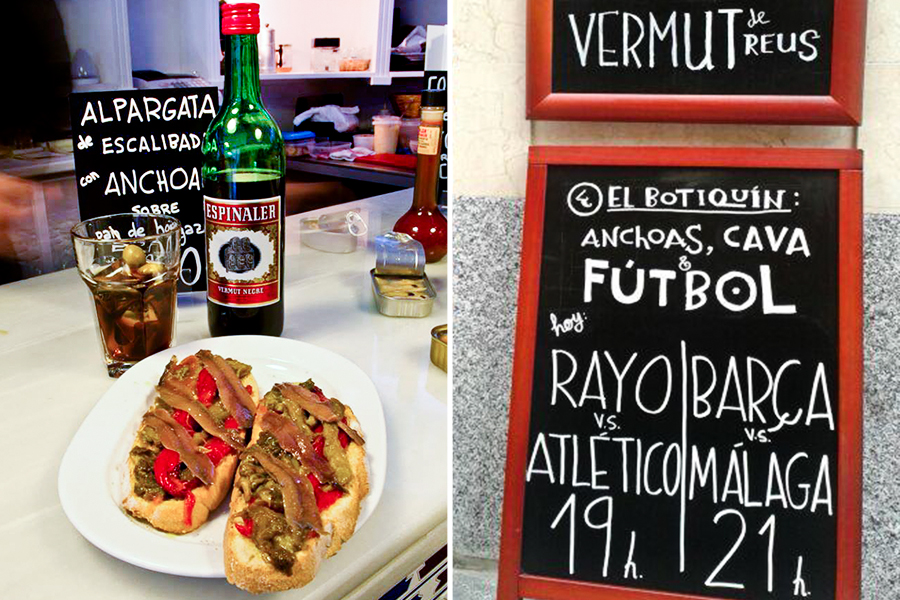 Some of the day's featured specials: Vermouth from Reus and football – image via El Botiquín
El Botiquin is a hole in the wall space with mimimal-contemporary decor that at heart is part tavern, part old-fashioned grocery store. Specializing in conservas, salazones and wines, El Botiquín is an obvious choice when it comes to where you go for a stylish apertivo. With daily food specials, the self proclaimed "best anchovies in Madrid" and a variety of original tostas like cream of Manchego cheese with strawberry, it's not difficult to find something to eat here, although choosing what to eat might prove otherwise. As far as drinks go, El Botiquín takes their vermouth as seriously as they do any of their other wines. Serving an artisan brand with over 80 aromatic herbs, handmade in Reus, Spain's most reputed vermouth-producing region, vermouth at El Botiquín is served in one of three ways: traditional (sweet red vermouth over ice with an orange round and an olive), as la persiana (white vermouth mixed with cava, another of El Botiquín's specialities) or as la barreja (with a mix of red and white vermouth).

Second Stop: Sifón


A typical glass of vermouth and Sifón's quirky interior
With a whimsical interior and small terrace in the Plaza del Rey, Sifón is the perfect place to stop by for a glass of vermouth, rain or shine. The house vermouth is Casa Mariol, one of our favorite brands, and the friendly staff will pour you a refreshing glass with the classic garnish, a wedge of orange, con sifón or on its own. The atmosphere is a mix of traditional and non-conventional, as is the menu. If you didn't get enough conservas at El Botiquín, Sifón has a great selection of quality options as well, and to try something completely different, opt for their homemade empanadas with fillings that change daily.

Third Stop: Celso y Manolo


Celso y Manolo's elegant glass of vermouth and calamari sandwich
Celso y Manolo is easily one of our favorite places to eat in Madrid, and the same preference applies when it comes to where we like to go for vermouth. The food is made with a simple philosophy in mind that focuses on using quality organic products to create meticulously prepared dishes that pay homage to the classics of the Spanish Taberna. Even simple foods like a bocadillo de calamares (calamari sandwich) and ensalada rusa (potato salad) seem like luxury items at Celso y Manolo. We are absolutely obsessed with their tomato dishes and although we've been at least 7 times in the last couple of months, we can't wait to go back and try more. A vermouth at Celso y Manolo looks more like a cocktail than anything else. Served in a martini glass with orange, cherry, olive and lemon, the ruby red small-batch artisan vermouth made in the mountains of Tarragona has such smooth and complex flavors that you could certainly be fooled into thinking it was a cocktail if you didn't know better.
Want to learn more about vermouth?
Check out our article on La Hora del Vermut if you haven't already. Have a favorite Madrid vermouth spot of your own? Share it with us on Facebook, Twitter or Instagram using #ParTASTE.