Tapas are probably the best known category of food to come out of Spain, but also the most misunderstood. There are many conflicting opinions, even among Spaniards, regarding what does or does not qualify as a tapa. That being the case, the definition of what a tapa actually is was bound to get confusing.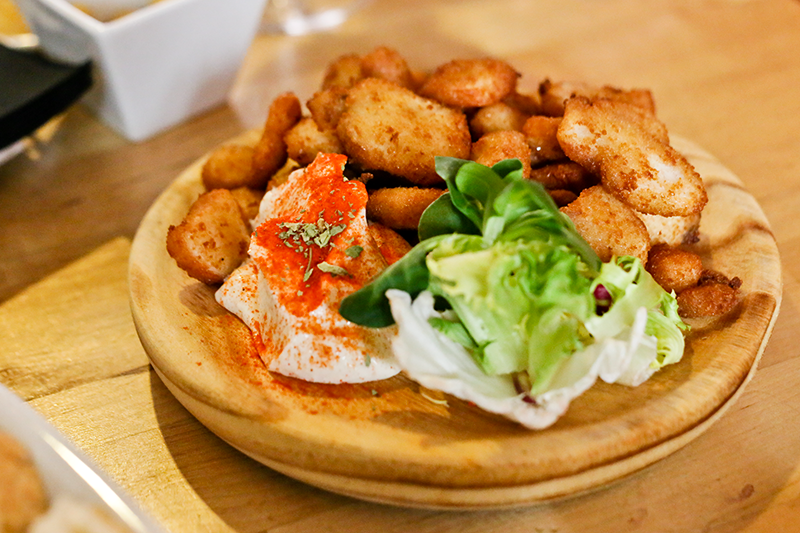 A tapa of fried pulpo (octopus)
Some foreigners are under the impression that tapas are just the way meals are served in Spain. While tapas are available at some restaurants, they are more common at tabernas and are certainly not the manner by which Spaniards eat every day. Restaurants that do offer tapas often expect you to have them at the bar. In a restaurant with that sort of policy, you might be asked if you are there para comer (to eat a proper meal), para tapear (to eat tapas), para picar algo (to snack) or para tomar algo (to have something to drink). Unless you intend to comer, you can expect to be directed away from the formal dining room to a more social snacking space.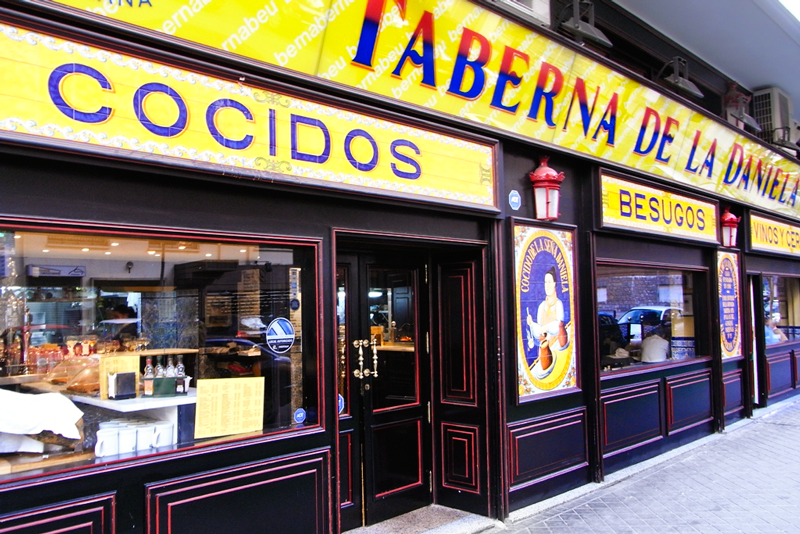 Taberna de la Daniela in Madrid, Spain – by Javier Lastras via CC
So if a few rounds of tapas don't technically make up a meal, what exactly are they? Tapas, to define them loosely, are small or even individual-sized servings of food, often of a classic Spanish dish, that are eaten little by little over the course of a social outing. The word tapa stems from the verb tapar, which means to cover. Stories about the origin of tapas vary about as much as their definitions. There is, however, one thing everyone can agree on: you don't tapear alone. To ir de tapas is a social ritual in Spain; the perfect way to casually meet up with friends and leave your worries behind. You can think of it like bar hopping, but instead of just going for drinks, you are going to snack on different foods along the way.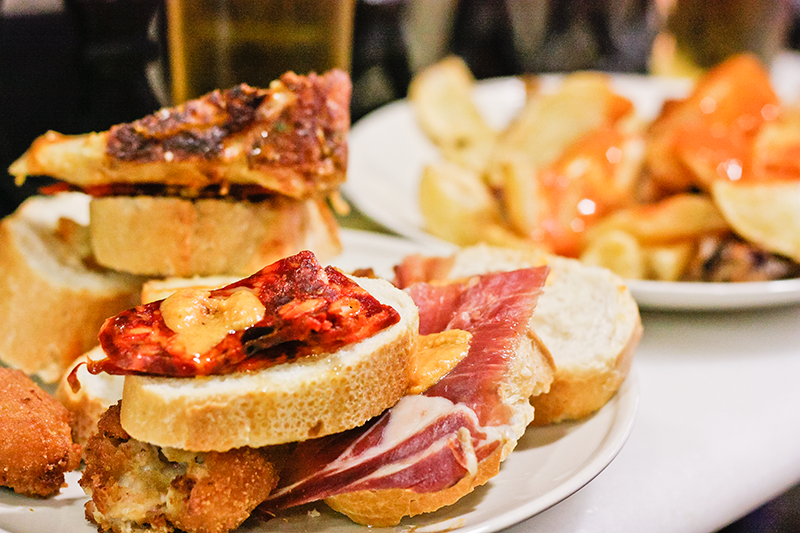 The unusually large portion of free tapas at Madrid's notorious El Tigre
To make things even more confusing, the tapas culture completely changes depending on the city. In Leon and Granada, tapas usually come free when you order a drink. In the Barrio Húmedo of Leon, a neighborhood known for tapeando and drinking, little bars are stacked against one another with people overflowing out onto the streets. Each bar serves something different so you go for a beer, get a tapa, and then head to the next bar. When tapas are free, you can't be choosy, you'll get whatever that bar happens to be offering, but the tapa offered will generally change if you decide to have more than one drink before leaving.
Leon's Barrio Húmedo – by Arturo Castro under CC
In larger cities, such as Madrid and Barcelona, tapas will rarely be given out for free. In this case, you will find the different types of tapas in menus, written on windows or on blackboards above a bar. On some occasions, particularly in bares de viejo or old man bars, you will see a lineup of troughs behind glass with tapas prepared and ready to be served. When you pay for tapas, they are usually a bit larger in size. If you're with a small group, it's fun to order different tapas to share and do a bit of sampling.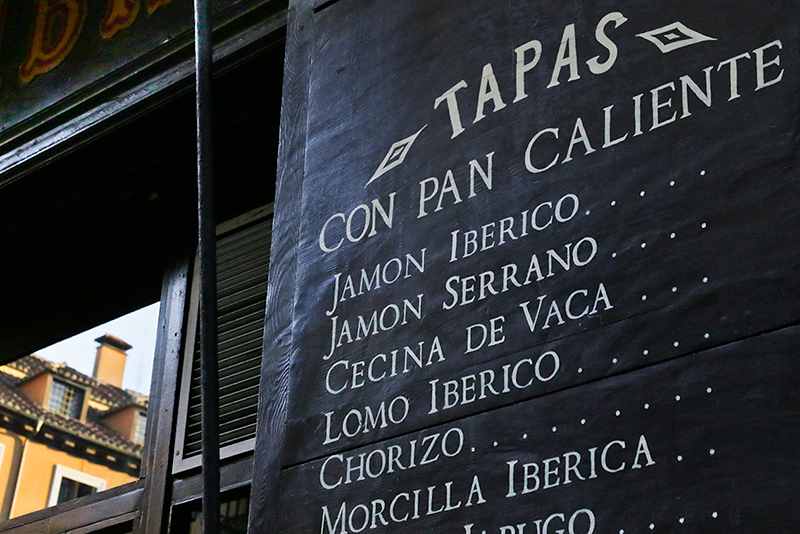 In more tapa-centric cities like Sevilla, tapas often appear as carefully crafted mini-entrées with complex flavors and artfully arranged plating. Usually you find these sort of tapas in gastropubs and they are pricier than standard tapas, but still cheap enough to order as many as you can eat. When you are planning to tapear your way though gastropubs, it's advisable to start early as they fill up quickly and, if you wait too long, your second or third stop could be so crowded that you won't even get the chance to order anything.
A more elaborate example of a tapa with morcilla (blood sausage) and quail egg
Once in a while, individual cities will put on events in which they promote a tapas crawl known as a ruta de tapas. With a ruta de tapas, a map is published that lists participating restaurants offering a particular tapa and drink for a nominal fee. If you are interested in going on a ruta de tapas, we recommend you have a good sense of navigation, comfortable shoes and make sure to look into it before planning your trip; rutas last for a limited time only.
Whether you are in the mood for a quick snack or a full night of grazing, going out to tapear is a tradition you should absolutely take part in while visiting Spain. With average prices ranging from 2-8 euro and a lot of variety in terms of the things you could be sampling, tapeando is a fun, social and an often budget-friendly way of eating.