So, you're visiting a new place and you don't know what to eat? You know a bit about the country's cuisine but aren't super confident in terms of dining and you don't know anything about the food when it comes to regionally. You go online to see what looks interesting. One thing stands out as particularly appealing: a food tour, to introduce yourself to this new culture though its cuisine!
But not so fast… there are some things to think about so you get the most out of this type of touring, especially if you are picky when it comes to eating.
How to Choose the Right Food Tour
• Look for tours with a point of view towards the foods they are offering. If you find a tour that boasts a random list of tasty snacks, but doesn't seem to have much reason for what they are choosing, you might not learn about food as it relates to the place you are visiting. The best part about going on a food tour (aside from all of the eating) is that you get an insider's perspective on what and where to eat while you are traveling.
• Check to see if the tour is offering any information for free. Do they have a blog? Do they tweet about things that they eat? Do they post on other social media? Seeing what other resources a tour is putting out there gives you a feel for their level of knowledge and credibility.
• Look for tours that offer some variety. If there is only one tour available with a fixed set of samplings, make sure you like the things that you'll be tasting. In many cases, a food tour is thoughtfully composed so you get to experience a bit of everything. If you're concerned, contact the company to find out more and to make sure that you will be sampling foods that you find enticing.
• Be careful when tours put an emphasis on alcohol. There is a time and place for everything. Some tours offer drinks that highlight a product intentionally or complement other things you are tasting. Going on a craft brew tour is different than a tapas tour including so much alcohol that you forget what you are eating.
photo by J.M. Rosenfeld under creative commons license
A Profile of the Perfect Tour Guide
• Your guide should be someone who is willing to try different foods, even if they don't like something. It's hard to explain what a food is like if you've never tasted it. If your guide has sampled all sorts of things, at least they can describe the texture and taste so you have an idea of what you are going to be eating.
• They should be someone who knows a bit of a place's history. Most food tours will bring you around various parts of a city. Having a guide who knows some history makes the "traveling" part of the tour more engaging. But it's not just a place that has history, the foods you are trying do too, and often those are some of the most interesting stories.
• Your guide should spark your curiosity. You should leave a food tour knowing more about the local food, including some things you haven't yet eaten. You guide should have taught you a bit about the gastronomic culture and what's important to keep in mind while dining. What are normal prices in the place you are visiting? Are there any customs you should be aware of when you go out to eat? What foods that you didn't try are local specialties?
• You should feel like your guide is trustworthy. A good guide can begin to know your preferences without asking. They should give you confidence to try things you might be hesitant about, without being pushy. A good guide knows when something is too strange for your liking and suggest options you'd be more comfortable with trying.
How to be a Good Tour Participant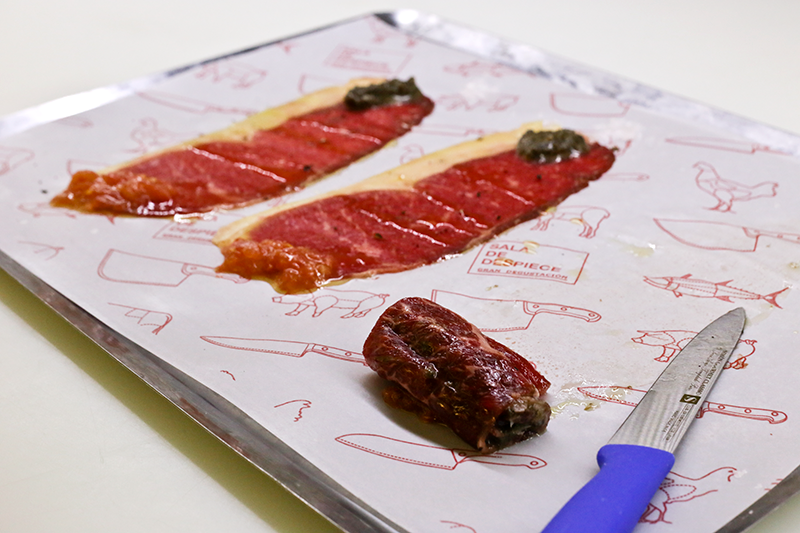 Maybe not something you'd normally order, but on a food tour it's easier to try new things
• There is a difference between not trying and not buying something. It's natural that you wouldn't go to a restaurant and order something you think you won't enjoy eating. When you are on a food tour, you have probably already paid for what you will be eating. If something a bit out of your comfort zone is offered, odds are it's something everyone is sharing so you can try it without leaving a full plate of food and going home hungry.
• Keep an open mind. The most adventurous eaters might come across a thing or two they've never considered eating. Even if you've already tried something, the same food can taste completely different depending on the preparation and quality. Refusing to eat something could mean you miss out on a delicious discovery.
• Be honest about what you are thinking. If you eat something you really don't like, there is no reason to pretend you do for the "benefit" of your guide. Speak up! The more your guide knows about your reaction to different foods, the better they will be able to suggest you try things you actually will enjoy eating.
• You get what you give. Don't be shy. The more you talk about what you are experiencing, the more you will learn and the more enriching your experience will be. Walking around and eating with a group of people who don't speak or react to anything is boring.
So are you ready to go eat something?