Blame it on Spain's reputation for incredible high-end dining, on tapas crazes abroad or any number of other things, but one fact remains, there are a lot of misconceptions out there with regard to what it's like to eat in Spain. From the idea that Spanish people love spicy food to the assumption that paella is consumed throughout the country, people's expectations of what they'll find when they come to Spain are riddled with inaccuracies. In most cases, it's easy to realign your thinking on the spot, but to give you a head start, we've put together a list of 10 things that are useful to have in mind before visiting.
1) Choose your table wisely
Outdoor dining is incredibly common in Spain and tables are typically available on a first come, first serve basis. If you choose to sit inside, many times you will find a bar area, with or without tables, and a more formal dining space. The prices and even the menus can vary according to where you sit, so keep an eye out for that when choosing your seat. The bar section of a restaurant is almost always self-seating while more formal dining rooms may require reservations. If there is a price difference by seating, it shouldn't be extreme. You will either be charged a flat "service fee" for sitting outside, or there will be an extra column on the menu that lists price differences according to where you are sitting.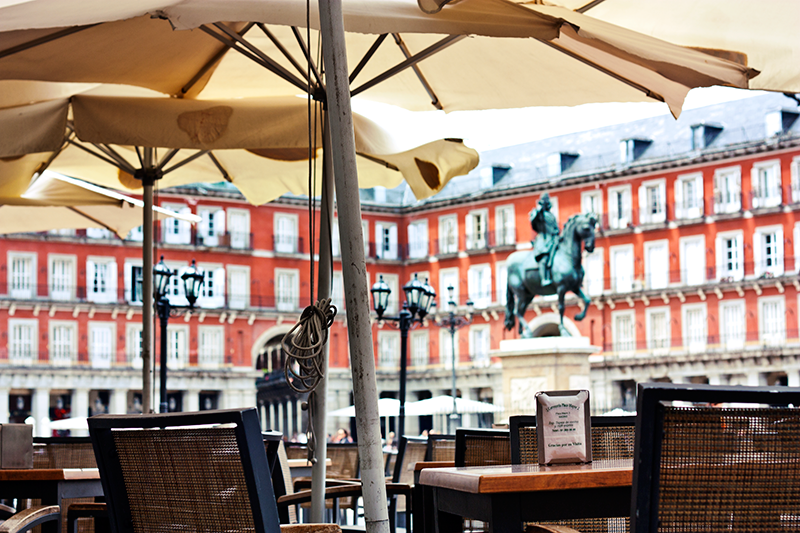 2) Let menus help you when deciding where to eat
Especially in tourist-frequented areas, avoid casual places with menus translated into a variety of languages. If you want to get a taste for the local gastronomy, your best bets are often the places that offer menus in Spanish only. Another thing you will notice are menus with photos en lieu of translating everything. Most places with photos of dishes are geared towards tourists, locals don't need pictures to figure out what they want to eat. Finally, keep an eye out for chalkboards, menu inserts or sandwich boards listing a menú del día
, or menú for short. A menú has a fixed price and a set of options to choose from that change daily. Menús are usually much cheaper than ordering dishes a la carte, plus they almost always come with extras like bread, drinks and dessert.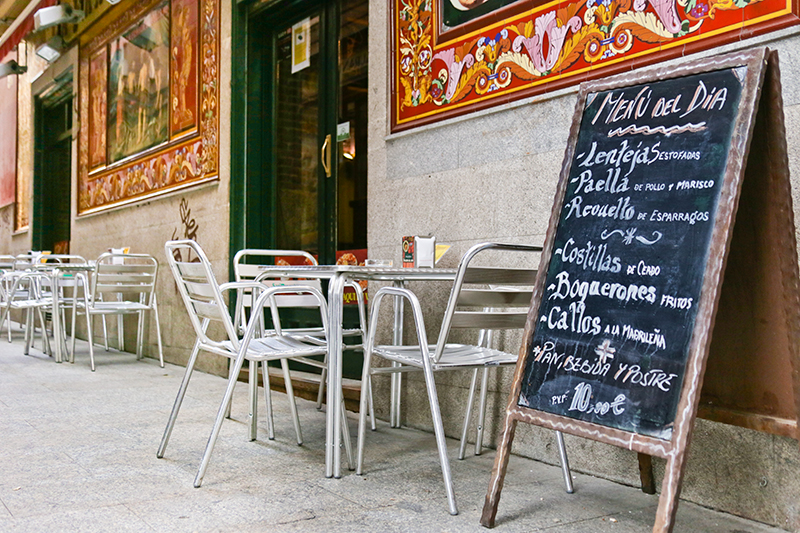 3) Don't waste time figuring out what you want to drink
Waiters will frequently ask for your drink order as soon as you are seated and before you are anywhere near ready to order your meal. It's advisable to look at the drinks immediately and then move on to what there is to eat. Generally speaking, your options will be beer, wine, soda or water. Many restaurants serve cocktails as well, but they are rarely included as an option with a menú del día. Water in Spain is typically not free and you normally have a choice between still (sin gas) and sparkling (con gas). If you don't want bottled water, you can ask for tap (agua del grifo) but don't be surprised when your waiter looks at you like you're crazy.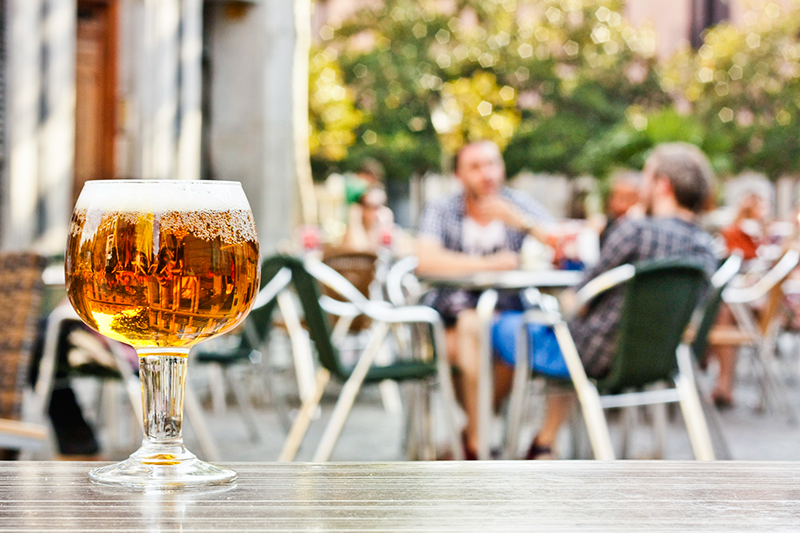 4) You can get free stuff when you eat out in Spain
Depending on where you are, you may be given olives, chips, or even tapas for free. Sometimes you will go to a restaurant and be brought a snack of sorts with your drinks. Other times, you can go out for drinks and end up with an entire plate of food for free. When ordering wine with a menú, you could be left with the entire bottle on the table, this is not a mistake, drink of it what you please. When a restaurant intends to charge for something, you usually can find the fee noted somewhere on the menu. On occasion, a charge for bread or service will be added to your bill automatically. At some restaurants, there is a tradition of offering a chupito (shot) after a meal as a digestif. When this is the case, your waiter will just bring one for everybody or they will ask you if you'd like one specifically.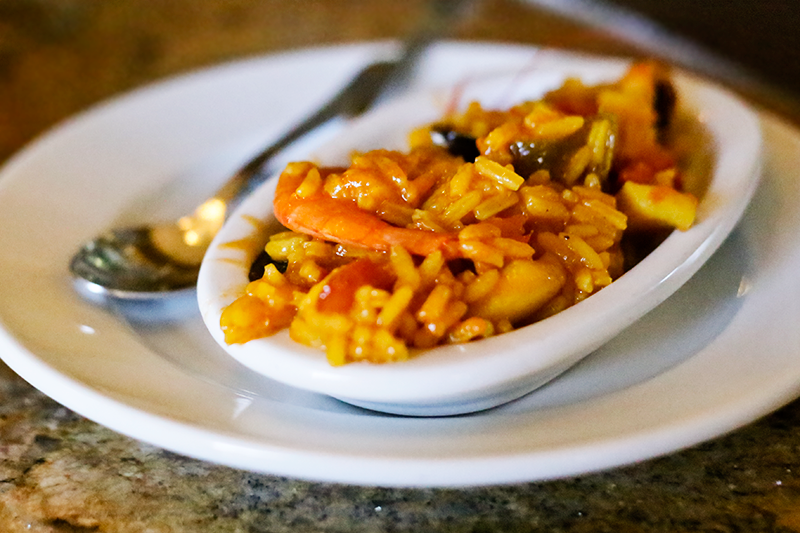 A complementary tapa for ordering a drink
5) Try to eat with 4 or more people
One of the best ways to eat in Spain is to go out with a group of people and share everything. Portions that are meant for sharing are called platos or raciónes. It's best to start by ordering less that you think you will eat. Portion sizes vary, so start with a few dishes you find really interesting and order more if you are still hungry. If you aren't sharing, you should be aware that dishes are rarely served simultaneously. If you wait for everyone to receive their food before you start eating, yours will probably be cold by the time you actually have any.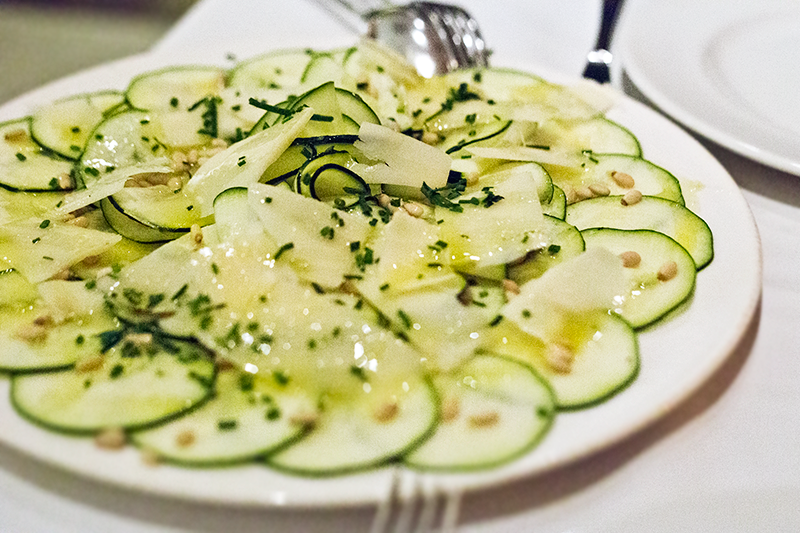 6) The meat stands alone
When you just order meat, save for some undressed salad, that's probably the only thing that you will receive. Look for a listing of guarniciones to see what sides are available to accompany your main or order a ración to share as a side among the table.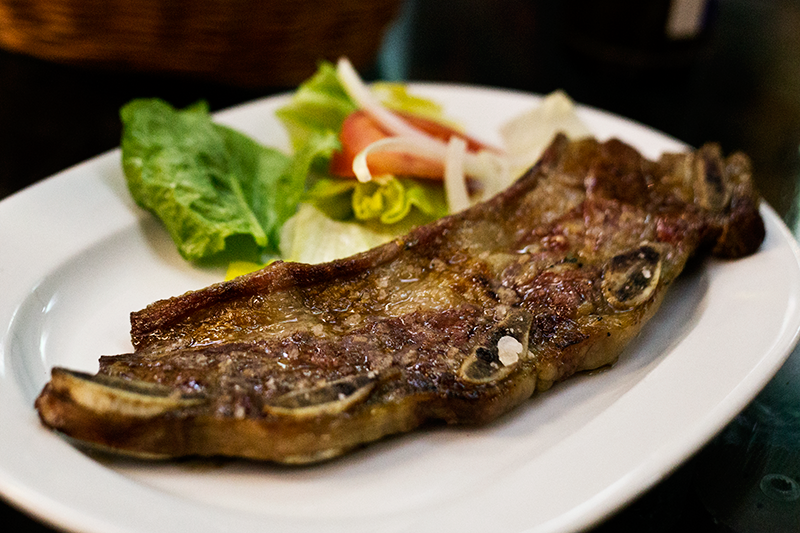 7) Be prepared to get your hands dirty
In many restaurants in Spain, a sturdy napkin seems to be some sort of luxury. Most napkins are small, thin and can even be slightly waxy. There are also many finger foods served in Spain, so the lack of napkins can be frustrating. Crumpled napkins carpet the floors of tabernas, even in major cities. Throwing your napkins on the floor is no big deal in many places and it's actually stranger to leave a crumpled napkin on the table or on an empty plate.
photo via mingusmutter under creative commons
8) Cash is king
Although there are plenty of restaurants that accept cards in Spain, cash is really the standard when it comes to paying. European payment systems function differently and if you don't have a card with a chip, you might not be able to pay with your card because there won't be a machine to read it. It's almost always the case that when you pay with card, a machine will be brought over to your table or you'll have to go behind the counter to pay. You should also make sure to check the bill before you pay, Spanish restaurants are notorious for inaccuracy when it comes to charging.
9) Speak up
Service standards in Spain are much different than in other countries. It's the exception rather than the norm to eat somewhere where the waitstaff is frequently coming by to check on things. If you need something, you're going to have to get used to signaling or calling over to somebody, even if it's just for another drink. This is especially true when it comes to paying. If you wait for a bill to be dropped, you could be sitting around a restaurant all evening. A raised wave of the hand or "perdona" is required to get just about anything.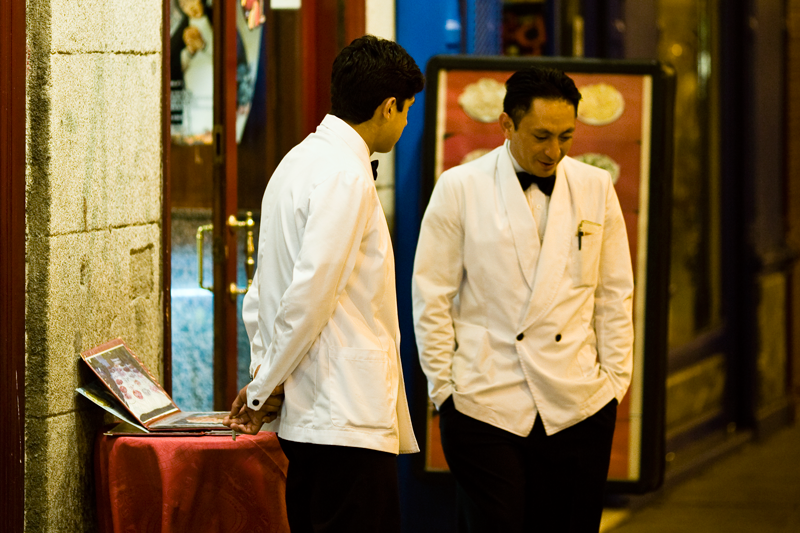 photo by David Sifry under creative commons license
10) Eat when the Spaniards eat or go hungry
Mealtimes are dramatically different in Spain from other places in the world and restaurants close between meals, so if you try to eat when you are used to eating, you will probably end up very hungry. Lunchtime in Spain is from 2:00 – 5:00 with some restaurants opening as early as 1:00, but rarely before. Lunch is the main meal of the day, and once it's over, it becomes increasingly difficult to find anywhere to eat. Dinner in Spain is late. Most restaurants won't open until 8:00, and even that is early. The benefit to not being Spanish in Spain is that most people don't eat until 10:00, so if you are ready to eat at 8:00 or 9:00, you'll be much less likely to have to wait for a seat.